Financial planner and former comedian Peter Dunn could be on the cusp of the big time.
For years, the Carmel resident, under the moniker Pete the Planner, has offered financial advice through local media outlets—including WISH-TV Channel 8, WXIN-TV Channel 59, The Indianapolis Star and WIBC-FM 93.1, plus national podiums such as Fox News.
He's also been an avid blogger and tweeter, which helped him land fourth place on marketing firm Cision's 2012
list of the most influential finance broadcasters—just behind household names such as Suze Orman and Dave "Total Money Makeover" Ramsey.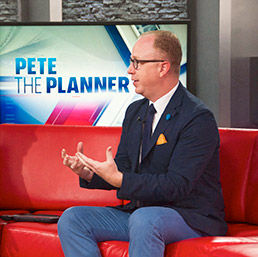 WXIN-TV Channel 59 is one of the broadcast outlets where Peter Dunn regularly appears. (IBJ photoDaniel Axler)
This January, Dunn hopes to raise his profile even higher when Connecticut-based Cengage Learning publishes six of his new financial planning books at the same time.
"I would love it if one of the six became a New York Times best-seller," Dunn said.
Heady talk for a 36-year-old who launched his first foray into the public eye just to avoid talking to a seatmate on a plane.
A Pike High School and Hanover College graduate (with a major in business administration), Dunn worked at Met Life Securities for two years after school before starting his own company, Advanced Planning Solutions.
The life-changing plane trip happened in 2005 when Dunn was 27.
"I didn't want to talk to the guy next to me, so I grabbed my laptop and told him I was on deadline and started writing," he said. "I thought, 'If I'm going to lie, I might as well write something.' So I started writing my take on the financial world."
Dunn posted it to a new blog he called "Skills Your Dad Never Taught You."
"The visits were bleak at first," he said. "Ten a month. But it's hit around 40,000 visitors a month now."
Dunn has won a following because he communicates about potentially complex financial matters in an engaging and accessible way, media observers say.
"He said there was a lot of information out there in the world of financial planning, but a lot of it was complicated," said Kevin Finch, who worked with Dunn when he was WISH-TV's news director.
"He thought he could simplify it, and I think he did. He brought this self-deprecating sense of humor into it. He didn't take himself too seriously," said Finch, now an assistant professor of journalism and mass communication at Washington and Lee University in Lexington, Virginia.
Tweeting to prominence
Though Dunn attributes much of his success to savvy use of "new media"—he has 10,600 followers on Twitter—he's also a believer in traditional outlets.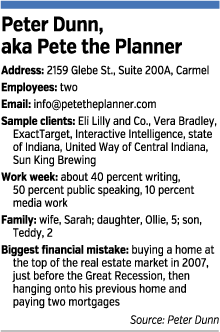 "When I walk the street, people will say they saw me on Fox59 or that they love my column in The Star," he said. "People love to blow up newspapers, and say radio is dying, but they still read this stuff, even if they act like they're too cool to do it."
Dunn makes a point of getting paid for his media work, rather than appearing gratis with an eye toward driving people to his books and website. He thinks it gives him extra credibility as a sort of "fee only" media financial adviser.
"The money I make goes directly into my kids' college funds," he said. "I figure it would make a good story to tell them one day."
Dunn, who previously published five books, hopes his biggest break comes in January, with the simultaneous release of six more. Five will be part of a series called "Your Money, Your Life" and offer guidance for each decade of life from the 20s to the 60s.
Among his tips: Don't spend money you don't have; don't coddle your kids by giving them after-college support; and create financial breathing room by cutting your expenses instead of increasing income.
"A lot of times, people want to acquire money so they can do whatever they want," he said. "It seems like a reasonable definition of success. But I came to find that reducing your obligations is the better approach. Get to the point where you don't need money, versus needing all the money to do whatever you want."
Crowded field
Standing out in Dunn's crowded industry isn't easy. The Bureau of Labor Statistics estimates that in 2012 the United States had 223,400 "personal finance advisers" (including everyone from consultants on home budgets to licensed sellers of stocks, bonds and insurance), and that number is expected to rise 27 percent, to 283,700, by 2022.
Dunn cuts through the chaff by mixing humor with facts. It comes naturally, thanks to his experience with improv and standup at local venues such as ComedySportz and Crackers.
"It just kind of hit me one day," he said. "Take a moderately funny comedian and someone who knows something about money and make him the funniest person who knows something about money."
But becoming a public speaker in the deadly serious field of finance created problems. During a live Fox News appearance a few years ago, host Shepard Smith introduced Dunn (somewhat) incorrectly as a personal financial expert. A gaffe that turned out, in the arcane world of licensed financial planners, to be a big deal.
"I had gotten approval from my broker/dealer, who held my securities license, that I could be called a personal finance expert but not a personal financial expert," Dunn recalled. "Because that matters. So they threatened to fine me for that. It got stupider and stupider from there."
So stupid, in fact, that in 2012 he sold his practice, gave up his license and became Pete the Planner full time.
Courting corporations
These days, his business is divided between personal appearances, writing and servicing corporate clients ranging from ExactTarget to OneAmerica. He teaches their employees—everyone from the rank and file to management—how to manage their finances.
Mike Lantz, chief learning officer for locally based Defender Direct, refers to Dunn as "our go-to guy" for helping employees get a grip on their cash flow.
"Our team members have gotten out of hundreds of thousands of dollars in credit card and loan debt using Pete's methods," Lantz said.
Dunn thinks his media appearances make an effective calling card for attracting corporate interest.
"Our potential corporate clients can sift through hundreds of hours of video and audio of my appearances, if they want to," he said. "I think it lets them know exactly what they're getting."
Evan Simonoff, editor-in-chief of Financial Advisor Magazine, said media-savvy financial advisers can help people understand the broad outlines of their difficulties. To no surprise, he said they need a professional to hammer out the details.
"I think that a lot of the Suze Orman types tend to gloss over substantial issues," Simonoff said. "Because they're talking to hundreds of thousands of people, they may oversimplify problems."
For his part, Dunn wears the "simplifier" badge with pride.
"Right after graduating from college, I was shown how to make 60-page financial plans for a client," he said. "But what are you supposed to do with that? Sometimes financial advisers make things complicated to prove they have value of significance in their clients' lives."
Dunn said the need for to-the-point answers has never been greater. He sees it in his corporate work, when he sits in conference rooms for hours, helping employees one at a time.
"What's weird is that the CEO will schedule an appointment and a few minutes after, the mail clerk comes in," he said. "It's like financial speed dating."•
Please enable JavaScript to view this content.