A city known for innovative ideas needs to jump-start its innovation district, 16 Tech, to compete more effectively. What's the holdup, given Indy's deserved reputation for implementing bold plans?
The challenge for elected leaders is focusing the collective will of city and civic decision-makers around a long-term strategy while pursuing the next big development project.
Indy has done it before—investing in the future with sports and arts to attract visitors, and cultural districts to appeal to residents. Now, an innovation district can be a draw for talent.
What better way to ensure the future of our top sectors—science, software, sports, logistics and advanced manufacturing—than to locate the best and brightest businesses, not-for-profits, academics and entrepreneurs in a shared geography?
Innovation districts are proven to stimulate ideas and research, which produce opportunities and jobs. And not just for the geeks and wonks, but for working folks in the neighborhood and kids in school, too.
16 Tech provides the platform for Indianapolis to be recognized as the Innovation Capital of the United States.
The real estate story is compelling: a prime redevelopment area on the edge of downtown between 10th and 16th streets, bordered on the west by White River and on the east by Fall Creek. Plus, running through 16 Tech is White River Trail, which links to a regional greenways system. Directly north are two municipal golf courses and Riverside Park, founded in 1898.
These ingredients match mega trends in location preferences for people and businesses. That's why three new apartment projects have taken off in 16 Tech. The most notable is the redevelopment of historic Bush Stadium into 138 units that were 100-percent leased upon opening in August 2013, prompting an expansion with 144 additional units to be available this year.
But as an innovation district, the story gets even better. The IUPUI campus immediately south of 16 Tech sits on just over 500 acres, and is anchored by its research facilities, and the Indiana University medical, dental and nursing schools, along with multiple IU Health teaching hospitals. IUPUI offers 250 degrees, attracting more than 30,000 students, about 25 percent of whom are in graduate programs—fertile ground for innovators.
IUPUI is also home to nationally recognized schools of informatics, philanthropy, and public and environmental affairs, all contributing to the vitality and engagement on campus. The private sector sees the potential in 16 Tech, with Cook Group operating its Cook Biotechnology facility on Indiana Avenue.
The key components for a successful innovation district are proximity to an anchor institution, location in or near downtown, and planning and zoning for mixed-use development. 16 Tech has all three, which together provide Indianapolis with a big competitive edge if we take advantage of it.
By example, Kendall Square started in the 1950s in Cambridge, Mass. It has fostered university/industry partnerships that spawned hundreds of small firms and attracted large life sciences and tech companies, while adding 1,000 housing units in the last eight years.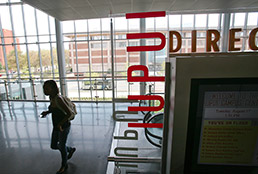 The IUPUI campus south of 16 Tech lends intellectual prowess to the area's promise. Other cities are trying to create the factors that exist in the tech park. (IBJ file photo)
By contrast, Research Triangle Park in North Carolina just released a 50-year master plan. This icon of the suburban tech park model hopes to reinvent itself by adding a central core with residential and retail uses, and connecting to Raleigh-Durham with a new transit line.
So with a great university, superior location and the economic assets promoted by BioCrossroads, Conexus, Energy Systems Network and Indiana Sports Corp., why haven't we accomplished more at a faster pace in 16 Tech?
The Brookings Institution report "The Rise of the Innovation Districts" offers advice from leading practitioners.
First, elected officials—along with business executives, university leaders and foundation heads—must prioritize developing an innovation district and agree on a vision that emphasizes economic, place-making and social goals to match 21st century trends.
The next step, equally important and just as challenging, is creating governance to facilitate decision-making and grow the vision. And then, put someone in charge!
The 200-acre Innovation Community in St. Louis, and Fitzsimons Life Science District in Aurora, Colo., anchored by the 184-acre Colorado Science & Technology Park, are examples of dynamic individuals with proven track records in research and commercialization hired by local leaders to execute an innovation district strategy. This specialized experience is paying big dividends in both metros.
The most resilient cities have figured it out—and Indianapolis is up to the challenge.•
__________
Hohmann is president of Site Strategies Advisory LLC. Views expressed here are the writer's.
Please enable JavaScript to view this content.