Angela Braly, an attorney by trade, served as CEO of health insurer WellPoint Inc. from 2007 to 2012, when she resigned amid pressure from shareholders. Named by Forbes as one of the most powerful women in the world for most of her tenure at WellPoint, Braly has continued serving in corporate boardrooms since her departure, albeit with a lower profile. She's also invested more time in charitable and community endeavors.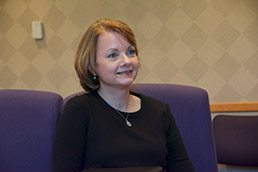 (IBJ photo/Daniel Axler)
IBJ: I'll venture a guess that a lot of our readers have been wondering what you've been up to the last couple of years and may even be surprised you're still in Indianapolis. Why did you stick around?

BRALY: Indianapolis is our home and we've been here now almost 10 years. Our kids have gone to school here, we've made friends, and we feel like we're part of the community. There was no debate about it. I've had great success here and I want to give back to the community.

IBJ: According to Forbes, you were the fourth-most-powerful woman in the world in 2008. Do you prefer influence a little more out of the public view?

BRALY: I do. I was so honored and grateful to have that opportunity and to lead WellPoint, and to get all that recognition. I'm enjoying influencing and making things happen and not being the tip of the spear as much.

IBJ: You haven't left the corporate life altogether. You serve on the boards of Procter & Gamble [since 2009] and Lowe's [since 2013]. What do you see as your role on those boards?

BRALY: I do think because my history included being a general counsel and CEO, [that] gives me an interesting perspective to add. Specifically, I used to serve boards of directors. Boards play a very important role. They don't manage a company, but they're actively involved in strategy, risk and talent.

IBJ: Do board meetings ever get heated or are they mostly cordial?

BRALY: Board meetings by definition should be more than just a cordial discussion. They should be engaged and active.

IBJ: Board service must also be a fantastic networking and learning opportunity. The P&G board you serve on includes the CEOs of American Express, Boeing, Macy's and Hewlett Packard.

BRALY: It's an incredible group of people, and an incredible company. Frankly, A.G. Lafley [Procter & Gamble's chairman and CEO] is the best businessperson I've ever seen in action. He's so strategic and so analytical and such a great leader. I've learned so much from him.

IBJ: Is there a specific lesson you learned from him?

BRALY: It's really important for CEOs to have deep understanding of each of the elements of your business—in the P&G context, knowing each category, each product, how it works in each geography.

The other thing at P&G and Lowe's: They know the consumer. That was the reason I chose to join the P&G board when I was still at WellPoint. I really felt like health care was going to go to the consumer. And I thought: Who is the best in the world at serving a consumer? Procter & Gamble.

IBJ: Do you have any advice for a first-time board member?

BRALY: My advice: Be on the audit committee. I'm on the audit committee for both Lowe's and Procter & Gamble. I think that's the best place to understand the business.

IBJ: What can government learn from business?

BRALY: The thing that's most obvious is that companies, government agencies, volunteer organizations probably all have an opportunity to be more efficient and effective at what they do. You really have to look at the work that's getting done and decide if that's where the value is.

It's rarely the person who's doing the least valuable thing in an organization that says, "I don't have to do my job. This thing I'm doing is not that valuable." You have to have a way to evaluate what is the most effective in meeting your goal. I think those principles apply in frankly any group or organizations of human beings who come together and achieve a goal.

IBJ: Have you ever considered politics?

BRALY: I'm happy to support others who feel that is their calling. I don't see it as mine. I'm working with other women who are running for office and are serving publicly.

IBJ: What have you learned the last few years?

BRALY: I feel like I've learned from successes along the way, and failures. People make mistakes, and I made some. My encouragement to people, particularly women in business or aspiring to be in government, is: Know who you are. That's really important because other people will try to tell you who you should be. Make sure you take risks. There's a big conversation about women now—do they have the confidence they need or take the risks that they need? Much is lost for want of asking. You've gotta ask for the tough assignment, really go for it, and be willing to take that risk.

But ultimately, every job ... is about serving other people. I was a lawyer and I took care of my clients, I was a CEO and took care of my customers, and I'm a board member and take care of ultimately the shareholders and customers.

IBJ: We had ground rules to not talk about WellPoint [thanks to her severance agreement]. Is there some point in the future where you'll talk more about what happened?

BRALY: It's kind of like ancient history. I'm so proud of that company. I'm so proud of what they're doing. I think some of the strategies being executed on that are really great. We bought some really important companies, and they're being really well run. There's new leadership there, and I need to be respectful that they're running the company. I had a wonderful opportunity to do that during my time there.

Click here for other interviews.