Indianapolis' downtown skyline is undergoing a colorful transformation.

The top of Market Tower is wearing blue in honor of the Colts, Regions Tower sported a pink wrap last month, and lights are back at the Scottish Rite Cathedral's tower after a two-year hiatus.

On top of that, leaders of the Murat Theatre have filed with the Indianapolis Historic Preservation Commission to light its building.

And the skyline light show could get even more spectacular if the new owners of both Market and Regions towers follow through with plans to invest in LED systems to improve their color schemes.

Seiwert
The additional lighting—which building owners have added without any coordinated effort—is welcomed by the not-for-profit Downtown Indy.

"Lighting can definitely enhance perceptions of vibrancy and adds to the overall beautification of downtown," President Sherry Seiwert said via email. "We're thrilled to see those who are expanding the lighting treatments of their properties."

Modern LED systems give building owners a better opportunity to showcase properties while saving on their energy bills.

Chicago-based Zeller Realty Group, which bought Market Tower Oct. 15, is mulling a switch, said Mark Vollbrecht, who manages the company's Indiana operations.

Vollbrecht
"For 'Monday Night Football,' [when the Colts are playing,] they always show the Statehouse or the Circle," Vollbrecht said. "Would they show the crown of Market Tower? Maybe."

One of the oldest downtown façade light shows belongs to the Indianapolis Power & Light Co. building on the Circle. IPL started lighting up its windows in the shape of a Christmas tree in the 1950s.

The company switched to LED lights two years ago. Workers no longer need to switch out light bulbs, making it easier to display a blue horseshoe, pink ribbon or other designs, depending on the occasion.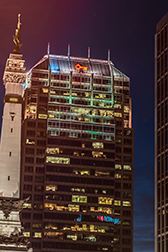 Market Tower is bathed in blue for now, but the Scottish Rite Cathedral's colors change often. (IBJ photo/Eric Learned)
Bill Browne, IHPC chairman and founder of Ratio Architects Inc., visited Dallas recently and was impressed by the amount of downtown lighting.

"Not like we're trying to be like Dallas, but their skyline is lit up with many buildings that are outlined or highlighted with lighting," he said, "some more successfully than others."

Market Tower has no LED lighting system; Regions Tower does, but new ownership is set to replace it with an updated model to provide even better and more reliable lighting.

Regions' exterior rooftop lighting consists of LED lights that channel up a glass shield to provide the lighting wall effect. The lamps are designed to provide programmable, multiple color schemes.

The new system, which cost in the low-six-figure range, will be similar but should be more reliable than the current lights, which are prone to fail, said Ken Deuser, property manager for new owner Nightingale Group LLC.

"It's already obsolete," he said of the current system. "Some of the repair parts aren't made anymore."

New York City-based Nightingale bought Regions, also known as One Indiana Square, in September from a group including Todd Maurer, a principal at Newmark Knight Frank Halakar, and his father, Michael S. Maurer, and businessman Robert Schloss. Michael Maurer and Schloss are both shareholders in IBJ Media, publisher of IBJ.

The former owners upgraded to an LED system in 2010.

Zeller, meanwhile, is considering LED lights but for now is providing its colored lighting the old-fashioned way—by placing blue theatrical film over the existing lights protruding from the tiered top.

The crown of the tower has always been lit, just not in color. But its architectural detail deserves notice, Vollbrecht said. What better way to draw attention to a building than adding a splash of color?

Zeller bought Market Tower last month after a Marion Superior Court judge ordered the former owner, an affiliate of embattled Indianapolis developer HDG Mansur, to sell the building after defaulting on loans.

The tower, at the northeast corner of Market and Illinois streets, is the fourth-tallest in the city and was completed in 1988. Zeller also owns buildings in Chicago and Minneapolis that the company lights up, the most prominent being the Wrigley Building in the Windy City, Vollbrecht said.

Zeller chose blue to start with at Market Tower in honor of the Indianapolis Colts. The color might change depending upon when someone, like a window washer, is available to change colors, Vollbrecht said.

Of course, that won't be necessary if Zeller invests in a new LED system. That's what the Scottish Rite Cathedral did in 2008.

But the tower's been dark the past two years as the organization undertook a $2.5 million renovation of the 1929 building that included tuck-pointing and the cleaning and repairing of broken and loose stones.

The tower is now ensconced in several colors, including blue for Colts games and pink in October, like Regions Tower, in recognition of Breast Cancer Awareness Month. On most days this month, the colors will rotate every 20 seconds.

"Think of it as a color wheel," said Jeffrey Saunders, the organization's executive director.•