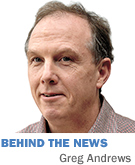 It's happened gradually enough that you might not even have noticed: Muncie-based First Merchants Corp., one of the many banks from other parts of Indiana that have aspired to be a player in the Indianapolis market, now has cracked the top 10 here.
As of June 30, its banking subsidiary First Merchants Bank had amassed $958 million in deposits at 27 Indianapolis-area offices, placing it 10th, Federal Deposit Insurance Corp. data shows. Deposits here now total $1.2 billion, First Merchants Corp. CEO Mike Rechin says, thanks in part to November's $49 million purchase of Noblesville-based Community Bancshares, parent of Community Bank.
First Merchants saw opportunity in metro Indianapolis because the market is large—deposits total $38 billion—and because the area offers stronger population and income growth than other parts of the state, some of which are seeing their populations fall.
"Community banks have found it necessary to branch or acquire into higher-growth markets to augment their traditional, legacy presence in their hometowns," said Mike Renninger, a principal with banking specialist Renninger & Associates in Carmel.
 
Rechin
It's the same playbook that has drawn a plethora of new players to Indianapolis in recent years, including Warsaw-based Lake City Bank, Michigan City-based Horizon Bank, Greensburg-based MainSource Bank and Merrillville-based Centier Bank.
The newcomers have no illusions of supplanting heavyweights like Chase, PNC Bank or Fifth Third—which together have a deposit market share topping 53 percent—and instead are satisfied capturing a relatively small slice of a big pie.
"You don't have to be Fifth Third-sized or JPMorgan Chase-sized to be relevant," said Rechin, 56. "If we were trying to compete with JPMorgan or Fifth Third in the number of banking centers, we would never win that battle."
First Merchants tiptoed into the Indianapolis market by opening a Noblesville branch in 1998. It had five area branches by late 2005, when it hired Rechin away from National City Bank to serve as chief operating officer. Rechin had been in charge of commercial banking statewide for National City.
Back then, First Merchants ranked 43rd in Indianapolis-area market share, with 0.11 percent of deposits. As of the June 2014 FDIC report, the deposit share had swelled to 2.5 percent.
"When the opportunity came for me to join First Merchants, I was drawn by many things, but one of them was the board's desire to be more relevant in the greater Indianapolis area," Rechin said. "I thought the business logic made sense, and I thought I could help."
Indeed, First Merchants built much of its presence the same way an Indianapolis-based bank would—with local people who have an abundance of connections and local expertise.
Some, like Chief Banking Officer Michael Stewart, joined Rechin from the Indianapolis outpost of National City, which became PNC after its acquisition in 2008. Others came aboard through the $78 million purchase of Plainfield-based Lincoln Bancorp, parent of Lincoln Bank, that same year.
The board also is loaded with Indianapolis businesspeople, including Michael Becher, a former managing partner of Deloitte's office here; Charles Schalliol, a senior adviser at Faegre Baker Daniels who served as director of the state's Office of Management and Budget under Gov. Mitch Daniels; and Jean Wojtowicz, CEO of Cambridge Capital Management Corp.
The board's strategy: Find opportunities for First Merchants to grow on its own, while using acquisitions to speed up the progress. In addition to buying Lincoln and Community, First Merchants in 2012 scarfed up loans and deposits of Shelbyville-based SCB Bank after the FDIC seized the failing institution.
First Merchants is using a similar approach in other growing markets, including northwest Indiana and Columbus, Ohio, where this month the bank announced it was buying the parent of Commerce National Bank for $14.5 million.
The approach—a succession of relatively small deals—might not be flashy, but it's made investors money. Since the depths of the financial crisis in 2009, First Merchants shares have quadrupled, to around $21.80.
"We continue to like management's balanced approach to growth that includes moderate organic loan growth supplemented by acquisitions with very reasonable earn-back periods," D.A. Davidson analyst Stephen Geyen said in a report.•
Please enable JavaScript to view this content.