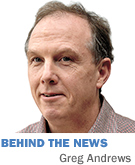 Sardar Biglari's hopes of saving his job rest on persuading shareholders he is the savior of Steak n Shake, snatching it from the verge of bankruptcy in 2008 and then executing what he immodestly calls "one of the great brand turnarounds in the history of the restaurant industry."

In a recent shareholder presentation filed with regulators, he buttressed that storyline by including this quote from longtime board member Ruth Person, former chancellor of Indiana University Kokomo: "Those were the scariest of times. We were on the verge of bankruptcy and quickly running out of time and money."

It's a dramatic assertion—and a surprising one to those of us who were following the company as the Great Recession rolled in. The company, then led by Peter Dunn, had seen sales weaken as consumers tightened their grip on their wallets. But it continued to make money, had barely any debt, and generated cash flow sufficient to make its interest payments nearly 12 times over.

"We think our case is really good that it wasn't on the verge of bankruptcy," said Nick Swenson, 46, the CEO of Minneapolis-based Groveland Capital, who is leading the fight to replace Biglari and the five other Biglari Holdings Inc. directors at the company's annual meeting April 9 in New York City.

Biglari
Biglari, 37, an activist investor from San Antonio, recast Indianapolis-based Steak n Shake Co. as Biglari Holdings after becoming CEO in August 2008, amid the stock market crash. Swenson contends the severity of the bear market back then helps explain the run-up in the stock price since, though he notes those gains trail market indexes.

In a letter to shareholders this month, Groveland added this dig: "Mr. Biglari reminds us of someone who was born on third base and thinks they hit a triple."

Dunn, who left the company in 2007 and now is CEO of Indianapolis-based Activate Healthcare, has avoided the fray—until now. He told IBJ that when Biglari began his attack on Steak n Shake in 2007, profits were "solid" and the company had "ample cash."

"There was absolutely no concern expressed about financial solvency during my tenure, and it does not seem reasonable to me that this would be a real concern during that period," he said.

Even Biglari's detractors acknowledge he's done some things well, including reducing prices to capture more customers who might otherwise opt for fast food. That strategy has yielded an impressive 24 consecutive quarters of increases in same-store sales.

Yet Biglari Holdings' operating profits are down, in part because of its February 2014 purchase of the struggling lad mag Maxim. Biglari is hopeful for a turnaround, but under his ownership the magazine already has lost more than $21 million. In addition to the magazine and Steak n Shake, Biglari Holdings owns the Western Sizzlin restaurant chain, a trucking insurance company, and a big stake in Cracker Barrel.

Swenson
Groveland contends that even Steak n Shake isn't performing nearly as well as the sales gains might suggest. "Based on conversations with franchisees, it appears food costs are up, labor costs are up, and the menu is more complex than ever, but prices are down," it said in a shareholder presentation. "So BH is driving revenue growth at the expense of profitability, to the detriment of franchisees."

Groveland argues its reform campaign is justified based on the stock's underperformance, the company's declining profitability, strained franchisee relations, poor corporate governance and outsized compensation received by Biglari.

Groveland sees no business benefit to a 2013 deal under which he licensed the "Biglari" name to the company for 20 years. He won't receive royalties if he remains atop the company, but if it were sold, or if he were forced out for anything but malfeasance, he'd receive 2.5 percent of sales for five years—a sum that could surpass $100 million.

The investment firm also takes aim at a convoluted corporate structure through which Biglari Holdings has shifted more than $600 million in assets into the Lion Funds, investment vehicles controlled by Biglari himself.

As a result of the arrangement, Biglari has voting control over 19 percent of the stock, despite owning just 1.5 percent outright. And his 2014 compensation, including fees from managing the investment funds, topped $35 million.

Those numbers are stratospheric for a restaurant company—the just-departed CEO of McDonald's, with more than 36,000 stores, made $9.5 million in 2013. Biglari's company owns or franchises about 600 restaurants. But Biglari contends a more valid comparison is with publicly traded investment firms. By that yardstick, Biglari contends his earnings are well within reason.

Swenson is unconvinced. He views the windfall as indicative of a board that has failed to stand up to the CEO.

"We think the case for reform is overwhelming," he said. "We believe the majority of shareholders would like to see Sardar Biglari's power checked."•