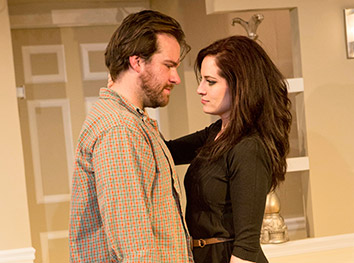 From the title role in Shakespeare's "The Taming of the Shrew" to the sweet-as-pie daughter in "Father of the Bride," Lisa Ermel has been ubiquitous on Indianapolis stages in recent years.
But it wasn't until 2014 that she joined Actors' Equity Association, the professional stage actors union.
"In Indy," she said, "some people think of acting as a hobby or another job you do for fun," she said. "I wanted to make it clear that, for me, it's a career."
Ermel, who is set to appear in May in Phoenix Theatre's "American Idiot," is one of Indiana's approximately 220 active members of Actors' Equity and one of 65 based in Indianapolis.
Whether to join the union has always been a dilemma for regional actors, but in Indianapolis the decision is even more difficult as non-union professional theaters proliferate and offer plum roles to build experience. Among paying theaters that are not union are Q Artistry, Eclectic Pond Theatre Company, Wisdom Tooth Theatre Project and NoExit Performance.
Sean Taylor, New York-based Equity's central regional director in charge of 16 states including Indiana, said his push isn't to raise the number of members in a union where unemployment tends to be high.
"We're concentrating on increasing our work weeks, not our members," he said.
A Gary native who attended IU Northwest, Taylor said actors in Indy—where only a handful of theaters contract with Equity actors—need to be cautious when considering joining. (Primary means of acquiring membership: scoring 50 cumulative weeks of work in Equity productions, or being offered an Equity contract by a theater.)
"If you are starting out and you don't have a lot on your resume," he said, "it's prudent to get a thicker body of work and get your training. Once you've got that and you feel you want to make that commitment—when you are ready to pass up non-union gigs—then do it."
What's the difference?
Payment to the union combines basic dues of $118 a year with 2.25 percent of gross earnings under Equity contract. An initiation fee of $1,100 is also required.
Weekly minimum pay for a union actor depends on the size of the theater and the number of shows, and can range from about $250 for a small production up to $1,861 minimum for a Broadway musical. Union actors also are paid for rehearsal time.
 

Hayes
Non-union jobs—some of which pay, some don't—outweigh union ones dramatically in central Indiana. Pay can range from free tickets, to travel reimbursement, to a percentage of the house.
Local theaters required to use at least some Equity actors in every production include Indiana Repertory Theatre, Phoenix Theatre, Beef & Boards Dinner Theatre, Actors Theatre of Indiana, and Heartland Actors Repertory Theatre.
IRT, for instance, works under a League of Regional Theaters agreement that requires it to have Equity contracts with its first nine actors in a show before it can hire a non-Equity actor under non-union terms.
With Indiana a right-to-work state, however, a non-Equity actor can work under one of those nine contracts without having to join the union.
"They can send a letter to Equity saying they choose not to join at this time," said IRT General Manager Jane Robison. "Their pension and health benefits then go into a pool instead of being assigned to them. And if there's a dispute, Equity won't represent them."
"It doesn't affect weekly pay," she added. Opera star Sylvia McNair, for instance, did not join the union when she appeared in IRT's production of "A Little Night Music."
Equity theaters also adhere to union rules for working conditions, with guidelines for everything from the amount of fog generated, the steepness of a stage, the frequency of breaks, the length of rehearsals, and the separation of men's and women's dressing rooms.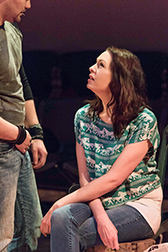 Not yet a union actor, Carrie Bennett Fedor has performed with Actors Theatre of Indiana, Beef and Boards Dinner Theatre, and, pictured, with Wisdom Tooth Theatre Project.
"My biggest surprise was that an Equity theater is required to have a shower," said Carrie Bennett Fedor, a non-Equity actress who has appeared recently with ATI and Beef & Boards. At the non-Equity Wisdom Tooth Theatre Project at the Indy Fringe Building, she appears in "The Last Days of Judas Iscariot" through April 4.
Fedor is accumulating Equity candidacy points, but isn't certain yet if she'll make the leap when the time comes.
"You get paid more and that's great," she said. "Plus there are health benefits, which would be wonderful. The downside is that you might miss out on opportunities to work with smaller companies that are doing creative and thought-provoking theater."
Pluses and minuses
Amy Hayes, co-artistic director of Wisdom Tooth and a veteran of 12 years teaching theater at DePauw University, is also unsure whether to make the jump to union membership.
"Equity actors are not necessarily better actors than non-union actors and non-union actors aren't necessarily less skilled or experienced," she said. "But Equity still comes with a status. My hope is that more doors would open to me. But I may get in and decide it's a bad idea."
Beverly Roche, appearing in NoExit Performance's original adaptation of "Moby Dick" in April, is one actress who left Equity.
She joined the union after appearing in Phoenix Theatre's 1999 production of "Jackie: An American Life." At the time, she was also working with Act Out, an outreach ensemble, and performing at the Children's Museum
"To me, an advantage was being able to go to Chicago for Equity auditions," she said.

Then, Roche said, "Equity doubled the number of work weeks needed to really benefit." And both Act Up and the Children's Museum decided not to use union actors.
"I'm way-left-wing," Roche said. "I've stood on picket lines and I do think actors are exploited because we'll do anything to get out there."
Still, the shrinking pool of work options, combined with family obligations and pursuit of an anthropology degree, led her to opt out.
Leaving the union and then returning, though, is "actively discouraged," according to Equity's Taylor. "It's not fair to members who passed up a [non-union] job."
When Roche returned to acting, she was embraced by NoExit, a non-union company specializing in non-traditional productions.
"At NoExit," she said, "we work every week on a show. We develop a vocabulary and push the edge of theater. I have something to share and, for me, the union would be preventing me from interacting with my muse."
Taylor hopes smaller companies such as NoExit and Wisdom Tooth will see the benefit of having at least some relationship with Equity.
"We have guest artist and special-appearance contracts they can start with," he said. "Maybe it's one or two actors and a stage manager. There are different ways you can develop into more and more work weeks."
Hayes hopes Wisdom Tooth will be able to take advantage of such a relationship.
"Equity is part of our medium-to-long-range plan," she said. "I believe we are already in compliance for the lowest rung of Equity contracts. We hope to have at least one Equity contract next season."•
Please enable JavaScript to view this content.