A deal struck 10 years ago to bring the men's Final Four to Indianapolis every five years has become a much-beefier cash cow for the city than any of the pact's architects could have imagined.
Visit Indy expects this year's Final Four April 3-6 to pump $71 million into the local economy. The annual event has become such a coveted prize that some observers wonder whether the NCAA will back away from its Indianapolis commitment, made as part of negotiations that extended its White River State Park lease to 2039 and secured land there for expansion.
Under the 2004 "memorandum of understanding," Indianapolis also agreed to act as the Final Four's emergency backup site—an important guarantee for the association's and event's insurance policy.
In exchange, the NCAA promised the city not only a Final Four every five years, but also a multitude of other events.
Some eyebrows were raised last year when the NCAA awarded the city the 2021 Final Four instead of 2020, creating a six-year gap.
What once looked like an iron-clad contract is now being called "a good faith deal" by some local leaders.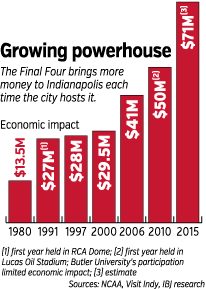 "There's language in there that we have to be competitive. And based on what other cities are offering now to host Final Fours, the NCAA still has some ability to interpret whether our bid is competitive or not," Visit Indy CEO Leonard Hoops said.
One city official who declined to be named said the topic "is very sensitive because it appears the NCAA promised one thing and is delivering another." The official said the NCAA is such an important part of downtown, the city is unwilling to complain.
NCAA officials insist they're standing by their commitment.
The memorandum of understanding states that, within every five-year cycle—if Indianapolis maintains its facilities in a top-notch manner—the city will get to host a men's and women's Final Four, the NCAA's annual convention, and an earlier round of the men's and women's basketball tournaments.
Because 2015 falls in year four of the current five-year cycle and 2021 falls in year five of the next cycle, the Final Four won't return for six years, said Mark Lewis, NCAA's executive vice president of championships and alliances.
"The agreement states that, within a five-year cycle, we have to check off five boxes, and we've done that," Lewis said.
He said the NCAA has no desire to squeeze Indianapolis out of the Final Four rotation.
"Indianapolis is one of the great places we host this event," he said. "Lucas Oil Stadium is as good a stadium as there is in this country."
Beyond the infrastructure, he said, "there's an energy here. Basketball matters in this state. The teams and everyone involved in the event feel it, and it makes a big difference."
The NCAA has had a cozy relationship with Indianapolis since moving its headquarters here from suburban Kansas City in 1999. The city snagged the organization with some $50 million in incentives, including a $1-a-year lease for its headquarters at White River State Park.
Indiana Sports Corp. President Ryan Vaughn said the city wasn't blindsided by the NCAA's decision to make Indianapolis wait six years between Final Fours.
"We have a phenomenal working relationship with the NCAA that goes far beyond the Final Four," Vaughn said.
"A broader series of memorandum of understandings have gone back and forth [between the NCAA and city officials] over time," he said. "All the [2004 agreement] says is, those events will rotate through Indianapolis. It doesn't say every five years."
It appears the agreement is up for interpretation, and those interpreting it did not write it.
The players who crafted that deal are no longer on the scene. Myles Brand, NCAA president at the time, died in 2009. Greg Shaheen and Tom Jernstedt, who oversaw NCAA basketball in 2004, are no longer with the association.
On the city side, Bart Peterson was mayor, Fred Glass was president of the city's Capital Improvement Board, and Jack Swarbrick was the ISC board member who helped write the deal. Peterson now is with Eli Lilly, Glass is Indiana University's athletic director, and Swarbrick is Notre Dame's AD.
NCAA fuels competition
More cities are now able to join the scramble to host the powerhouse event since a 2014 NCAA rule change lowered the seating requirement for the host venue from 70,000 to 60,000.
"We want to broaden the number of cities that can host this event," Lewis said. "We want to move it around the country as much as we can."
Corporate hospitality and more ancillary events have helped the Final Four's economic impact nearly triple since Indianapolis and the NCAA announced their memorandum of understanding.
And the $71 million local infusion expected this year dwarfs the $13.5 million the event brought when it was first hosted by the city—in Market Square Arena—in 1980. Back then, city leaders viewed the Final Four as a much smaller prize than the 1982 National Sports Festival.
In 1990, the Final Four netted the city $27 million—primarily because it moved to the much larger RCA Dome, which seated 30,427 more than Market Square Arena. The extra attendees filled thousands of additional hotel rooms and flooded local restaurants.
The NCAA in the 1990s made the push to domes like those in Indianapolis, Minneapolis and New Orleans—a transition that squeezed out smaller, basketball-specific venues.
And the event continued to grow. In the mid-2000s, the NCAA began looking for even larger venues for its crown jewel. The Final Four games haven't drawn fewer than 70,000 since 2009, and in 2014 the championship game drew nearly 80,000 in Dallas' AT&T Stadium.
The event's economic impact soared nearly $10 million from 2006—the last year it was in the RCA Dome—to 2010, the first time Lucas Oil Stadium hosted it.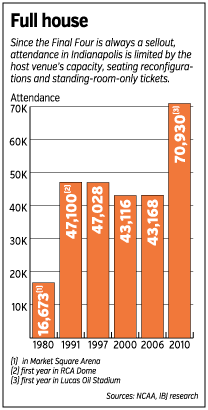 LOS—which has much better sight lines for basketball than the RCA Dome—was configured to seat nearly 71,000 for the 2010 Final Four. That year's economic impact was estimated at $50 million, a figure that would have been much higher had Butler University not been one of the four teams playing. CNBC estimated Butler's advance to the final game cost Indianapolis $12.5 million because many of the school's fans wouldn't be staying in hotels, buying airline tickets or using taxicabs, and would eat fewer meals out than out-of-town fans.
Corporate involvement
The Final Four got a boost in 2006 when the NCAA signed a deal with Atlanta-based PrimeSport Inc. to manage corporate hospitality packages.
PrimeSport brought in big-name college coaches and former players to entertain at a growing number of corporate and group events. This year, former Indiana University Coach Bob Knight and former Duke University star Christian Laettner are coming in for high-roller gatherings.
"I don't think anyone could have fully understood 10 years ago what the event has become today," said Dale Neuburger, who was Indiana Sports Corp. president from 1993-2005 and helped craft the 2004 memorandum of understanding. "From a host city's perspective, the event has really exceeded anybody's wildest dreams."
Through the 2000 Final Four, there were few events between Saturday's semifinal games and Monday night's championship game, Neuburger said.
"In the old days, from 11 Saturday night until 9 p.m. Monday were 46 hours that were largely dead," he said.
But as corporate activity surged, the NCAA stepped in to capitalize, he said. "With that has come a lot of [financial] opportunities for the local host city."
Added Visit Indy Vice President Chris Gahl: "It's become a bucket list event, up there with the Super Bowl. We see sponsors wanting to activate and become engaged at the Final Four in a major way, and it's also become a major incentive trip for sales executives and associates across the country."
This year, the NCAA and local organizing committee have brought in sponsors AT&T, Capital One, Coca-Cola, Connor Sports, Northwestern Mutual, UPS and Reese's, to name a few.
Indianapolis has done its part to accelerate the growth. It was the first city—in 2000—to host a media party and in 2006 became the first to include a music festival. This year, the festival is headlined by Rihanna and the Zac Brown Band.
In 2010, Indianapolis also pioneered several youth events, including The Dribble, which allows 3,200 children to dribble their way through downtown.
The NCAA in November awarded the men's Final Four to Phoenix in 2017, San Antonio in 2018, Minneapolis in 2019, Atlanta in 2020, and Indianapolis in 2021.
At the announcement, Dan Gavitt, NCAA vice president of men's basketball, called the bidding "very competitive" and noted the NCAA had awarded one more Final Four than planned.
Considerable expense
The 2010 Final Four drew nearly 30,000 more fans and $10 million more in economic impact than the last time it was held here, in 2006. The impact would have been even higher had Butler not been one of the finalists. Loyal fans rallied on Monument Circle, but didn't need to spend money on hotels. (IBJ file photo)
The event doesn't come without costs. However, the NCAA, city and Indiana Sports Corp. declined to comment about financial arrangements.
In 2014, officials overseeing a state fund in Texas forked over $11 million to help pay for the Final Four in AT&T Stadium, home to the Dallas Cowboys. Officials in North Texas said that didn't cover the entire bill.
Indianapolis' Capital Improvement Board has a contract with the NCAA allowing it to use Lucas Oil Stadium and parts of the Indiana Convention Center for the event.
The Sports Corp. is responsible for securing funding for many activities, including the festivals and parties along Georgia Street and in White River State Park. For competitive reasons, Vaughn declined to say how much the Sports Corp. raised for this year, but said it was considerably less than the $30 million needed to host the 2012 Super Bowl.
A source said CIB is able to recoup much of its expense by keeping a share of concession and parking revenue as well as renting unused parts of the Indiana Convention Center to basketball-related groups.
While Mayor Greg Ballard says no public funds are used to host the Final Four, the city does handle traffic management, including team escorts to and from games and practice; plus crowd management and police, fire and emergency services.
The Mayor's Office declined to say what all that manpower would cost, but Press Secretary Jen Pittman said, "The results are well worth the effort." •
Please enable JavaScript to view this content.