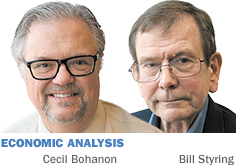 Given the tumultuous nature of the legislative session, we suspect that April 29 will be a joyous day. That's when the General Assembly will, by law, finish business and leave town.
However, one piece of legislation must pass before we can wave them bye-bye: the budget.
Without a budget, everything shuts down on July 1, when the state fiscal year ends and appropriations run out. Creative courts have figured out ways to circumvent many parts of the state constitution, but one that still stands is the appropriations clause: "No money shall be drawn from the treasury but in pursuance to appropriations made by law."
No budget, no appropriations. No appropriations, no state police, no state parks, no public schools, no anything that depends on state money to operate.
At one level, the state budget is no different from a family budget. It needs two pieces to match up—spending and income. For a family, income is usually easy to determine. Most folks get their income from wages and salaries, and barring an unexpected layoff, they usually have a pretty good idea of what income will be over the next year or so.
This is where the Indiana budget is different: The state does not get a set salary. Rather, it relies on a whole collection of uncertain taxes and fees—from visible taxes on income, sales and corporations, and more hidden taxes on cigarettes, alcohol and insurance.
Someone has to tell the budget makers how much income they can expect. Somewhere around the time you read this, the Legislature will get the final revenue forecast on which the final budget must be based.
The important thing is that the revenue forecast has to be believed and acted upon. If it isn't a binding constraint on spending—if it's a number to be played with, fudged and increased at will—then the forecast is useless. That's the way it works in a number of other states.
Fortunately for Hoosiers, it doesn't work that way here. As far back as 1976, both parties agreed that a nonpartisan panel of economists and a bipartisan group of revenue technicians should put the revenue forecast together. The numbers they come up with are accepted. It works so well that some 30 other states have copied our system.
Our state politicians may often confound us, but they do get one thing right.•
__________
Bohanon is a professor of economics at Ball State University. Styring is an economist and independent researcher. Both also blog at INforefront.com. Send comments to ibjedit@ibj.com.
Please enable JavaScript to view this content.