It's difficult to imagine the Depression-era Rivoli Theater on East 10th Street in all its glory.
The movie house—with its Spanish Mission Revival exterior, decorative plaster walls and domed ceiling—epitomized Hollywood glamour when it opened in 1927 as Universal Studios' first Indiana theater.
Now, decades of neglect are taking their toll.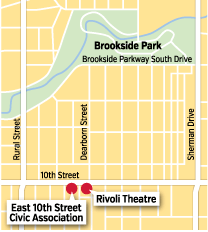 Part of the roof collapsed last fall, prompting Indiana Landmarks in April to place the ramshackle building on the group's "10 Most Endangered" list for the first time.
But a plan to save the structure is beginning to take shape as part of a larger effort to transform the three-block stretch of East 10th surrounding the Rivoli into a magnet for arts-based organizations.
The Rivoli Center for the Performing Arts Inc., the not-for-profit that assumed control of the building in 2009, and the East 10th Street Civic Association are leading the $11.5 million initiative.
They've hired Jeff Bennett, director of real estate services for the Indiana office of Chicago-based IFF, a lender and real estate consultancy for not-for-profits, to provide guidance.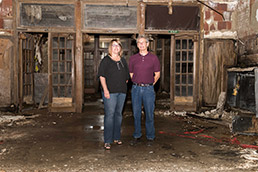 Rehabbing the dilapidated lobby is part of the $11.5 million plan led by Tammi Hughes, executive director of the East 10th Street Civic Association, and Jim Kelly, vice president of the Rivoli Center for the Performing Arts. (IBJ photo/Eric Learned)
"The timing has never been as right as it is now for a development of this scope," he said. "The price tag is big, but we think it's viable."
Just renovating the Rivoli is expected to cost $7 million, an investment that would set the stage for its use for theater and dance performances, as well as concerts.
Another major piece of the plan includes spending $4.5 million to construct a 16,000-square-foot arts and education center east of the Rivoli where the dilapidated Dearborn Building sits. The building is slated to be demolished under a city order.
Also on the wish list is attracting more arts and dance groups to Clifford Corners, a new mixed-use condo and retail project, and converting vacant space across the street from the development into an outdoor performance area known as Legacy Plaza.
Small dance and theater groups typically don't have their own venues; they often share space with others for both rehearsals and performances. Adding more inventory would make sense, particularly in an area that's enjoying revitalization, said Dave Lawrence, CEO of the Arts Council of Indianapolis.
"With only 52 weeks in the year," he said, "it's difficult to get those choice weekends."
Years of neglect
The Rivoli's marquee boasted of showing talking pictures. (Photo courtesy of Bass Photo Co. Collection, Indiana Historical Society)
The Rivoli's decline as a theater coincided with the popularity of suburban multiplexes. In the 1970s, it enjoyed a resurgence hosting musical acts, including Bruce Springsteen, Linda Ronstadt and Lynyrd Skynyrd, before sinking into adult films.
Former owner Charles R. Chulchian, who bought the theater in 1976, closed its doors in 1992. In 2007, he gave the building to the Rivoli Center for the Performing Arts—formed four years earlier to buy the building—while retaining a partial interest.
That partial interest complicated efforts to improve the structure and ultimately led to a court fight that was finally resolved in 2012 when a judge ordered Chulchian to relinquish his stake to the Rivoli Center.
Those hoping to save the structure have begun to make headway. In May 2014, workers installed a new roof on the rear two-thirds of the building, which included the theater—a project funded by $300,000 in federal Community Development Block Grant funds and a $40,000 loan from Indiana Landmarks.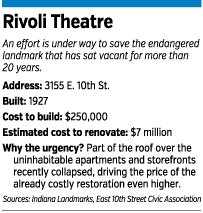 The loan gives Indiana Landmarks a "legal interest" in the building, said Mark Dollase, its vice president of preservation services.
"No demolition can occur or no exterior renovations made without our consent," he said. "That at least gives us some reassurance that the building isn't going away anytime soon."
The next step, slated to occur by this fall, is to re-roof the front portion of the building over vacant retail and apartment space. Simply stabilizing the structure is the top priority before tackling a full renovation.
Plans call for reducing the Rivoli's 1,500-seat capacity to about 650, which would create space to upgrade rest rooms, add dressing rooms and a bar, and make other improvements.
Funding likely will be the biggest hurdle. Possibilities include federal tax credits, charitable contributions and loans, said Tammi Hughes, executive director of the East 10th Street Civic Association.
She said an ideal arrangement would be to partner with a developer that would help finance the project and operate the theater when work is complete. At least one firm has expressed interest.
Local Initiatives Support Corp. will provide a façade grant, likely less than $10,000, once the building is stabilized, LISC Executive Director Bill Taft said.
"Even if you can figure out the renovation cost, operating it will be an ongoing challenge," he said. "So you need an organization to take some responsibility to keep the building going."
Designation could help
The broader plan to establish an arts node around the Rivoli could benefit simply from its location in a beaten-down part of the city.
Late last month, the U.S. Department of Housing and Urban Development announced it had designated Indianapolis' near-east side as one of eight nationwide Promise Zones under a program that seeks to revitalize high-poverty communities.
The Indianapolis zone has a population of more than 17,000, with almost half living in poverty and a quarter unemployed. The designation does not include any direct federal money, but gives impoverished areas a leg up in obtaining federal assistance.
"The Promise Zone announcement could be huge," Hughes said.
The area already has some momentum, thanks in part to new development along East 10th Street completed as part of the city's multimillion-dollar Super Bowl Legacy project three years ago.
The funding helped build Clifford Corners and the Chase Near Eastside Legacy Center, which houses a health and fitness facility and about a dozen local organizations that provide cultural programming. It also helped rehab, build or repair homes and attract storefront businesses to East 10th Street.
New homes also are sprouting farther west, near the Monon Trail and College Avenue.
Making progress
If the Rivoli plans come to fruition, the near-east side will join other urban neighborhoods that have used arts as a springboard for broader revitalization.
Hughes at the East 10th Street Civic Association and others in 2013 traveled to Chicago to tour the Little Black Pearl Art and Design Center on the city's south side and the Old Town School of Folk Music, whose move into a new building in 1998 helped rejuvenate a neighborhood in Lincoln Park.
After the trip, Hughes persuaded the contemporary dance company Motus Dance to relocate from Fountain Square to Clifford Corners. It made the move in January, joining Brookside Dance Academy, Khaos Company Theatre and Metta Yoga. About 7,000 square feet of space remains available.
By moving, Motus escaped a building that had fallen into disrepair, said Heidi Keller Phillips, the group's executive and artistic director. She met Hughes during a presentation Hughes gave to the Arts Council of Indianapolis about efforts to restore the Rivoli and decided to take the leap.
"I like the fact that they recognize the power of art to revitalize an area," Phillips said. "I believe in it—I really do."•
Please enable JavaScript to view this content.