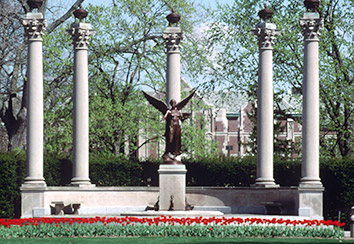 Few if any of the most successful local captains of industry ever set foot in the entrepreneurship programs now dotting universities around the world.
Shopping mall magnate Herb Simon, tech patriarch Don Brown, surgery toolmaker Jim Pearson and many others have fared spectacularly without professors teaching them things like innovation in formal entrepreneurship classes.

So what do the Indiana programs—two of which are nationally known—have to show for their efforts? Entrepreneurship and innovation can't be taught, right? You're either born with the gene or you're not.
Leaders of the most prominent programs in the state—Indiana University and Ball State University—say success is hard to measure. They point to a relatively small number of graduates who have started businesses, but perhaps more important, to graduates who learned to think entrepreneurially in college and took the mind-set into existing companies, where they helped elevate their company's game.
"Innovation is becoming the mantra of this century," said Donald F. Kuratko, who founded Ball State's program in 1983 and took over IU's program in 2004. "You have to have an entrepreneurial mind-set to adapt quickly."
Kuratko and other academics who run the programs compare entrepreneurship to medical skills: Some people have the knack, but education betters both those with the knack and those without it.
Academics try to impart that mind-set through case studies or traditional lectures and discussion.
In both cases, however, the programs rely heavily on real-world entrepreneurs' sharing their experiences.
That applied experience is taken to its zenith at Ball State, where entrepreneurship majors must write a business plan and persuade a panel of outside business executives to accept it, much like the "Shark Tank" television program. Thumbs up, and the students get a degree; thumbs down, and they don't.
Though most students get their sheepskin, few follow through with starting a business.
Still, said Mike Goldsby, who directs the Entrepreneurship Center in Ball State's Miller College of Business, the process exposes them to the basics of entrepreneurship and innovation—recognizing opportunity, assessing risk, marshaling resources, following through. Sort of a liberal arts experience within a business school.
One Ball State major who followed through is Jayson Manship, who graduated in 2005. After stints at a homebuilder and the Indiana Pacers, Manship launched an Indianapolis Web development firm that drew heavily from research he'd put into his college business plan.
InSourceCode Inc. now has 19 full-time-equivalent employees. It racked up $1 million in revenue in 2014 and is projecting at least $2 million this year—success Manship said would not have been possible without the academic rigors that forced him to think in terms of taking a leap.

Manship
"You're born with the bug," said Manship, who considered 10 entrepreneurship programs nationally before choosing Ball State's do-or-die major. "But that doesn't mean people will actually act on it.
"Entrepreneurship is doing," he said. "You have to be prepared to pivot."
That knowledge can be taken straight into a startup, or just as well into a corporate or not-for-profit setting, proponents say.
Kuratko contends that students gain a "greater appreciation for the trials and tribulations that the owner is going through, which can make them a far more effective employee."

Dietrick
Bo Dietrick credits his Purdue University entrepreneurship classes with teaching him to think creatively at ExactTarget, now Salesforce.com. Noticing that ExactTarget had no marketing presence on the video-sharing website YouTube, Dietrick took it upon himself to gather a team of colleagues and create a YouTube channel.
The big-picture thinking he gained in the Purdue classes now comes in handy at Think Ahead Studios LLC, where he produces commercial videos.
Purdue "always said to have that spirit of entrepreneurship in whatever you do," he said.
Please enable JavaScript to view this content.