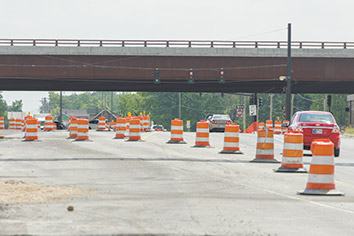 Driving into Noblesville on South 10th Street is a different experience than entering the city along its other entry corridors, with their brick welcome towers or new developments with fresh landscaping.
The 10th Street mile stretch into downtown is lined with mechanic shops, used-car lots and carwashes.
There's no pedestrian-friendly sidewalk, and the road is narrow for vehicles because there's hardly any curb buffering street and private property.
It doesn't make much of a first impression. Officials in Noblesville hope to change that—joining leaders of other northern suburbs in pursuing projects to upgrade entry corridors to attract visitors and new businesses.
The 10th Street roadway hasn't changed much in years, mostly because the city has no control over it. When the state constructed the street decades ago, obtaining continuous right of way wasn't a priority. City officials estimate that about two-thirds of the property owners on the two-lane gateway to downtown still own to the center of the street.

Without the right of way, the city can't install curbs or drainage systems, construct sidewalks, or landscape.
"You only have one opportunity to make a first impression," Mayor John Ditslear said. "A weakness we have is the South 10th gateway."
The northern Indianapolis suburbs are struggling to improve their doorsteps despite tight budgets, right-of-way acquisition obstacles and fickle public tastes.
There are a few tricks, like buying key property in gateway corridors, improving nearby infrastructure in the hope of motivating adjacent property owners to cooperate, or incorporating gateway upgrades into other projects already funded.
But creating an appealing entry boils down to time and patience.
The elements
Monuments can serve as a city's most memorable identifier—the Gateway Arch in St. Louis, Monument Circle, the red bridge in Columbus, Indiana.
"Even if you're not going to Columbus, you know that you're passing by," said Karen Radcliff, vice president of Hamilton County Tourism.
The northern suburbs might not need to make such a grand gesture, but it couldn't hurt.
"It takes more than just a cool sign or a cool bridge to really impact the economy in a significant way, but usually that's part of the mix," Radcliff said.
Westfield might be the first to venture in that direction. The city has proposed building two 100-foot metal-mesh towers at U.S. 31 and State Road 32. Bids ranged from $2.4 million to $3.1 million, but the City Council tabled the proposal last summer to allow more public input.
Mayor Andy Cook said the city is revisiting the design and still wants a significant marker at the interchange.
"We want them to remember—that's the place with the towers or whatever we're going to come up with there," Cook said.
Westfield also maintains landscaping along State Road 32, and intends to do the same for U.S. 31 once construction to upgrade 13 miles of the road to freeway standards is complete.
Cities also use zoning regulations to control the look and feel of certain areas by requiring specific building materials and restricting signs.
For example, the brick buildings along Carmel's portion of Michigan Road weren't constructed by coincidence, and the business corridor on U.S. 31 didn't develop without city guidance.
"It's about creating a sense of place, a sense of entry," Mayor Jim Brainard said. "There's a very different feel when you get to Carmel."
Running into roadblocks
Installing a gateway or redoing a corridor isn't quick, cheap or simple.
Not only do cities have to pay to install a gateway marker, but they also have to maintain it. And how many incoming roads are considered gateways? Fishers' master plan names 15. Carmel has about a dozen, with only a handful completed.
"You have a lot of different roadways going on," said Josh Desmond, president-elect of the Indiana chapter of the American Planning Association. "Which ones are the key ones you want to highlight?"
Zionsville invested town funds toward an entrance feature at Sycamore and Main streets when it purchased the PNC Bank property two years ago.
No gateway projects were tucked into the 2014 budget for Fishers, but money could be set aside next year. A nearby utility line, with the tower at 96th Street and Allisonville Road, drove up costs. Relocating utilities would have caused project expenses to skyrocket, so the city built the tower slightly off the corner, Director of Community Development Tom Dickey said.
"For us, the plan is there. When they get built is more a matter of budget," Dickey said. "There are other priorities that need to be addressed."
Carmel, which has already spent $80,000 on signs directing visitors to attractions like City Center and The Palladium, intends to phase in more signs over time but the schedule will be dictated by available funds.
Brainard would also like to redesign Merchants' Square to make it more inviting for pedestrians, but again, there's no time line and another issue comes into play—land ownership.
Any long-term vision for 116th Street is complicated by necessary support from most of the individual property owners because it includes demolishing several buildings, reconfiguring the street to include a town-square-style plaza, and attracting businesses to vacant retail space.
It's similar to the right-of-way standstill Noblesville has been at for years, but now city officials think constructing a roundabout at 10th Street and Christian and Greenfield avenues will finally improve the eyesore gateway.

"If we pretty that intersection up, we'll gain momentum and have some property owners to the south more willing to engage some sidewalk and street-improvement projects through there," Noblesville engineer John Beery said.
And with any major public project, public input has to be heard, which can be beneficial even if it slows the process.
"Once you put the thing up, once that fabric starts taking shape, it's difficult to turn back and undo it, let alone to spend the money to undo it," said Wayne DeLong, Zionsville director of planning and economic development.
Branding a city
When the then-town of Fishers started thinking about its gateways and adding directional signage like Carmel's throughout town, officials had to consider what defined Fishers.
This was before now-Mayor Scott Fadness started identifying the community as an entrepreneurial city.
"It was predominantly because of economic development," Dickey said. "It wasn't just to have someone know when they were crossing a line."
In late 2012, the city started researching and gathering public input on where the major gateways were and what kind of elements would be appropriate in those areas. In 2014, the master plan was completed, with 15 gateways identified. Three have been installed.
"Gateways, specifically for commercial districts, can act as a catalyst for development by depicting an appealing atmosphere to outside investors," the master plan states.
Dickey likened it to the greeting team at a church. "It's that first impression."
The finished gateway structures give the city a brand to those unfamiliar with the area. The brick-and-stone tower at 96th Street and Allisonville Road is humble and conservative, Dickey said, like Fishers.
"It begins to sell itself by the visual impact of the gateway," he said.
Having a strong, independent identity can be even more vital when cities blur together as they do north of 96th Street.
Noblesville touches Westfield, Carmel and Fishers, and in places, one side of the road is Noblesville and the other isn't.
"That can be a big challenge for communities that bump right up against each other," Desmond said. "It's very different for a smaller community surrounded by a rural area."
The same problem spills into Boone County.
"Whitestown bleeds into Zionsville bleeds into Carmel bleeds into Fishers," Zionsville Town Manager Ed Mitro said. "It's always a challenge—how do you differentiate and define yourself?"•
Answers: 1. Noblesville, 2. Carmel, 3. Zionsville, 4. Westfield, 5. Fishers
Please enable JavaScript to view this content.