Indiana has seen per-capita cigarette consumption fall by nearly half since 2001.

The bad news is, the state's funding for anti-smoking campaigns has been falling far faster: 80 percent over the past 15 years and more than 35 percent just since Gov. Mike Pence took office in 2013.

When the state government launched the Indiana Tobacco Prevention and Cessation agency in 2001, it was promised $25 million each year to battle smoking and chewing tobacco. Today, that agency is allotted just $5 million per year.
"We do everything we can to serve communities with the resources that we have," said Miranda Spitznagle, director of the agency, which in 2011 became part of the Indiana State Department of Health.

There is undeniable progress. Among Hoosier adults, 14 percent fewer were smoking in 2013 than just two years earlier, according to an annual survey by the state health department. And that drop came after adult smoking had already tumbled 21 percent over the previous decade.

Still, significantly more Hoosiers smoke than is the case nationwide. Out of every 50 typical Hoosiers, 11 smoke either daily or occasionally. But the typical group of 50 Americans would have only nine smokers among them.
Multiply that difference by the nearly 5 million adult Hoosiers, and there are more than 204,000 Hoosiers smoking than would be the case if the state were keeping pace with the rest of the country.

Smoking results in more than $1,000 per person every year in health care costs, on top of any other health needs, according to a study earlier this year by researchers at the University of Illinois. That means smoking, by itself, is adding $1.1 billion to Hoosiers' annual health care spending.

And that's not even counting the money spent on the long-term health consequences of smoking. A 2014 report by the U.S. Surgeon General noted that smoking causes 87 percent of lung cancer deaths, 79 percent of all cases of chronic obstructive pulmonary disease, about one out of three cancer deaths, and about one in three heart disease deaths.

The U.S. Centers for Disease Control and Prevention estimate that more than 9,700 Hoosiers die each year due in some way to smoking, but more than 300,000 have chronic diseases due in part to smoking.

Lifelong health care costs total nearly $138,000 per smoker in Indiana, according to an analysis earlier this year by WalletHub.

Most of that spending is borne by public programs—Medicare and Medicaid—according to a 2014 report published in the American Journal of Preventive Medicine.

Meager budgets

In spite of that, nearly all states are spending paltry amounts on anti-smoking programs. The CDC issues recommended spending levels for each state, based on its prevalence of tobacco use. But only two states are meeting those goals.

Indiana's annual spending on tobacco programs is less than 10 percent of the CDC's recommendation. Yet on that metric, Indiana ranks higher than all four of its neighboring states and higher than 15 other states around the country.

Harold Wimmer, CEO of the Chicago-based American Lung Association, said the smoking rate won't reach the CDC's goal of 12 percent until state and federal officials get more serious about spending on prevention, taxes on tobacco products, and restrictions of smoking in public places.

"It's no secret how to reduce tobacco use in the United States; our state and federal leaders need to muster the political will to implement these proven policies," he said. "Our nation cannot afford the health or financial consequences of their continued failure to act."

Starting big

Indiana launched its anti-smoking efforts with great fanfare in 2000, when Gov. Frank O'Bannon signed legislation that pledged all of the state's funding from the 1998 "master settlement" with big tobacco companies to health-related programs.

The amount Indiana receives from the tobacco settlement varies each year, but has ranged from $125 million to $150 million since the money started flowing.

At the start, one-quarter of the money, or $35 million, was earmarked for anti-tobacco programs and education about tobacco. Indiana was one of only a handful of states to devote all the money to health programs.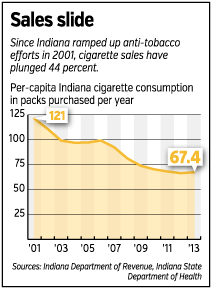 "We can be proud of our progress since about 1999," said Dr. Richard Feldman, who was health commissioner under O'Bannon when the anti-smoking legislation was passed.

In its early years, Indiana Tobacco Prevention and Cessation gave grants to community groups in all 92 of Indiana's counties. And it launched an in-your-face advertising campaign known as White Lies.

Unfortunately, Feldman said, "It quickly deteriorated. The Legislature saw that money; they had other needs for that money. Much of it still goes to health-related purposes, but not to tobacco cessation."

Each year, Indiana receives more than $536 million in revenue either from the settlement with tobacco companies or taxes on tobacco products or federal funding. But only about $7.3 million of that goes specifically for tobacco-control programs.

The ad campaigns waned not long after Gov. Mitch Daniels took office in 2005 and, with him, a Republican-controlled Legislature. Daniels included a personal appeal to "try to quit smoking" in his InShape Indiana advertisements, but those were backed with far less money than the White Lies campaign had been.

Republican leaders wanted to reduce state spending, and they also felt there were other tools other governments had tried successfully that Indiana wasn't using, recalled Dr. Greg Larkin, a former health commissioner under Daniels.

"It was appropriate to focus some of the funding resources and political policies on other areas, such as smoking bans and cigarette taxes," Larkin said. "In today's environment, there's a lot of available anti-smoking message forms that do not require state investment."

State leaders followed through on both fronts. In 2007, the Legislature passed a 44-cent-per-pack tax increase on cigarettes to fund Daniels' Healthy Indiana Plan. That raised the per-pack tax to 99.5 cents, where it still sits.

Anti-smoking activists proposed raising the tax $1 per pack during the 2015 legislative session, but that effort failed.

Also in 2012, the state implemented a smoke-free-air policy. It prohibited smoking inside and within 8 feet of the entrance of most workplaces, restaurants and public places. But unlike stricter policies in such cities as Indianapolis and Bloomington, the state law did not prohibit smoking in bars, tobacco stores, casinos and clubs.

Feldman, who is now director of the Franciscan St. Francis Health Family Medicine residency program, thinks the statewide policy has removed any incentive for local leaders to pass their own laws. He said Indiana needs to be working on all fronts to see the drop in smoking that health officials want.

"It's not just a tobacco tax. It's not just a statewide cessation program. It's not just a school program. It's not just a media campaign," he said. "It's all those things working together."

Funding for Indiana Tobacco Prevention and Cessation was down to $8 million per year when Pence took office in January 2013. And within his first week, the Pence administration slashed the agency's budget to $5 million.

"That was an adjustment," acknowledged Spitznagle, director of the agency.

Spitznagle and her staff of 10 now give out grants to community organizations in only about half of Indiana's counties. For publicity, they rely on an ad campaign funded by the CDC, which runs sporadically, and on health care providers to refer their patients to the 1-800-QuitNow hot line.

"I think all states need to invest more in tobacco control," Spitznagle said. "I think Indiana is no different than many others."•