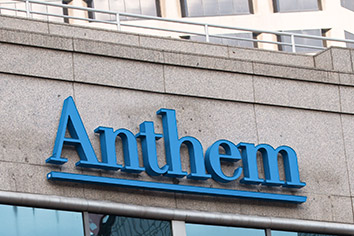 Anthem Inc. on Saturday went public with a non-binding proposal to buy smaller health insurer Cigna Corp. for about $47 billion in what would be the industry's biggest takeover ever.
The proposed offer is for $184 a share, about 31 percent of which would be paid in Anthem shares and the rest in cash. That's a 29-percent premium to Cigna's average closing price in the past 20 trading sessions. Anthem said the total transaction value is $53.8 billion, including debt.
The public announcement turns up the heat on Connecticut-based Cigna, which had been unwilling to consent to a deal during private discussions over the past month, which were reported earlier this week by The Wall Street Journal. One of the stumbling blocks has been Cigna's insistence that its CEO, David Cordani, serve as CEO of the merged company, a condition to which Anthem has been unwilling to commit.
In a letter dated Saturday, Anthem CEO Joe Swedish told Cigna's board: "We were stunned that the Cigna Board continues to insist on a guaranteed CEO position for Mr. Cordani over choosing to allow its stockholders to realize the significant premium being offered."
Under Anthem's proposal, the merged entity would be about 24-percent owned by Cigna shareholders and would serve about 53 million members.
Health insurance companies are on the verge of a consolidation wave much like the pharmaceutical industry has been experiencing. Companies such as Anthem are searching for ways to cut costs and keep profits expanding amid a surge in enrollment from the Patient Protection and Affordable Care Act.
Indianapolis-based Anthem said combining with Cigna would boost adjusted earnings by more than 10 percent in the first year. Together, they would generate more than $115 billion in annual revenue.
"This combination is the absolute best strategy for both organizations to maximize the potential and lead the transformation of the health care industry," Swedish said in a press release. "Together our companies would rapidly build on each other's complementary strengths to create a diversified platform that could better capitalize on new opportunities and meaningfully deliver innovative, quality solutions to all of our stakeholders."
Anthem, valued at $43 billion on Friday, was considering a takeover of Cigna or Humana Inc., a person familiar with the matter said this month. Chris Rigg, an analyst for Susquehanna Financial Group, said at the time that should Anthem choose to target Cigna, then Aetna Inc. may pursue Humana.
Please enable JavaScript to view this content.