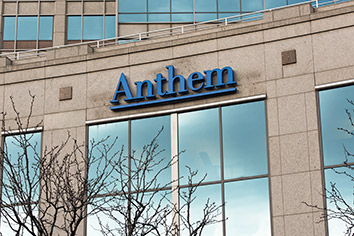 A victory by Anthem Inc. in its bid to buy Cigna Corp. could create regulatory hurdles for other insurers exploring deals as antitrust officials seek to hold the line on rising health care costs.
The top five U.S. health insurers are facing a round of potential mergers amid heightened antitrust scrutiny. That could prompt a scramble to strike the first deal in an effort to win approval, according to Matthew Cantor, a lawyer with Constantine Cannon LLP in New York.
"This is a race to merger," he said. "If everybody is thinking about merging, and you're the last guy to the party, the last guy faces the most significant antitrust scrutiny."
If the top five companies become four, antitrust officials probably will review whether subsequent tie-ups leave enough choice for consumers in states and counties where their businesses overlap.
Anthem on Saturday offered to buy smaller Cigna for $47 billion, an approach Cigna rejected as inadequate. The takeover would make Indianapolis-based Anthem the largest health insurer in the United States, with 53 million covered members compared with 46 million for UnitedHealth Group Inc., according to Bloomberg Intelligence.
Anthem has also expressed interest in Humana Inc., the smallest of the top five ranked by market value, as have Aetna Inc. and Cigna. UnitedHealth might be interested in Aetna or Cigna, and Aetna has proposed buying Humana.
Consolidation among insurers has historically led to higher premiums, according to Leemore Dafny, a professor at Kellogg School of Management at Northwestern University who has studied competition in the industry.
Antitrust officials at the Justice Department, who review health-insurer deals, will be "asking some really tough questions," Dafny said. "It's a very highly concentrated market."
Fueling consolidation
Fueling the potential consolidation is the Obama administration's 2010 health law, which put tougher rules on the industry, demanding more covered services, better care and a ceiling on profits. Companies are racing to capture the more than 20 million customers who will buy coverage under the law.
The potential dealmaking among insurers comes as officials at both the Justice Department and the Federal Trade Commission, which share antitrust enforcement, are eyeing rising health-care spending by consumers. The department's antitrust division and the FTC hosted a workshop earlier this year to examine competition in the industry.
"Because health care is fundamental to our lives, we share an interest in maintaining and fostering competitive markets that will keep prices in check, improve quality and spur innovation," said Bill Baer, the head of the antitrust division, in a speech in February.
Hospital mergers
The FTC has been particularly aggressive in health-care enforcement, suing to block hospital mergers and litigating against pharmaceutical companies to stop what it calls anticompetitive agreements that keep generic drugs off the market. The agency reached a settlement with Teva Pharmaceutical Industries Ltd. in May requiring the company to pay $1.2 billion to resolve claims that Cephalon Inc., which was acquired by Teva, blocked generic-drug competition.
The Justice Department challenged Humana's acquisition of Arcadian Management Services in 2012, requiring divestitures in five states to maintain choice for Medicare Advantage plans.
"Health-care prices are a very sensitive issue for the government now across the board," said Jennifer Rie, an analyst with Bloomberg Intelligence.
If Anthem strikes a deal for Cigna, the minimal geographic overlap in local markets between the companies could help it successfully navigate an antitrust review, according to Rie.
Most overlap
The companies also have fewer Medicare Advantage enrollees—about 1.9 million combined—compared with Humana and UnitedHealth, which have about 6.4 million, according to data compiled by Bloomberg Intelligence.
While the five insurers are large, their businesses are for the most part regional. Not every company has operations in every state. The most overlap would occur with deals between Aetna and Humana, Anthem and Humana, and UnitedHealth and Aetna, according to analysts at Susquehanna International Group.
Joseph Swedish, Anthem's CEO, said on a conference call Monday about a Cigna takeover that "no substantive antitrust or insurance regulatory issues" would stop the deal.
Dafny, the Northwestern professor, said that while merging insurers may argue their increased size will provide scale to negotiate with providers and bring down costs for consumers, those efficiency arguments should be examined closely.
"The question I would ask is how can we the consumer be confident you would pass on any reduced payments to providers when the market would become more concentrated," she said.
Please enable JavaScript to view this content.