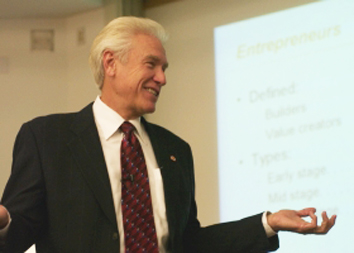 Editor's Note: This 1992 profile of then-CEO L. Ben Lytle chronicles the evolution of the company—then known as The Associated Group—from a sleepy health insurer operating in only one state into an acquisitive, aggressive business with national ambitions.
Eleven years ago, a 33-year-old executive with model-like looks and a Texas twang realized something about Blue Cross and Blue Shield of Indiana that would forever changed its course.
The company, this man knew, had to change dramatically. At stake was more than its prosperity. If it didn't change, it wasn't likely to survive.
"We were in one line of business—traditional health insurance—and we were pretty much doing it the same way it had been done for 40 years," said the executive, L. Ben Lytle, now the chief executive officer of the company.
"It had steadily been losing market share for a decade, and a lot of its business was auto and steel, which were going through a rapid contraction. The company had a terrible service reputation at that point and just wasn't looking toward the future."
Lytle rallied the forces into a team that converted the sluggish bureaucracy into a family of interrelated compoanies that, by many accounts, is one of the most innovative in the insurance and financial services fields.
The company, renamed Associated Insurance Cos. Inc. in 1985, now generates nearly $2 billion in annual revenue, nearly twice its revenue of just three years ago, and ranks as the 30th-largest health insurance company in the country.
"In general, they are one of the more exciting companies in the country," said Charles J. Singer, president of Charles J. Singer & Co. in Wakefield, Mass., a health care consulting and market research firm. "We enjoy watching them. They are one of the companies we track as a leader."
The troubled years
The story of Associated's transformation has two distinct chapters.
Between 1982 and 1986, a restructuring authorized by Lloyd Banks, now Associated's chairman, reorganized the company into strategic units and placed renewed emphasis on service.
The steps quickly improved earnings. Net income reached record levels each year from 1983 through 1985.
But the toughest part was yet to come. Associated still had no strategic future, Lytle said. So, in 1986, the company adopted a sweeping five-year plan to diversify into other lines of business and outside Indiana—at that time the only state where it did business.
The geographic diversification was aimed at protecting Associated from severe economic downturns. Because those downturns tend to strike certain regions, rather than the nation as a whole, company officials reasoned they could protect the firm by spreading it across the continent.
The business-line diversification was to protect Associated against the vicious cycles of health insurance, Lytle said. Three up years are almost always followed by three down ones, pummeling insurers too reliant on that business.
That's what happened to Associated in 1987 and 1988. Still dependent on health insurance for the bulk of its revenue, Associated reported a $36 million loss during the two years.
But Lytle was determine to reduce that dependence by purchasing companies in related fields and companies whose cycles run counter to those of health insurance.
Today, Associated has achieved the two goals of the strategic plan: generate at least 25 percent of its revenue outside the state and generate at least 25 percent of its revenue outside traditional health insurance.
"Are we satisfied with what we've done in the last five years? The answer is absolutely yes," Lytle said. "But we're not where we need to be yet. We need another five or six years."
The new Associated
Since the restructuring began, Associated has completed a series of acquisitions—including a 1989 purchase of Dallas-based American General Insurance Co. for $150 million and a 1991 purchase of The Shelby Insurance Co., based in Shelby, Ohio, for $125 million.
As a result of acquisitions or restructuring, Associated now employs 7,000 people and operates nearly 50 companies, including:
—Acordia Inc., the parent company of nearly two dozen brokerages focused on selling and servicing insurance and employee benefits programs for customers in specific industries, demographic groups and geographic areas.
—Anthem Companies Inc., the parent company of group life and health insurance companies and subsidiaries operating health maintenance organizations and preferred provider organizations. Anthem subsidiaries are licensed in 49 states and serve more than 1.5 million people.
—AdminiStar Inc., which, along with its affiliates, serves as contractor for various state and federal health insurance programs and offers a variety of other services. AdminiStar's contract services cover more than 1.5 million people in 24 states.
—Novalis Inc., which conducts research and development on alternative health care delivery products and computer software and markets those products.
—Raffensperger Hughes & Co. Inc., the largest investment banking firm in Indiana.
—Strategic Marketing and Research Inc., which provides market research for the Associated Insurance Cos. Inc. and other clients.
—The Shelby Insurance Co., a property and casualty insurance company with nearly $200 million in annual premiums.
As a part of its restructuring, Associated also decided to sell its former headquarters at 120 W. Market St., as well as its other downtown real estate holdings, to Mansur Development Corp.
Last September, Associated moved its headquarters from 120 W. Market St. into the newly renovated 120 Monument Circle Building, a Mansur building that Associated had owned.
Strategy pays off
By any measure, the company completed its reorganization without ravaging its balance sheet.
Earnings, for example, are rebounding. The company is expected to report net income of about $40 million for 1991 when numbers are finalized later this quarter. That's down from the $52 million reported a year earlier, but only because a health insurance down cycle emerged in 1991.
And a ranking of Blue Cross-Blue Shield plans compiled by The Wall Street Journal found that Associated had the largest surplus cushion of any of the country's 74 plans. That surplus of $475 million was sufficient to cover claims for 30 weeks, far longer than any other plan in the country.
But the transformation wasn't easy, Lytle said. Some executives left the company, and some employees who didn't believe in the plan or didn't want to participate took early retirement.
Although the need to change was obvious to many employees, Lytle likened the process to "pushing an elephant over a hill,"
One of the biggest changes for employees was the elimination of layers upon layers of bureaurcracy. The greater the distance between the decision-maker and the customer, the greater the risk that customers' needs won't be met, Lytle believes.
It was a new culture that now pervades every subsidiary in the company. But nowhere was the change more pronounced than in the Acordia insurance brokerage subsidiaries.
Executives say the ideal size for an Acordia subsidiary is 65 to 100 people, with no more than two layers of management. Each company operates autonomously, with its own board of directors. When a company gets too big, it is split and its focus narrowed.
Sherry Nord, chief executive officer of Acordia Collegiate Benefits Inc., said limiting the size of Acordia companies allows employees to know their customers better and have the flexibility to meet their needs.
"In my market, I have 23 accounts ranging from 59 employees all the way to 15,000," she said. "The upper-end accounts always got attention in our large organization. But our mid-sized and small guys didn't always get that attention."
Lytle's penchant for small, flat organizations that place executives closer to customers is influenced by the writings of futurist Alvin Toffler and Tom Peters, a guru on organizational structure.
Peters, in fact, features Acordia Inc. in his January 1992 newsletter, On Achieving Excellence, as a company that is working. "Once a slumbering giant, financial-service firm The Associated Group split five strategic business units into…100-person, 'start-up' enterprises, with startling results," the newsletter said.
Richard A. Cosier, a professor of management at Indiana University in Bloomington, said research supports the effectiveness of the entrepreneurial, customer-dirven approach.
"In a general sense, we've identified a lot of cases in U.S. business where companies have experienced a stagnation crisis. Past business practices were focused on the status quo," said Cosier, a researcher in organizational structure and organizational behavior.
"As the environment changes, organizations that want to survive have to change quite dramatically. The things they need to do reflect a need for quicker decisions, less bureaucracy and more customer attention."
Nevertheless, many of Associated's competitors have not changed, giving the company a competitve advantage, said industry experts and Associated executives. "It's easier to compete with the big ones because they don't move very fast," said Dan R. Carmichael, president of Associated's Shelby subsidiary.
At Associated, company officials believe they have prepared for the future by leaping into managed care, such as HMO's and PPOs. HMOs and PPOs are increasingly popular because they control health care costs more effectively than traditional health insurance.
In addition, even if the health care system became government run, Associated still would be in a position to prosper by subcontracting services from the government through its AdminiaStar subsidiary.
"I think realistically, something is going to happen. I don't know what it's going to be," said Howard L. Korn, president of Acordia Inc. "But one day our competitors are going to wake up and say, 'Oh, God, what are we going to do now?' Well, we've already done it."
Lytle's career path
Sipping bottled water and wearing a flamboyant tie in his fourth-floor office at Associated headquarters, Lytle does not match the stereotype of the aging insurance executive.
But then Lytle has never been like his peers. Raised on a farm in Greenville, Texas, he climbed the ranks of a variety of companies, including American Fletcher National Bank, by working in computer systems–a field known for its limited advancement potential.
Today, hints of his Texas heritage decorate his office. A 10-gallon cowboy hat sits on a ledge along one wall, and a pair of cowboy boots serve as a storage bin for an assortment of umbrellas near his desk.
His systems experience is not forgotten, either. Because technology takes so long to implement, as a systems planner he had to think long term. And he said he gained an appreciation of how strategy interrelates with an understanding of people and technology.
Carmichael, of the Shelby subsidiary, said Lytle plans differently than most executives. Most figure out where the company will be the next year and extrapolate that over five years. Lytle, however, figures out where he wants the company to be in five years, then figures out how to get there.
"Ben Lytle is a visionary," agreed Acordia President Korn. "Most visionaries dream, and that's about all. Ben has the wherewithal to carry out that dream."
But Ben Lytle doesn't call all the shots. LYtle is one of eight executives on the strategy council, which meets monthly. "There are a lot of knockdown, drag-out arguments about what we should or shouldn't do," said Korn, a member of the council. "There really is a team approach."
That's especially true in recent years. The success of the five-year strategic plan has made Associated an attractive place to work, and the company has capitalized on its new reputation.
Among those to join the company in just the last year are Mark Lubbers, formerly with the Hudson Instintute; Paula Parker-Sawyers, formerly a deputy mayor of Indianapolis; and Woodrow Myers Jr., formerly Indiana health commissioner.
"I'm a talent freak," Lytle said. "Five years ago, it would have been extremely difficult to attract some of the people we've attracted. We had a good idea, and they might have agreed we had a good idea, but there wouldn't have been a lot of confidence n those folks' mind that we could make the changes."
Associated's executives are now working on a new strategic plan that will run six years. Lytle said the company wants to increase its percentage of business outside traditional health insurance to at least 50 percent and increase its business outside the state to between 60 percent and 80 percent.
But this time around, the sense of urgency is gone.
"Five years ago, we had to change. If we didn't change, we were going to get clobbered," Lytle said.
"The next six years, we are more prepared opportunistically to change. We can get to where we have to go without a lot of change. But we'll take advantage of opportunities to get what we want to get done faster, better and more efficiently."
Please enable JavaScript to view this content.