It's no secret that tech companies are on a constant hunt for software programmers.
But these firms are also clamoring to get product specialists—the rare people who have both the communication skills to discover what customers want and enough technical know-how to bring it to life.

Oesterle
"I think there's this growing appreciation of, 'Man shall not live on code alone,'" said former Angie's List CEO Bill Oesterle, who created a product management position at the company a few years ago. "The world is waking up to the importance of people who have the creativity and resourcefulness to actually turn … all these new tools and technologies into solutions that are valuable. But there just aren't enough of them yet."
The dearth of this amphibious talent, at both the executive and rank-and-file levels, is leading local tech companies to poach it, outsource it and even attempt to grow it in-house. It's also sparking calls for education institutions to create programs that expose all students to the mix of creativity, business and technical skills that product specialists have.
Product teams typically include user-experience designers, product marketers and product managers.
Whether it's Web-based accounting software or a ride-hailing smartphone app, user-experience architects draw up blueprints for software engineers to go build. Product marketers articulate a software application's value to potential customers. And product managers captain its entire life cycle.
These roles have been around for more than a decade, but the need for them has increased dramatically as software technology increasingly permeates business and personal life. User-experience professionals, in particular, have seen a surge in demand as people expect the software they rely on at work to be just as smooth and elegant as using their iPhone or watching Netflix.

Reynolds
"There is literally a shortage of this talent in Indianapolis," said Mike Reynolds, CEO of InnovateMap, an agency he founded last year to serve companies' product needs.
"I started this company out of a vision and hope … that this [need] was real," the former Aprimo product vice president said, "and have been shocked at how real it is."
Product managers are in shortest supply, observers said. They drive the creation of tech products that people are willing to pay for. They listen to what customers want, predict what they need, and tweak products on the market as customer feedback rolls in. Even if they aren't proficient software coders, they're adept at expressing their vision to coders.

Middlesworth
"If you did a meet-up group in Indianapolis, there would only be about 15 to 20 of us," said Jeff Middlesworth, a former Salesforce product manager who started working for Pittsburgh-based Branding Brand in April. Middlesworth is still based in Indianapolis.
Chicago-based Geofeedia built an Indianapolis office around R.J. Talyor, another Salesforce alumnus, and plans to hire more than 300 people here by 2019. CEO Phil Harris said Talyor, who is vice president of product management, was a "strategic hire," and that it's not uncommon for tech firms to set up shop in other cities to hire proven product specialists. 
The alternative is cultivating such managers in-house, but Harris said, for many firms, "There's not time to grow it in-house."

Towns
Angie's List was able to grow its own. Shelly Towns joined Angie's List in 2005 as a staff writer, took over search-engine optimization, or SEO, in 2009 and ultimately became senior vice president of product in December 2014. She oversees a team of 45 and reports directly to the CEO.
Towns said it all started when she volunteered to lead the company's SEO efforts as a cheaper way to acquire members versus television ads.
"When Bill [Oesterle] asked me what [I knew] about SEO, I didn't know anything about it," Towns said. "I knew it had something to do with technology and something to do with content, so I figured I could check one of those boxes and figure out the rest."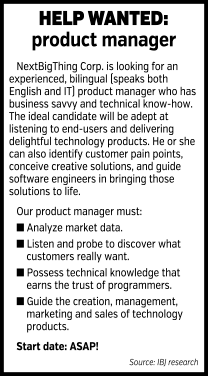 Towns graduated from Indiana University in 2000 with a journalism degree, which proved beneficial.
"She's trained to interact with people, to diagnose what they're trying to say, what they really need," said Oesterle, who stepped down as Angie's List CEO in June. "And she's fearless about asking questions, which turns out is phenomenally powerful."
Geofeedia's Talyor was also a liberal arts student, earning his bachelor's in English from DePauw University in 2002. He buttressed that by participating in an honors entrepreneurship program, as well as software and accounting internships. 
He joined what was then ExactTarget in 2004 and became a product manager in 2008. He said he didn't originally know what a product manager was, but discovered that much of it involved communicating effectively with customers and technologists.
"The English background helps in that way because I understand what people are saying and can document that in a way that everyone understands," he said. "And on the flip side, once the product's done, create the messaging and the launch strategy for the product to really resonate with customers."
Good product managers can come from any background, observers said, including technology. Middlesworth, of Branding Brand, has a career in software engineering that dates back to 1999. He said the three best product managers he knows came from engineering, marketing and user-experience design.
"There isn't a specific background as much as there was a strong skill," Middlesworth said. "And I think that skill is the ability to empathize with customers."
The labor market is so tight for experienced product managers that some companies even declined to speak about their product managers for this article over fear of poaching.
The companies that can't hire or develop product workers fast enough might outsource some product needs to agencies. Studio Science, which deals in user-experience design and product marketing, is one example. InnovateMap, which now has 25 clients, is another.
"We're a company capitalizing on this pain, but we aren't the answer to everything," said Reynolds, of InnovateMap. "I believe Indianapolis has to do something about grooming this type of talent."
One university program that appears to be contributing is the "human-computer interaction" program at IUPUI. It is currently turning out about 35 master's and doctoral graduates a year.

Bolchini
"There has been a growing recognition that we don't just need programmers, developers and engineers, but we need people who actually architect, think and design the experience with technology," said Davide Bolchini, department chairman of human-centered computing at IUPUI.
Some industry experts said educational institutions could help cultivate the key traits of product specialists—creativity, technical familiarity and business acumen—in all kinds of degree programs.
"We need a multi-disciplined program that gets you, not super deep in any one, but one that gets you as much exposure as possible," Middlesworth said.
Oesterle said technology is more accessible than ever before, and anyone can be a product manager.
"It's a great world right now," he said. "If you figure out somebody has a need, your ability to create a solution is an order of magnitude better than it was 15 or 20 years ago."•
Please enable JavaScript to view this content.