Historic downtown Noblesville is trying to get more hip.

The Hamilton County community—known for its quaint courthouse square lined with local restaurants and shops—largely goes to sleep before the sun sets.

And while that might seem like part of the small-town charm, it's not particularly appealing to a younger crowd looking for nightlife.

Now, Noblesville officials are embracing the county seat's historic nature but also recognizing the need to become more vibrant—or "hipstoric," as their marketing initiative is called—to attract millennial residents.

"All of us are getting older, and there will be a day where we need that generation to be the leaders," Mayor John Ditslear said. "We don't have an age group in mind in particular, but younger folks certainly enjoy city living."

The median age in Noblesville is 34, according to 2013 data from the U.S. Census Bureau. That's younger than in neighboring Carmel, which has a median age of 38, but slightly higher than the median age of 33 in Fishers.



Unlike those two cities, Noblesville isn't building a downtown from scratch or demolishing old structures. Instead, it's investing millions of dollars to revamp the district—$2.6 million so far and another $9.7 million expected over the next two years—and it's taking advantage of a state law that could spur a nightlife scene.

The effort is years in the making—and it will be several more before ongoing projects are completed—but city leaders, economic development experts and business owners believe it will work.

"I think they're gonna get there," said Brenda Myers, executive director of Hamilton County Tourism Inc. "They definitely have all the pieces in place. They just need the pieces of Velcro to hold it all together."

Getting the ball rolling

The west side of downtown across the White River has been targeted for growth since 2007, but the Great Recession stalled development.

In 2013, city officials started on the master plan for what is now called Federal Hill Commons. The 6.4-acre park initially had a $10 million price tag, but the cost was reduced to $6 million after several city council members balked.

Some amenities, including a splash pad and ice rink, have been cut. The park will still include an amphitheater, art displays, playground, water feature and walking paths.

Todd Irwin, CEO of BlueSky Technology Partners Inc., said the park significantly influenced his company's decision to build a $6 million headquarters nearby with 34,000 square feet of office space and 6,000 square feet for a restaurant.

Local leaders' "vision for this city that's inviting to a more youthful workplace, a more vibrant workplace … was extremely important to the type of lifestyle and amenities that our associates want," Irwin said, including walking and biking paths and family-friendly venues and events. Most of the company's employees are in their mid-30s.

The city is contributing $3.5 million to the BlueSky project, including land acquisition, environmental work and construction of a 200-space parking lot.

Ditslear said Federal Hill Commons' amenities are attractive to all generations. Myers echoed those thoughts, saying a diverse population can attract a diverse crowd of tourists.

Noblesville leaders view the park and BlueSky projects as kick-starts for growth west of the river.

"No one wants to build around a bunch of weeds," Ditslear said.

The city has also been making small—but noticeable—improvements to downtown infrastructure, spending nearly $550,000 on the façade grant program alone since 2013.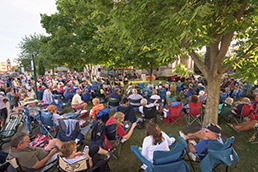 The First Fridays concert series in downtown Noblesville is sponsored by Main Street and features live music on the historic square. (IBJ photo/Eric Learned)
"We've been focusing on downtown Noblesville for years," economic development specialist Alaina Shonkwiler said. "It's our gem."

Others are buying into city officials' vision.

Main Street Noblesville, a not-for-profit that promotes downtown and sponsors events, collaborates with the city on the "hipstoric" initiative.

"We're almost retrofitting new into the historical context," said Chris Owens, executive director of Main Street.

Owens said the group promotes the idea at multiple events, including the First Friday concerts and weekly Farmers Market.

"Hipstoric" also is promoted at the Nickel Plate Arts center, which was created by Hamilton County Tourism to encourage art along the railroad that shares its name. The tourism organization has invested $2 million in the arts center, according to Myers.

She said she doesn't have statistics on the arts center's impact on attracting a younger generation, but she's heard stories.

"Anecdotally, I think it's working," she said. "We've had a number of people move to the area because they liked the opportunity to connect and engage with artists."

Bring on the booze

But downtown Noblesville is still missing an active nightlife.

Government and tourism officials insist they don't want a crazy bar scene, just something more along the lines of downtown Carmel.

"It was just a joy to be down at the Monon [Trail] on a Friday night," Myers said about a recent outing in Carmel. "I see the same thing in Noblesville, but it tends to be when there are prescribed events."

To bolster a regular nightlife, the city this summer established the Riverfront Redevelopment District. State law allows an unlimited number of liquor licenses within such a district, which can extend 1,500 feet on either side of the buildable river bank.

Outside the district, the number of alcohol permits is based on population. Noblesville is at its limit of 32 three-way licenses, which allow the sale of beer, wine and liquor.

When a community hits its cap, the only way a business can obtain a permit is to purchase an existing one from a current permit-holder. Some Noblesville establishments have paid up to $50,000 for a three-way license on the secondary market, according to Shonkwiler. The state charges $1,000.

When the City Council approved the riverfront district, it set its own limit of 10 new three-way licenses and eight new two-way licenses, although it can later vote to increase that. The state will issue the licenses, but they require mayoral approval and can be revoked at any time. Eight permits so far are pending, Shonkwiler said.

"People were afraid we were going to become the next Broad Ripple. Well, that's not our identity," she said.

Most applicants for the new licenses are existing businesses, including Courtney's Kitchen and The Ville, which had been selling only beer and wine with a two-way permit and would like to sell liquor.

Others are new business owners, including Stephanie Smith, who has opened the SmithHouse event venue on Lafayette Road and applied for a three-way license.

The city hadn't established the district when she was considering whether to lease the vacant house, so access to an alcohol permit didn't influence her decision to turn it into an event facility. But Smith said she was motivated by the Federal Hill Commons project and hopes to be involved with events at the future park.

"That just made us more excited about it," Smith said. "They're definitely trying to develop this place, which is great."

Eager for more

Irwin, CEO of BlueSky, would like to see other companies join his in investing in Noblesville's evolving downtown.

"It doesn't necessarily have to be a tech community, but it'd be great if it was," he said.

Local leaders also continue to wait for Riverview Health Hospital to reveal plans for its overflow parking lot, where the Noblesville Farmers Market currently sets up along State Road 32/38. They expect retail or medical offices as likely uses.

"That is a big piece of real estate," Myers said. "I think there's some real opportunity there."

Riverview recently circulated a survey to the public to gather feedback on the future of its property.

"I'm sure by the end of the year, we'll have more information on what they plan to do," Shonkwiler said. "That side of the river is finally taking off."

Ditslear said the west side might see an apartment or condominium project as the BlueSky headquarters is built.

Owens, with Main Street, agreed that the city could use a mixed-use development with housing or possibly an entertainment venue.

He said some residents might still be skeptical about the direction the city is headed, but that it has more momentum than ever.

"It's still very much a small-town feel. So when you're talking about change … you've gotta expect some concern," Owens said. "There's so much potential for Noblesville in the next five to 10 years."•