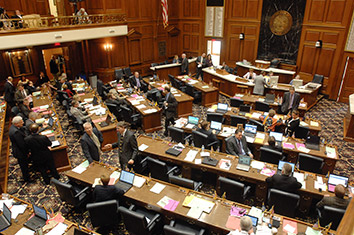 A work-sharing program meant to soothe the sting of economic downturns that made the Indiana Chamber of Commerce's list of legislative priorities this year enjoys strong support from labor unions and a bipartisan group of lawmakers who have proposed it year after year.
But, in past years, bills that would have created such a program—already deployed in nearly 30 other states—have gone nowhere with the Indiana Legislature.
Supporters are hoping for a different result in the 2016 session for what they call "common sense" legislation, which would allow employers to form agreements with the state to reduce their employees' hours, avoiding layoffs. Employees' lost hours then would be supplemented by partial unemployment compensation through the state.
The Department of Workforce Development would have discretion over when companies could take advantage of the program and under what terms. As described in earlier versions of the legislation, the program typically would be used for companies when times are tight or production is low.
"You can hold on to your best workers during an economic slowdown when productivity may not be 100 percent," said Rep. David Ober, R-Albion, who plans to author a bill this year creating the program with a Democratic colleague. "These people keep their benefits and keep a percentage of their wage while they're on the program. Folks are able to continue to put food on the table."
There might be some new momentum to get a bill passed. Last month Pence announced the state would pay off an outstanding federal unemployment loan, saving businesses an estimated $327 million in federal tax penalties, which could mitigate some concerns that have been raised in previous years about potentially adding costs to the unemployment program.
"It certainly doesn't hurt our case," said Mike Ripley, a vice president at the Indiana Chamber. "That was a real concern."
The state currently has a $54 million cash flow balance to pay unemployment insurance benefits, and about 20,000 people on benefits right now. That's a "pretty good" situation for the state to be in, said Department of Workforce Development spokesman Joe Frank.
In past years, Frank acknowledged, the department wasn't a huge fan of the legislation. But he said new DWD Commissioner Steve Braun is taking a "data-driven approach" to looking at the issue.
"We're absolutely taking more time and effort to look at data before we make a policy stance," Frank said. "We're remaining open-minded, but it's really too early to commit either way."
The program isn't among the top priorities for House Speaker Brian Bosma, R-Indianapolis, according to his spokeswoman Erin Reese.
Kara Brooks, Gov. Mike Pence's spokeswoman, said Pence had concerns about such programs in the past. She did not indicate whether he would support it in the next legislative session.
"In the past, we have had concerns about the potential for fraud and the costs of implementing such a program, and had not received sufficient information to allow us to feel comfortable with previous proposals," Brooks said.
Ripley said he believes some lawmakers' ideological concerns about a work-share program being an expansion of government has slowed support for the bill in past years.
"While it's a new program, it's less government, because we're not having people totally laid off and eligible for full-time unemployment," Ripley said. "It keeps money in the economy, and people get to keep their jobs."
Jeff Harris, spokesman for the AFL-CIO, said the union has been supportive of the program in the past and likely will be again, pending any major changes. For instance, he said, the union would not support the program if instituting it would void a collective-bargaining agreement.
"It gives employees time to look for other employment while they are working reduced hours in case the company is unable to survive—hopefully avoiding the possibility of long-term unemployment and loss of skills and marketability," Harris said in a written statement.
The program has been implemented in 28 other states and in Washington D.C., according to the National Conference of State Legislatures. The federal government in 2012 offered states about $100 million in grant funding to adopt such programs.
Legislation for an Indiana program was proposed in both 2014 and 2015, but both times it died early in the session. In 2014, lawmakers studied the issue at a summer study committee. Lawmakers said it had also been proposed in earlier years.
Sen. Karen Tallian, D-Portage, who first proposed a bill for a work-sharing program about five years ago, said she was pleasantly surprised the bill is gaining traction during a time when there's low unemployment.
Indiana had a 4.4 percent unemployment rate in October.
"It became a popular idea when we were in the middle of the recession," Tallian said. "It seems less necessary right now. I was kind of surprised that the Chamber's got it back on their list."
Supporters said they hope that doesn't derail support for the bill.
Rep. Karlee Macer, D-Indianapolis, who has been working with Ober on the bill, said she believes now is the perfect time to act.
"We hope this would never be needed," Macer said. "We want our state to be successful. It's the first thing we can do on the road to recovery to prevent job loss. We might not save every job in the state, but it's a method for our valued employers to stay in operation."
 
Please enable JavaScript to view this content.