Buck
Former Merrill Lynch broker Thomas J. Buck used to generate millions of dollars in annual revenue for the brokerage giant. But lately, he's been costing it millions.

Merrill Lynch has paid more than $4.1 million in settlements related to Buck's alleged misconduct since firing him in March.

Maddox
"For central Indiana, this is one of the biggest group of settlements for an individual broker that we've seen in the last 25 years," said Mark Maddox, a former Indiana securities commissioner who in private practice has advised some of the Buck clients seeking settlements.

"It's highly unusual for an individual broker to be named in so many complaints in such a short period of time, and it's highly unusual for them to be settled in such a short period of time."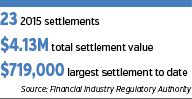 Merrill terminated Buck on March 4 after 34 years, citing a "loss of confidence." In July, the Financial Industry Regulatory Authority barred him from the industry. FINRA said Buck, 61, "willfully committed fraud" as he steered clients to commission-based accounts knowing it would have been less expensive for them to be in fee-based accounts.

Regulators said Buck had been doing that since at least 2009, and that he had made unauthorized trades in some client accounts beginning in or before 2011.

Commission-based accounts charge fees to trade securities while fee-based accounts charge clients a percentage of their total assets regardless of activity. As such, high-activity commission-based accounts can rack up charges quickly.

According to records in FINRA's BrokerCheck database, Merrill Lynch has settled 23 complaints for a total of $4.13 million since Buck's firing. The largest settlement was for $719,000.

Two complaints are pending, but FINRA records didn't indicate how much those clients were seeking. The records don't identify who lodged any of the complaints.

Messages left on Buck's cell phone were not returned. His attorney, David Robbins of Kaufmann Gildin & Robbins, didn't reply to requests for comment. A Merrill Lynch spokesman declined to comment.

Industry experts said those settlement figures are likely less than the amount clients were overcharged by being steered to commission-based accounts.

Berkson
"Almost invariably, the amount of wrongdoing exceeds the amount of the [settlements]," said Cleveland attorney Hugh Berkson, who is president of Public Investors Arbitration Bar Association. "Very rarely do you settle for more than your damages."

Buck was considered one of Merrill Lynch's power hitters, and his team generated annual revenue ranging from $6 million to more than $10 million, FINRA said. At least 85 percent of that was from Buck's individual production.

Barron's named him the top financial adviser in Indiana every year from 2009 to 2013.

However, FINRA found about 80 percent of revenue Buck generated came from commission-based activity. By comparison, 70 percent of Merrill's Indiana revenue was from fee-based accounts, FINRA said.

"I'd say Tom Buck was kind of a dinosaur in still having such a high percentage of his business in commission-based trading," Maddox said.

The brokerage industry has moved toward fee-based accounts over the past decade or so, Maddox said, but commission accounts still serve a purpose. A client who plans to hold stocks or bonds for an extended time would be better served with a commission structure, Maddox said.

There's also a drawback to fee-based accounts, Berkson said. Brokers are motivated to gather as many assets as possible under this model, he said, making them more likely to "bring in an account and never look at it ... because they're getting paid no matter what."

Still, he said, "there are fewer opportunities for fraud in a fee account," than in a commission-based account.

After Buck's termination, he landed a job in the Indianapolis office of RBC Wealth Management, bringing along his two daughters who worked with him at Merrill Lynch. He retired from RBC just days before FINRA disbarred him.

His daughters, including Indianapolis Colts cheerleader Ann Buck, are still employed at RBC, a spokeswoman for the firm said.

Asked whether RBC is connected to any past or pending settlements, the spokeswoman said, "RBC is not involved in any settlements related to Mr. Buck."

Maddox said most firms steer clients who complain to an arbitration process, which can take 10 to 16 months to play out. Nearly all the Buck complaints that have been filed since March have been settled within a few months, FINRA records show.

Brokerage firms typically pay client settlements, observers said. Maddox said Merrill could sue Buck down the road, "unless they entered into a post-termination agreement with him where they released each other from all liability."•