In late 2011, Bloomington resident Timothy Todd received a roughly $57,000 inheritance from his mother's estate. The money was a godsend for the disabled 59-year-old, who was primarily living off government benefits since injuring his back in a workplace accident a few years earlier.

As many people in such situations do, Todd immediately put the money in a special-needs trust to avoid losing his means-tested benefits. He chose The National Foundation for Special Needs Integrity Inc., a little-known Indianapolis not-for-profit. Todd made one withdrawal of $1,500 since then, but when he checked his account this summer, the balance had shrunk to $42,000.

Todd filed a class-action lawsuit against Special Needs Integrity in November, claiming it eroded his account balance with undisclosed management fees and unjustified legal fees paid to the Indianapolis law firm Lewis & Kappes PC.

Assuming the thousands of Special Needs Integrity's trust accounts were charged proportionally, Lewis & Kappes racked up legal fees totaling $2.4 million since 2011, according to the lawsuit. Special Needs Integrity has yet to explain what they were for.

Shevitz
"That is the great mystery that Mr. Todd has not been able to get them to answer," said Richard Shevitz of the prominent Indianapolis class-action firm Cohen & Malad LLP. "We'll be exploring that in the litigation."

Legal tangles are nothing new for the not-for-profit, which was founded in 2007 and, according to public records, has eight employees and serves more than 2,200 beneficiaries in 46 states.

An IBJ review of court records found that Lewis & Kappes is representing the organization in three civil lawsuits—including a contract dispute with a former vendor that began in 2009. The vendor was awarded $1,500 in damages by a small-claims judge that year, but the company deemed the judgment inadequate and now is seeking more than $2 million from Special Needs Integrity.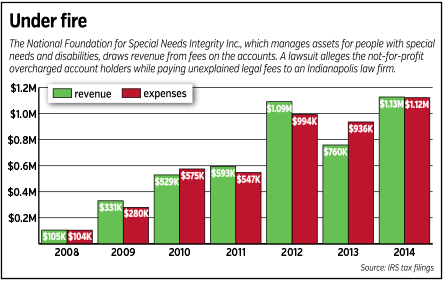 Special Needs Integrity also is tangling in court with its founder and former president, Shane Service, whom it fired and sued in 2014. Service has countersued, claiming, among other allegations, that the not-for-profit's board staged a coup to oust him and then tried to blackmail him.

On top of those cases, Special Needs Integrity is the plaintiff in a suit filed this year seeking a judge's approval to keep about $220,000 that belonged to a now-deceased beneficiary from Missouri.

Cohen & Malad estimates that, in addition to paying Lewis & Kappes $2.4 million in legal fees over the last four years, Special Needs Integrity overbilled beneficiaries almost $600,000 in management fees.

The organization had $15.2 million in assets under management as of June.

"The lawsuit seeks to recover all of the fees and expenses that were improperly charged to the beneficiaries' accounts," Shevitz said. "The beneficiaries of this trust are some of the most economically vulnerable members of our society, and we want to be sure that they're not going to be taken advantage of."

Special Needs Integrity did not respond to multiple requests for comment. It hired Indianapolis-based Hoover Hull Turner LLP to represent it in the class-action lawsuit, court documents show, and attorneys with that firm also didn't respond to calls and emails seeking comment.

Fees excessive?

Nearly all of Special Needs Integrity's more than $1.1 million in annual revenue comes from a 1.5 percent annual fee on assets, a rate one expert said is near the high end for special-needs trusts. Investment adviser Phil Clark, who specializes in such trusts with Indianapolis-based Foresight Financial Management, said fee rates often depend on the amount of work associated with each account, but, "I would say 1.5 percent is a bit high."

According to the lawsuit, the organization charged Todd a 3 percent annual fee in 2012 and 2013, as well as other account fees not previously disclosed.

Account statements attached to Todd's lawsuit show about $15,000 in withdrawals over four years, none of which he initiated. Some charges were in line with the organization's 1.5 percent fee, but the suit claims $9,600 in withdrawals were improper or unjustified—including more than $6,000 paid to Lewis & Kappes.

Todd first noticed overages and legal fees in July when Special Needs Integrity sent him a letter titled "Dear Beneficiary." The letter said it hired Lewis & Kappes in 2009 for "various legal services." It noted that trust-agreement documents permit such charges, with each trust account paying its proportionate share.

In August, Todd had an attorney ask for the specific nature of the legal fees, according to the lawsuit, but Special Needs Integrity's reply only pointed to trust-agreement provisions. Todd sent another letter that month and did not hear back from the organization, his attorney said.

Lewis & Kappes—which is not a defendant in the class action—did not respond to multiple phone messages from IBJ. Emails to three Lewis & Kappes attorneys doing work for Special Needs Integrity—David Gray, James Zoccola and Suzanne Gaidoo—were not answered.

Shevitz, Todd's attorney, said his office received a Nov. 23 letter from Gaidoo responding to the suit. IBJ obtained a copy of the letter, which didn't explain the charges, but said the employee who replied to Todd last summer cited the wrong trust-agreement provision when pointing out that the fees were permitted.

In the letter, Gaidoo said the mishap was an "unintentional and erroneous citation" and that the employee responsible was "talked to." She also said the "employee who caused the delay" to Todd's final letter was terminated.

Despite use of the word "delay," Shevitz said, Todd still hasn't received a response.

Protracted legal fight

Special Needs Integrity reported spending $274,000 on legal fees from 2012 to 2014, according to tax records—far less than the $2.4 million the lawsuit estimates was paid to Lewis & Kappes.

But tax records might not paint the entire picture as they don't specify any legal fees before 2012, even though Lewis & Kappes had been defending the organization in the contract-dispute case since 2009. It's unclear whether the organization lumped legal fees into a larger category of expenses some years or whether Lewis & Kappes was paid only from beneficiary accounts.

A review of court records suggests the contract-dispute suit, which has lasted seven years, is the costliest litigation Special Needs Integrity has dealt with.

The case was filed by Trust Legacy Consulting LLC, an Indianapolis firm Special Needs Integrity hired in January 2008 for marketing help. Under its contract, Special Needs Integrity agreed to pay Trust Legacy a hefty 17.5 percent of all account fees paid by beneficiaries.

A 2009 payment dispute led Trust Legacy to file a small-claims suit that July, court records show; Special Needs Integrity terminated the contract in August. A Marion County court awarded Trust Legacy $1,500 in damages that October, but the firm deemed the judgment too small and appealed to Superior Court.

Attorneys representing Trust Legacy said that damages figure has swelled to more than $2 million—not including the $250,000 it's seeking in legal fees—because the company believes its contract was wrongfully terminated and that its meter is still running.

"They're dragging their feet because they don't want to pay," said Trust Legacy's attorney, William Maschmeyer of Haggerty Haggerty & Maschmeyer.

The case has been logjammed for various reasons, including a scandal that prompted Lewis & Kappes' attorneys to seek its dismissal. They argued the case should be tossed because Trust Legacy principal Charles Mosbrucker sent the presiding judge money orders forged with the name of Special Needs Integrity's president to make it appear the organization was trying to curry favor.

The court denied those dismissal motions, stating that Trust Legacy is a legal entity separate from Mosbrucker. The case is scheduled for trial in April.

Falling-out with founder

At some point while that lawsuit played out, the relationship between Special Needs Integrity and its founder, Service, soured. The board fired him in August 2014 and four months later hired Lewis & Kappes attorneys to sue him.

That lawsuit, which is sparse on details, claims Service stole a company laptop and used a corporate credit card for unauthorized expenses. It accuses him of theft, conversion, fraud, breach of fiduciary duty and unjust enrichment—all related to the laptop. The fraud count was dismissed by a Hamilton County judge in June.

In May, Service countersued Special Needs Integrity, board members Gary Nead and Susan Hargrove, and Gaidoo of Lewis & Kappes. He claims board members wrongfully terminated him and that Gaidoo orchestrated the effort because she wanted his job.

"I guess you could call it a coup or an illegal ousting," said Service's attorney, Kevin Betz of Betz + Blevins, "because it was based on falsity."

It's unclear who runs Special Needs Integrity now; state records list Nead as president.

Service's countersuit calls Gaidoo his main Lewis & Kappes contact after he hired the firm in 2009 to "assist with a breach of contract issue with a vendor," an apparent reference to the Trust Legacy suit.

Through their working relationship, the lawsuit says, Gaidoo and Service began attending continuing education classes and traveling together, and Gaidoo frequently noted how tired she was of her job and how great Service's job was.

When Service went on sabbatical early in 2014, Gaidoo began working out of his office at least two days a week, the suit says. She then spearheaded an internal audit of Special Needs Integrity that "focused solely on Mr. Service's financial actions as President," the suit alleges.

When Service returned in August, Special Needs Integrity's two board members terminated him without cause, according to the suit. It says Gaidoo and other attorneys from Lewis & Kappes were present for the dismissal.

Service's countersuit also claims that "counsel" for Special Needs Integrity said that, if he would testify in the Trust Legacy case, the lawsuit relating to the laptop "would go away."

When asked for comment, Service directed questions to Betz, saying, "I would very much like to talk to you, but because I personally have litigation against Special Needs Integrity and Cohen & Malad has litigation as well, I do not want to interfere with either cause of action."

Court filings in late December show Special Needs Integrity wants to replace Lewis & Kappes with another firm for the Service lawsuit because Gaidoo, a Lewis & Kappes attorney, is a defendant in the case.

Lewis & Kappes is still listed as the not-for-profit's counsel in the Trust Legacy case and the deceased-beneficiary case.•