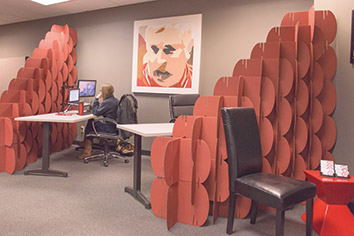 In mid-2012, DoubleMap Inc. CEO Ilya Rekhter and his co-founders were pursuing venture capital funding from a group of investors, hoping to get help with a business launch that seemed a bit shaky.
The co-founders of the Indianapolis-based company hadn't paid themselves for several months and had emptied their personal bank accounts into the company—with $18,000 coming from Rekhter alone. Expenses piled up faster than the transportation-software firm expected, and revenue fell short of expectations.
But by the time investors offered $1 million, DoubleMap turned it down. The young firm picked up traction during the six months investors vetted it, and the founders didn't want to give up an ownership stake for cash they realized they didn't need. 
To this day, DoubleMap has not raised venture capital, and the co-founders are pleased with their decision to bootstrap.

Rekhter
"I, looking back on it, am incredibly happy that we did not take on venture capital," said Rekhter, 27, before rattling off a list of benefits the founders enjoy by having 100 percent ownership.
"Creative control has been very, very nice. We decide if we're going to build a product, if we're going to enter a new market, if we're going to acquire a company," he said.
The terms "tech company" and "venture capital" often run hand-in-hand. It's immensely difficult for firms to quickly build and sell technology software or hardware without a sizable venture war chest.

Thompson
Nevertheless, DoubleMap and at least a few other central Indiana firms have managed to grow at a healthy pace without trading equity stakes for cash, suggesting that, while venture capital might be valuable, it isn't always vital.
Cyber security firm Rook Security LLC has yet to raise a dime of venture capital, CEO J.J. Thompson said, but made its way onto the Inc. 5000 list multiple years with an 866 percent revenue-growth rate from 2011 to 2014.
Email marketing firm Delivra Inc., which has reinvested profits to fund growth, plans to boost its 500-client customer base 40 percent in 2016 after posting 20 percent growth in 2015.
DoubleMap—whose clients include the city of Orlando, the University of Michigan and an iconic Silicon Valley company it didn't have permission to name—has been doubling revenue since its 2011 founding.
DoubleMap's software helps public-transit users and managers operate efficiently. Founders credit its success in part to low expenses and early traction in their niche market.
Rook Security started off as a security consulting firm—which is nearly impossible to raise venture funds for—before shifting to developing its own software.
The companies that manage to go it alone enjoy several benefits, not the least of which is the ability to spend time on customers, not raising money.
"I think there are more pros to not taking venture capital than people realize," said Maggie Musgrave, an associate with the Innovate Indiana Fund. "It really gives the company a chance to focus on refining the product and growing the company organically."

Berman
Taking on venture capital doesn't mean relinquishing full control; founders usually maintain majority ownership early on.
But it often means adding voices and opinions to the ownership ranks, some of which might be at odds with founders'. Neil Berman, CEO of Delivra, said outside investors influence who serves on the board of directors, and those directors in turn influence senior management hires. 
"And the culture sometimes clashes on what the vision of the company should be," Berman said.
Investors also have a time line for when they'd like to see returns on their investment, which isn't always in sync with founders' wishes.
"Some venture capital firms focus on a two- to three-year exit," Rook Security's Thompson said.
Taking venture capital can have an upside, however.
For starters, it provides companies in fast-changing industries the financial firepower to rapidly create products or boost employment to seize market opportunities.
It also signals an external vote of confidence in a company's business model. And it gives fledgling companies publicity and access to industry-tested investors, who can share practices to embrace and avoid.
"With that experience comes all of their contacts, all of their network effects," Musgrave said. "If the investors don't have the answer, they'll introduce you to their buddies who they've worked with—and potential customers."
Launching a company without venture capital usually entails having some circumstantial advantage—like cash from a previous business venture—settling for slow growth, or both. 
Companies that go the bootstrapping route don't always commit to it indefinitely. 
The two co-founders of Fathom Voice, Cameron Weeks and Bracken Fields, started the provider of business phone services in 2007 while they were Purdue University students. They used cash from student loans and bootstrapped the business until 2011, when it raised $300,000. To date, it's raised $3 million.
Weeks said the company was able to save on hefty upfront development costs because he and Fields had software engineering skills. They didn't want to seek venture capital early on, anyway, because they were still figuring out what the company would be.

Musgrave
"We wanted to understand first what we were actually going to end up building," said Weeks, the CEO. "We wanted to wait, play it out, grow the revenues slowly and ensure the product was in a [good] position."
Boone County-based MOBI Wireless Management LLC, which sells mobile-device management software, spent about six years without an outside investment until selling an equity stake to an East Coast venture firm for $35 million last spring.
DoubleMap, Delivra and Rook said they aren't ruling out venture capital down the road.
Thompson said Rook has been receiving overtures from investors since his company made the Inc. 500 in 2014, and he has honed in on a few potential partners.
"They're long-term partners … the ones who are going to help you go from $15 million or $20 million to $50 [million] or $100 million in revenue," said Thompson, whose firm pulled in more than $5 million in 2015.
"And the longer that we can hold out and not get any help from $5 million to $10 million or $10 million to $20 million, the more control we're going to have of our shares and the better valuation we're going to end up getting."•
Please enable JavaScript to view this content.