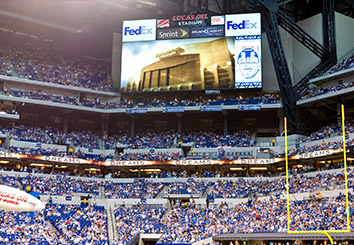 Indianapolis Colts season ticket holders recently got a heftier bill and two big promises from team owner Jim Irsay.
Irsay pledged—in a letter to season ticket holders this month—that despite a disappointing 8-8 season in 2015, the team will perform better in 2016. And there will be no ticket increases for 2017.
The ticket price hikes ranged from 1.4 percent to 6.3 percent depending on seat location. Overall, Colts Chief Operating Officer Pete Ward said, the increases averaged about 4 percent. He added that Colts have averaged only a 2 percent year-over-year increase since Lucas Oil Stadium opened in 2008.
The ticket price increases don't affect premium seating, including club seats and luxury suites.
"Each year we re-evaluate the pricing," Ward told IBJ Monday. "We try to price our tickets fairly and to our market. It would be suicide not to do that."
Colts officials consider things like overall ticket demand, demand in certain parts of the stadium and re-sale prices on the secondary market when they are considering what ticket prices should be for the upcoming season, Ward said.
The Colts have a season ticket waiting list of about 5,000, but Ward added that doesn't always indicate what a person is willing to pay for a particular seat.
When asked about Irsay's promise not to raise non-club seat tickets for 2017, Ward responded: "That's just Jim Irsay being Jim Irsay."
Ward added that Irsay has always done what he can to hold down ticket prices including eating a 4 percentage point ticket tax increase—from 6 percent to 10 percent—in 2013.
The biggest increases for 2016 are for lower level seats, with those between the end zones and 25-yard lines going from $1,400 to $1,480 each, and those in the corners of the lower lever going from $1,260 to $1,340. The tickets behind the end zones increased from $940 to $990.
The tickets nearer the 50-yard line are club seats and are not included in this price increase.
The smallest increase was in the corners of the upper-most deck. Those tickets rose from $440 to $460.
The prices are for eight regular- and two pre-season games.
Demand for next year's tickets will be driven by several key match-ups including those in Lucas Oil Stadium against the Pittsburgh Steelers and Chicago Bears. Other non-conference home game opponents include the Detroit Lions, Kansas City Chiefs and San Diego Chargers.
"We think we have a really good home schedule for our fans next year," Ward said. "Teams like the Steelers and Bears always create a lot of excitement here."
 
 
Please enable JavaScript to view this content.