For decades, auto insurance rates have hinged on rough measures of a person's driving habits, such as accidents or speeding tickets.
But the future will see auto insurers peeking in on every slam of the brakes and pump of the gas pedal.
Two dozen auto insurers in Indiana already have launched at least small-scale usage-based insurance programs, according to the Indiana Department of Insurance.
Liberty Mutual Insurance is piloting a program in Indiana and Michigan that uses a smartphone app to record specific driving habits, such as hard stops, fast acceleration, nighttime driving and total miles driven. Customers that score well on those measures can earn discounts of up to 30 percent.
Liberty Mutual's pilot program, launched in January under the name RightTrack Mobile, shows how this new approach could spread quickly.
Most insurers so far have relied on after-market "telematics" equipment installed in a car to record a driver's habits. But with 68 percent of all adults now owning smartphones, more insurers are poised to jump in the game.
"If you remove the barriers and make it a part of what you do every day, hopefully you'll be able to get more people interested," said Jeff Wright, vice president of auto telematics at Boston-based Liberty Mutual. "We hope it makes the phone ring and attracts people to our product lines."
There's good reason to think it will.
ABI Research, a United Kingdom-based market research firm, predicts that 73 million American cars will be insured under usage-based policies by 2020, representing about 45 percent of the market.
Growth could also come as car manufacturers put telematics into more new vehicles, making it easier than ever to opt in to usage-based programs. ABI Research predicts the chunk of new vehicles sold with telematics will surge from 13 percent in 2014 to 52 percent in 2020.
Some analysts believe auto insurers eventually will use telematics data to penalize bad drivers.
"Don't assume this is always going to be a way to lower your rates," Karl Brauer, an analyst at Kelley Blue Book, told the Washington Post in January. "It could be used against you to raise your rates long before you ever have an accident."
All the Indiana usage-based programs are voluntary, according to the Department of Insurance.
And Sandeep Puri, director of Deloitte Consulting's insurance strategy practice, expects they'll stay that way, since concerns about data privacy likely would generate opposition to mandated usage.
Even so, he said, "Every single signal that we've seen indicates that telematics adoption is going to increase."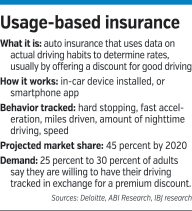 For auto insurers such as Liberty Mutual, Allstate and State Farm, these usage-based programs are a way to attract the lowest-risk drivers into their insurance pool.
"It helps us offer the biggest discounts to the safest drivers, so that helps us from a risk standpoint," said Wright at Liberty Mutual.
Liberty Mutual offers a 5 percent discount to anyone who participates in its RightTrack usage-based insurance program. The best drivers can push that discount as high as 30 percent.
Liberty Mutual also offers the RightTrack program via after-market equipment installed in cars. In January, it announced a partnership with Subaru, which makes its U.S. cars in Lafayette, to install that equipment in all Subarus.
Similarly, Illinois-based State Farm offers discounts as high as 50 percent. However, spokeswoman Missy Dundov said most participants in the program earn discounts from 10 percent to 15 percent.
State Farm first offered the program via a partnership with General Motors and its OnStar service in July 2012. State Farm has since formed a partnership with Ford to offer its Drive Safe & Save program.
"Drive Safe & Save enables State Farm to better match price to risk," Dundov wrote in an email.
A 2014 Deloitte Consulting survey found that 25 percent to 29 percent of customers, depending on their age, said they would be willing to have their driving monitored in exchange for a premium discount. Another 15 percent to 35 percent said they might be willing, depending on the size of the discount.
Participation in a discount program might also raise the cost of switching to another insurer—because points built up toward a discount would be lost, according to Deloitte. That could help insurers hold on to customers longer than with traditional auto insurance policies.
The growth of usage-based insurance by such major companies as Allstate, Liberty Mutual and State Farm could leave other insurers that have yet to launch such programs with a greater percentage of high-risk drivers, pushing up their claims and making their rates uncompetitive.
"For the mass market, those companies that offer telematics are more likely to succeed," said Puri, the Deloitte consultant. He noted that the information generated by telematics can help insurers attract more customers and keep them longer, as well as potentially reduce losses from accidents.
Indianapolis-based Indiana Farm Bureau Insurance is not offering a usage-based insurance program to its auto customers, spokeswoman Suzanne Henderson said.
"We understand it is a tool many other companies are offering," she wrote in an email. "We are always evaluating the marketplace and what is best for our clients."
For now, most usage-based insurance programs offer a discount from the start to lure in participants. Some programs merely offer driving tips based on the habits recorded for each driver.
Liberty Mutual's pilot program does both.
"We can help consumers drive safer," Wright said. And drivers, he added, "can get driving tips and see what discounts they're trending toward."
Wright said Liberty Mutual has no plans to charge penalties to motorists for poor driving.
But down the road, usage-based insurance based on telematics almost certainly will be baked into all auto insurance rates.
"Telematics permits distinctions to be drawn among drivers who may have similar profiles yet very different driving behavior," wrote Puri and a team of Deloitte consultants in a 2014 report. "It will be a development that will fundamentally and materially change the way auto insurance is underwritten."•
Please enable JavaScript to view this content.