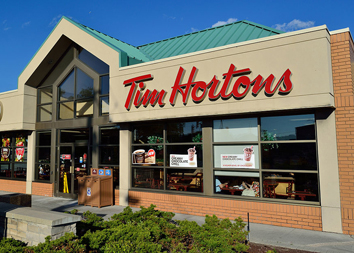 Tim Hortons, a cult favorite in its Canadian homeland, is counting on Indianapolis as it makes a bigger push into the United States, betting it can win over Americans addicted to Frappuccinos and Dunkin' Donuts.
The coffee and doughnut chain—whose same-store sales jumped 5.8 percent in the U.S. last quarter—plans to open new locations in areas including Indiana, Cincinnati, and Columbus, Ohio, adding to its roughly 650 current outposts. Eventually, the U.S. could have "a whole lot of them," said Daniel Schwartz, CEO of parent company Restaurant Brands International Inc.
"We've done a good job laying the foundation for growth of Tim Hortons in the U.S.," Schwartz said in an interview, declining to specify how many locations he will add. "The potential for the brand there is huge."
Company officials could not be reached Wednesday morning to discuss their exact plans for Indianapolis, but a press release from RBI said it has reached an agreement with Hobart-based Luke Family of Brands to develop Hortons in Indianapolis and Lafayette.
RBI said Luke would be "responsible for owning and operating restaurants, managing the market and sourcing local entrepreneurs to develop restaurants, creating thousands of jobs in the state of Indiana."
"We're excited about coming to Indianapolis and Lafayette to grow the iconic Tim Hortons brand," said Elias Diaz Sese, president of Tim Hortons, in a written statement. "Given our strong presence in the Columbus (Ohio) area and aggressive development plans in neighboring Cincinnati, the Indiana market is a prime growth opportunity for our continued expansion in the U.S."
Bill French, a local retail broker at Cushman & Wakefield, said he is familiar with the expansion plans but said Restaurant Brands has yet to nail down specific locations.
"They're looking for high-profile locations where they can sell donuts and have a drive-thru," he said. "They're trying to figure out how many units to put into the marketplace."
On a same-store sales basis, the Tim Hortons chain is growing about twice as quickly as Restaurant Brands' other major division, Burger King. That business saw North American growth of 2.8 percent last quarter by that measure.
But moving south of the border won't be easy. Starbucks Corp. and Dunkin' Brands Group Inc. have largely cornered the U.S. coffee market, locking in millions of customers with loyalty programs and convenient locations. The chain, known to millions of Canadians simply as "Tims," also has stumbled in previous attempts to expand in the U.S.: It closed 27 shops in New York and Maine in the fourth quarter because of poor performance.
Hockey history
In Canada, Tims is an institution. Hockey legend Tim Horton, who played for the NHL's Toronto Maple Leafs, opened his first restaurant in Hamilton, Ontario, in 1964—back when doughnuts and coffee were 10 cents each. By 1967, the brand had begun franchising and adding locations. The company is seen as the "hometown hero," said Bill Chidley, partner at brand consulting firm ChangeUp in Dayton, Ohio.
"Americans just don't have the same emotional connection to the brand," he said. "You just can't wave a magic wand and bring that to this market—you need something more compelling."
Since the 1984 debut of its first U.S. store in Tonawanda, New York, the chain has had fits and starts. In the '90s, Wendy's bought Tim Hortons and tried to make it work in the U.S.
Wendy's later spun off the chain after facing pressure from shareholders such as Bill Ackman. Tims, which held an initial public offering in 2006, made other attempts to curry favor with Americans, including co-branded shops with Cold Stone Creamery.
Burger King
It then was acquired by Burger King in 2014, part of a deal that the burger chain used to form a new parent company with a Canadian headquarters. The $11 billion transaction, backed by Warren Buffett's Berkshire Hathaway Inc., created Restaurant Brands International, which is based in Tim Hortons' longtime home base of Oakville, Ontario.
Restaurant Brands is controlled by billionaire Jorge Paulo Lemann's 3G Capital, which previously teamed up with Buffett to take H.J. Heinz Co. private and has a famous zeal for cost cutting. Since the takeover, Tims has eliminated jobs at regional offices and corporate headquarters.
In making a bigger play for Americans, Tims is eyeing the growing share of budgets that go toward java. Coffee-shop sales growth are outpacing those of burger joints, according to data from research firm Technomic. The U.S. also is the world's largest coffee-consuming country.
'Definitely potential'
"Coffee and fast casual—those are the two areas of the restaurant industry that are growing the fastest," said Bloomberg Intelligence analyst Michael Halen. "There's definitely potential."
The coffee chain is touting its coffee and food items, such as Nutella-filled pastries and savory items like new grilled wraps, to attract U.S. customers. But with so many options at Starbucks, Dunkin' Doughnuts and regional coffee chains, it's going to be hard to stand out, Chidley said. Krispy Kreme Doughnuts Inc. also is stepping up efforts to improve its restaurants and compete with Starbucks.
Creative menu items aren't going to make up for Americans' lack of a connection to Tim Hortons, Chidley said.
"They're not something that when it's built you think, 'Oh my gosh, I've got to try that.'"
Please enable JavaScript to view this content.