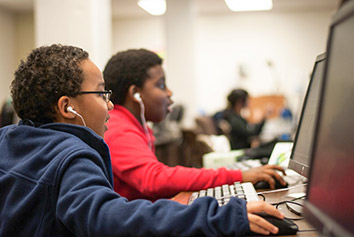 A few not-for-profits and at least one university have begun rolling out coding programs aimed at young minorities and girls, hoping to alter some of the somber statistics on the lack of diverse populations in technology careers.
The TechPoint Foundation for Youth, a partner of the tech advocacy group TechPoint, plans to launch across Indiana 20 so-called CoderDojos, a global network of free coding clubs for young people, but with a special focus on girls and on young people of color.
IUPUI is about seven months into its Informatics: Diversity-Enhanced Workforce—or iDEW—program, which targets female and minority high-school students with an informatics and programming curriculum. The program recently landed a $405,000 grant from the Indiana Department of Workforce Development, in part to serve four cohorts of high school freshmen through graduation.
Coding academies like Iron Yard and even grass-roots clubs like Girl Develop It have popped up around the Indianapolis area over the past few years, but they mostly serve adults. There are also coding programs for children, but observers say they can be expensive and hardly feature underrepresented populations.
Some want to change that.

Dodds
"The statistics around females and minorities in technology, and computer science in particular, are shocking. They're shocking," said Laura Dodds, TechPoint Foundation for Youth executive director.
"And if you look and see where the opportunities are to change those statistics," she said, referring to the availability of youth-coding programs, "the opportunities are still limited to upper-income, affluent schools and neighborhoods."
According to U.S. Census Bureau data from 2012, the latest year available, of the more than 2.5 million U.S. computer workers with at least a bachelor's degree, 25 percent were women.
African-Americans made up 6 percent of the total, and Hispanics accounted for 4.8 percent. Blacks and Latinos are 13 percent and 17 percent of the U.S. population, respectively.
Technology isn't the only field where women or minorities are underrepresented, Census data show. Blacks and Hispanics post single-digit percentages in law and physical-sciences careers, and women are largely absent from engineering.
But few industries are as lopsided as tech with respect to both gender and ethnicity, and several U.S. tech firms have come under fire because their employees don't accurately reflect their millions, if not billions, of users.

Palakal
"There are several reports that came out from corporations like Google, like Facebook," said Mathew Palakal, executive associate dean at the School of Informatics and Computing at IUPUI and program director for iDEW.
"You're looking at 2 to 3 percent diversity. Very, very small. Why is that happening?"
Getting into schools
The iDEW program kicked off last fall at three high schools—Arsenal Tech, Providence Cristo Rey, and Pike. Classes are led by high school teachers with the help of program administrators, and students are tasked with using software to solve problems.
Last semester, for instance, they created an app for financial literacy.
In some ways, it's just like any other course—five days a week, 55 minutes. What's unique is that students take field trips to IUPUI, hear presentations from tech-industry leaders, and graduate with an IT-related certificate, Palakal said.
The program can host up to 30 students per school. It has 70 freshmen this year, six of whom are white. The program will follow four sets of freshmen, starting with this year's, over four years.
"We believe this is scalable," Palakal said. "Even though we might only be moving the needle a tiny bit, we are developing a whole mechanism, a whole framework."
There are currently nine CoderDojo clubs in the Indianapolis area, six of which are hosted on school grounds. The others are CoderDojo Indy, Launch Fishers CoderDojo, and Avondale Meadows YMCA CoderDojo.
All feature volunteer "champions" who host recurring workshops for "Dojos" ages 7 to 17, teaching them how to develop apps, websites, games and more.
Dodds of the TechPoint Foundation for Youth said she intends to create CoderDojo Indiana, a subsidiary organization that will not only support existing CoderDojos, but also help volunteers launch and run CoderDojos in their communities across the state.
"We're actually going to hire a staff person to run the program," she said, with a goal of "making sure we have accessible programs for underrepresented students."
Dodds said Eleven Fifty Academy, a not-for-profit coding academy in Carmel, contributed to the $80,000 raised thus far. The goal is $130,000, she said, which will be used to purchase laptops for children in need and to hire a program administrator.
The TechPoint Foundation for Youth is partnering with Eleven Fifty to host "Cool Coding Weeks" over the next several months in the 20 communities targeted for CoderDojo. The initiative, which includes hour-long community coding sessions, kicks off in April in Lafayette.
Dodds said one of the challenges for CoderDojo Indiana's ambitions is finding volunteers, particularly mentors who look like the students the program is targeting.
She said one tactic she's seen employed at existing CoderDojos is having companies agree to enlist one or more employees to attend the coding sessions so that "it's not just one person's commitment; it's the companies' commitment."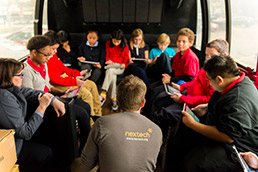 In December, not-for-profit Nextech took its mobile coding bus to city schools for Hour of Code Week. The group is interested in helping diverse student populations choose careers in technology.
 (Photo courtesy of Nextech)
Computer science careers
Nextech, an Indianapolis not-for-profit aimed at increasing the number of high school students who choose a career in technology, is another local player. The organization works in four area schools to boost computer science offerings and train teachers, and it's interested in cultivating a diverse talent pipeline to fill high-demand tech jobs.
"If you look across the state of Indiana, fewer than 20 percent of high schools are teaching computer science, and even in those schools, it tends to be an elective with very few girls and minorities taking classes," Nextech Chairman Scott Dorsey said when the organization launched last April.
"We want to change that narrative and have every school in Indiana offer computer science."
In December, Nextech partnered with Indianapolis Public Schools to participate in the week-long national Hour of Code effort. It made 11 stops and hosted 24 coding sessions with 452 students, partly by using iPads aboard its mobile coding bus.
Executive Director Karen Jung said that, at the beginning, some students appeared uninterested and disengaged, but by the end some were so hooked on the activities they didn't want to leave the bus.
The 50 or so educators who tagged along were surprised, and Jung said those and other educators are a core focus for Nextech.
"The work we did with Hour of Code—that was really, for us, a launching point," Jung said. "Every site we visited, we provided training for those sites to launch out-of-school coding clubs this semester."
She later added, "It's really about building that capacity. If we were to [train students] individually … we'd never get to engage enough students necessary to build that pipeline, that awareness."•
Please enable JavaScript to view this content.