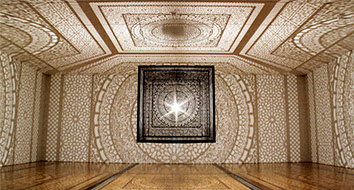 I've been in Indiana for only about 10 percent of the state's two-century existence, but I've seen a lot of visual art that's worth celebrating. And many of those artists are represented in "200 Years of Indiana Art: A Cultural Legacy" at the Indiana State Museum (through Oct. 2).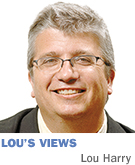 When you go, though, don't make a beeline for the two third-floor galleries dedicated to the show.
Instead, start in the lobby, where a separate room is devoted to Anila Quayyum Agha's ArtPrize-winning "Intersections"—perhaps the Indiana-rooted work to get the most national attention, thanks to landing the Public Vote Grand Prize at the 2014 ArtPrize event in Grand Rapids, Michigan.
The space is necessary because the piece consists not just of the material itself—a hanging cube with a single light inside—but of the patterned shadows it casts onto the walls, floor and ceiling. It's gorgeous and thoughtful, spiritual and immersive. And it does Indiana proud.
"Intersections" isn't the only work displayed on its own. I breezed right by Leticia R. Bajuyo's "Event Horizons" without noting the care taken to turn thousands of discarded CDs and DVDs into an elegant, curvaceous, shiny wall. Harder to miss is Ish Muhammad Nieves' "Heterodox Swag," a two-story, playful, billowy blob pinned to the wall next to one of the central stairways.
There's also strong work to be found in the Legacy Theater gallery, just off the main museum lobby, where pieces from the 2006 Heritage Spectrum show have been brought back for an artistic 10-year reunion.
The work of now-former Herron students, the impressive collection includes Asia Atkinson's dramatic "Fallen Shells," in which a shattered urn spills bullet shells, and Boyeon Yun's "Reunification—Separated Families," in which portrait pieces are literally separated from the rest of the work.
Look up when you eventually arrive at the main galleries. There you'll see the teetering triangles of George Rickey's gently moving "Eight Triangle Two Squares Var. II." Even those who haven't set foot in a museum lately might recall the kinetic artist's public art retrospective throughout downtown in 2009.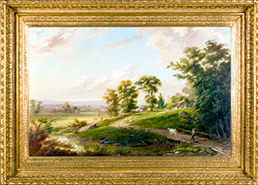 Traditional works include Jacob Cox's "Pogue's Run" from 1871. (Image courtesy of Permanent Collection of the Indiana State Museum and Historic Sites)
The main galleries themselves are divided into the first hundred and second hundred years, with work in the first stretching back to an 1815 portrait of Judge David Kilgore by a now-unknown artist. From that starting point, the show proceeds close-to-chronologically, demonstrating a wide range of styles and approaches.
A rather stern portrait of Gov. Oliver P. Morton—who seems to have the same skepticism toward artists that many in his position have today—is found not far from a romanticized view of Pogue's Run. A William Merritt Chase still life is just a head turn away from a 1901 Janet Scudder bronze fountain piece.
Walter Lobyn Hamilton's "Dark Fantasy" is one of the exhibition's more recent works. (Image courtesy of Permanent Collection of the Indiana State Museum and Historic Sites)
There's an acknowledgement of Native American art, representations of quilt making, examples of glasswork, and even a commissioned ornamental sign paid for by the Wayne Agricultural Co. Of course, you'll find works by Robert Indiana and T.C. Steele, but there's also a portrait of Steele by Wayman Adams and such curiosities as James Spencer Russell's "100 Letter Words: Tags," with its letter-free circles dangling and casting shadows in its boxed frame, and Walter Lobyn Hamilton's "Dark Fantasy," crafted from vinyl albums.
Personal favorites include Otto Stark's "The Bell Tower," a pastel view from the roof of what is now Arsenal Technical High School, and Nhat Tran's wordless, sparkling and sad "Fragile Words," created with Vietnamese urushi (lacquer) on plywood. Part of the pleasure of a show is finding your own aesthetic sweet spots from the healthy heritage of Indiana artists.
Bonus: If you want to be a part of this strong legacy and add your own work to the collection, an alcove overlooking the Central Canal is stocked with paper, pencils and easels.•
__________
This column appears weekly. Send information on upcoming arts and entertainment events to lharry@ibj.com.
Please enable JavaScript to view this content.