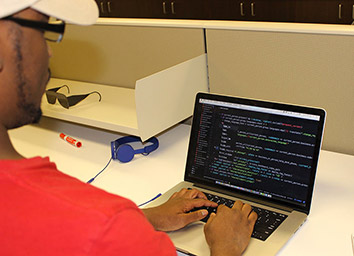 For years, Boone County tech firm Mobi Wireless Management Inc. paired newly hired junior software engineers with more senior counterparts.
The idea was that general company orientation is not enough for developers—they need to become familiar with the company's code base, technology processes and more.
But earlier this year, Mobi—which sells enterprise device-management software—ditched that model. Executives felt it hindered the productivity of their senior engineers, who are paid highly to produce and update proprietary software—not train rookies. Now the company uses a three-month apprenticeship program with dedicated trainers.
"Mobi was generally shy about bringing on junior-level talent before this program, mainly because we didn't want to overburden our most productive engineers," said Chief Technology Officer Eric Sendelbach, speaking about his team of 25 engineers.
"So what this allowed us to do was to have our most senior talent working on our most critical product initiatives and, at the same time, growing the next class of talent to join the team."
Mobi's shift reflects an increased desire by tech companies to orient entry-level programmers without taxing veterans. Even though these newbies aren't instant coding superstars, industry executives said, companies still find them immensely valuable. Companies just don't want that value coming at the expense of senior coders.
Home-services giant Angie's List is another local firm that has replaced its old-school "pairing" model with a program to swiftly bring along junior engineers. Its model involves shadowing and connecting with a rotating group of workers, not just senior engineers.

Birch
The company, whose software platform serves 3 million members and more than 50,000 service providers across the country, has about 70 software developers. It's looking to add several dozen more by the end of the year.
Propel LLC, a startup consulting firm, helped Mobi launch its apprentice program. Propel founder Nick Birch realized other companies were having similar problems, so he's looking to replicate the strategy.
"Whatever the channel an entry-level engineer comes from," Birch said—coding-academy alumni or self-taught developers—"there's still a huge learning curve during that initial period of employment."
"We're trying, essentially, to help companies onboard developers faster," he said.
That's important, as the local appetite for software developers continues to grow and the scarcity of skilled workers in the sector has prompted average wages to swell.
According to Burning Glass Technologies, which tracks job postings, the Indianapolis area had 365 software developer openings in March 2011, paying an average of just under $69,000.
This March, it had 1,152 such openings, paying $87,500 on average.
Experienced software engineers who can hit the ground running are coveted, but companies still value developers who are relatively green. These newer engineers can handle projects companies don't want their senior engineers doing. Also, they tend to bring energy, said Angie's List Chief Technology Officer Darin Brown.

Brown
"While you can't build a high-efficiency team with people straight out of school, they've certainly played a critical role for the teams I've been involved with," Brown said. "They are generally young and eager, and they have fresh ideas."
Hungry for more
Mobi's flagship product is a cloud-based software dashboard that allows clients like United Airlines and DirectTV to manage scores of employee-issued tablets and devices. It had been hiring about two software developers every six months, but that pace was too slow.
"We have a very large backlog of exciting projects that we can't wait to get done," said Sendelbach, the CTO. He said the projects represent about "four to five years' worth of work" that it could complete in 18 to 24 months if the company had more manpower.
Last summer, Sendelbach began chatting with web- and mobile-development shop Eleven Fifty Consulting about the idea of an apprenticeship program that not only speeds up the hiring pace, but also removes the training burden from senior developers. They partnered to craft a Mobi-tailored curriculum and rolled out the three-month program in October.
They found five up-and-coming developers from a variety of backgrounds for the first class, Sendelbach said, including recent graduates from local coding academy The Iron Yard and former Mobi interns. Mobi designated in-house software trainer George Milberger and local software development guru Miles Sterrett to lead the sessions.
"And in January of this year, our team was shot in the arm with five, fully capable Ruby-on-Rails [a programming language] engineers," Sendelbach said.
Birch, the Propel founder, set in motion Mobi's experiment. The 24-year-old Rose-Hulman Institute of Technology alumnus had helped prominent tech entrepreneur Scott Jones launch Eleven Fifty Consulting, and he got the Mobi apprenticeship idea in part from Eleven Fifty's own "APPrenticeship program."

Fleming
Mobi was effectively Propel's first customer, and Birch realized Mobi wasn't alone in its quest to bring along software engineers quickly.
Propel is not out to help companies create a curriculum like it did with Mobi. Instead, the company is amassing a network of external guides new engineers can tap if they hit, for instance, a common coding roadblock.
Propel is also building software tools that can help disseminate "tribal knowledge" and serve as a source for solutions to frequently encountered problems. Birch said he's not trying to replace in-house resources, but wants to be a lifeline to support entry-level programmers.
He said one of the companies he's in early discussions with is looking to hire several junior developers but has a lot of senior developers who already work 50 to 60 hours a week on product goals.
"They know one of two things is going to happen: Either they're going to have to let their product road map slow down, or their junior individuals are going to take a really long time to get up to speed," he said.
Angie's efforts
For Angie's List, its "technology orientation program" arrived at an opportune time. The company is revamping its software platform and dropping its decades-old paywall in the coming months. As a result, it plans to hire more than 100 people for its product and engineering teams this year.
Its program didn't stem from conversations with third parties, but rather grew organically last summer after the company hosted "Xterns," or interns cultivated by tech-advocacy group TechPoint.
"We quickly found that we needed to educate this group on some of the basic aspects of developing software in the real world," Brown said.
A few employee volunteers devised a formula for doing so, and the company began using it for technology hires last fall. The roughly 2-month program is led by a rotating group of employees from different divisions of the company's technology operation.
The process includes scheduled shadowing of existing employees inside and outside the technology department, and members of the class start coding a couple of weeks in.
The program still requires an employee time commitment, but it's spread out among a variety of employees.
"It's an employee-led organization," said Robin Fleming, the company's senior vice president of technology. "They're engaged in developing the curriculum, getting feedback from employees that go through the onboarding process, and they rotate people through so different people share the responsibility of making sure people get trained."
Birch said he's still in the early stages of Propel and one of his biggest challenges will be finding guides who are not only highly skilled but also good teachers. He has about 30 guides in his network so far, some of them based outside Indianapolis.
He expects to charge about $130 to $170 an hour—the same rate of a freelance senior engineer—but companies will have access to remote guides as well as software tools.
Birch said Propel is designed specifically to help solve pain points for entry-level talent, but the industry at large still thirsts for senior-level talent. His company won't be able to help there immediately, but could in the long run.
"There is no magic to take someone from one year [of] experience to five years' experience in less than four years," he said.
"But if we create more junior talent today, we will have more senior talent down the road."•
Please enable JavaScript to view this content.