There aren't many impromptu moments when presidential candidates come to town.

From the communities they choose to visit to the diners where they order tenderloins and the elected officials they greet, the details are coordinated by campaign staff and volunteers on the ground.

Those people are often—but not always—natives, the folks who know a state and its voters inside and out, who have the mobile numbers of every county official in their phones, and who can use county roads to cut the drive between campaign stops in half.

Hathaway
They are people like Peter Hanscom and Anne Hathaway and Tony Samuel and Dan Parker, political consultants and operatives who've made careers out of knowing which restaurant will still have plenty of lunch customers when a candidate shows up at 2 in the afternoon.

"You don't want an out-of-state person to be Googling to find locations for a candidate to stop," said Jennifer Hallowell, who served as a regional director for John McCain's 2008 campaign in Indiana, Michigan and Wisconsin. "You want to find an expert on the ground so you always know what situation you're walking into."

That's become important in Indiana as the Republican and Democratic presidential primaries drag on. Hoosiers go to the polls on May 3, a date that's typically too late for the state to matter.

This year, though, Indiana is in play—and that means local political consultants are in the game.

Who's who on the trail?

A few of those consultants have national political experience, perhaps none more so than Anne Hathaway, president of Hathaway Strategies, the firm directing Ohio Gov. John Kasich's presidential campaign in Indiana.

Hathaway got her political start working for then-Vice President Dan Quayle and is a former chief of staff for the Republican National Committee, where she helped the party raise record amounts of money and served as its liaison to the White House and McCain's 2008 presidential campaign. She managed Dan Coats' successful Senate campaign in 2010 and served as program director for the 2012 Republican National Convention in Tampa.

"Anne's knowledge and understanding of the national political processes, the issues, the candidates … I don't know anyone who rivals that," said Brad Rateike, founder of local political strategy firm Bar Communications.

That's why political insiders say it was a coup for Kasich—who's trailing in the GOP delegate count with no chance of winning the nomination except through a brokered convention—to nab Hathaway Strategies to run his Indiana campaign.

But Pete Seat, a senior project manager at the firm who worked as an assistant press secretary for President George W. Bush, said it was natural for Hathaway Strategies to align with Kasich, whom he calls the only GOP candidate "who can actually win" in November. In addition, Hathaway has "pretty deep relationships" with the folks running the Kasich campaign nationally, he said.

Seat's experience as a former communications director for the Indiana Republican Party helps as well. It means he already knows political reporters and key volunteers and has relationships with local party officials.

"Our job is to know the landscape in Indiana so that when Gov. Kasich inevitably visits the state, we can tell him where he should go and who he should meet with," Seat said.

Parker
Hillary Clinton has also turned to experience when putting together her Indiana team—nabbing both a practiced political hand in former Indiana State Democratic Chairman Dan Parker and the younger Peter Hanscom, the new "it" guy in Democratic circles.

Hanscom comes to the Clinton campaign from Indiana Competes, where he served as initiative director for the coalition of Indiana businesses lobbying the General Assembly to expand the state's civil rights law to protect gay and transgender people. Before that, he served as outreach director for U.S. Sen. Joe Donnelly, caucus director for the Indiana House Democrats, deputy campaign manager for gay rights group Freedom Indiana, and political director for the state party.

Rateike, who worked with Hanscom on Indiana Competes, said Clinton could not have hired a better person to serve as her Indiana political director.

"And that's no disrespect to any of the other qualified folks," Rateike said.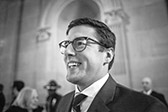 Peter Hanscom left Indiana Competes, a coalition of businesses fighting for gay rights, to become Indiana political director for Democratic presidential hopeful Hillary Clinton.
(Photo courtesy of Howey Politics Indiana, Mark Curry Photography)
Hanscom's "maturity and his depth of understanding of how the political process works far exceeds his age," which is 27, Rateike said. "I love working with folks where you can set it up and he'll knock them down. He understands what the goal is and is willing to put in the effort needed to make it happen."

Hanscom actually got started for Clinton last fall by volunteering to be her petition coordinator, a "momentous task" as he put it, that required putting together a grass-roots team and coordinating hundreds of volunteers. He got the call a few weeks ago to join the campaign as Indiana political director.

It's been a whirlwind but one he says his experience prepared him for. "It's a benefit to have already been working here. I have every single county chair's phone number already in my phone and I have relationships with people on the ground."

So does Parker, who served as a co-chairman for Hoosiers for Hillary back in 2008 and is now what the campaign calls "an authorized representative." As a former state party chairman and principal of 1816 Consulting Group LLC, Parker said it's essential that candidates coming from out of state use local staff because "there are a lot of people, especially on the East Coast, who think the Midwest is this monolith and we all vote the same way."

In fact, all the political consultants and leaders IBJ spoke to said Indiana voters are actually a far more diverse bunch than most people from other places believe. Democrats in Lake County, for example, have completely different priorities than those in rural southern Indiana or industrial Muncie, just like the evangelical conservatives in northeastern Indiana don't always vote the same way as the more moderate Republicans in suburban Indianapolis.

Rex Early knows all about that. The former Indiana Republican Party chairman and national committee member has been involved in Indiana politics for decades, having served as state director for Bob Dole's presidential campaign in 1996 and the Ronald Reagan campaign in 1980. He wrote a book called, "It's a Mighty Thin Pancake (That Don't Have Two Sides)," an often humorous but sometimes serious look at his life in politics.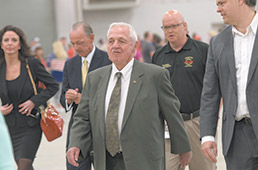 Rex Early, former Indiana Republican Party chairman and now volunteer chairman in Indiana for Donald Trump's presidential campaign, attended Trump's rally at the State Fairgrounds April 20, along with businessman Steve Hilbert, left of Early in photo.
(IBJ photo/ Eric Learned)
Early is now a volunteer chairman of Donald Trump's campaign in Indiana, a largely ceremonial role but one he's relishing. He got the job after sending the campaign—unsolicited—names and phone numbers of the Indiana delegates to the 2012 national GOP convention. He also sent them an Indiana election calendar and other state information.

Since then, he's been to the opening of Trump's various campaign offices throughout the state—where he said "it seemed like I knew everybody coming in"—and spoke at a Trump rally at the Indiana State Fairgrounds.

Early acknowledged, though, that the nitty-gritty details have been handled by the campaign's Indiana political director, Suzanne Jaworowski, a former coal company spokeswoman who previously signed on to Carly Fiorina's campaign, and Tony Samuel, who has worked for state and federal elected officials and is now serving as a volunteer vice chairman for the Trump campaign and handling communications with the media.

"Age is everything," said Early, now 81. "Tony's got to do 10 times more now than I do. And I gotta say, he's done a heck of a lot."

Not everyone goes local

The campaigns of Republican Ted Cruz and Democrat Bernie Sanders have not named state directors that are from Indiana.

Instead, Sanders has tapped Pete D'Alessandro, who ran his campaign in Iowa, to oversee Indiana operations. D'Alessandro is from Des Moines and has been involved in Iowa Democratic campaigns for 20 years.

He was effective there for Sanders.

Clinton was leading in the Iowa polls—and was considered a shoe-in for the nomination—when D'Alessandro came on board. He helped Sanders pull even and finish just behind Clinton, a race so close it was nearly a dead heat.

Cruz, meanwhile, has assigned Eric Hollander, who ran his Illinois operation, to direct the Indiana effort.

But local political leaders say the Cruz campaign, which did not return messages seeking information and comments, has been quietly working with local consultants as well and is expected to soon announce Indiana campaign advisers.

Rateike said that's a good idea for all the candidates.

"So often, campaigns look for a way to scatter-shot and hit a bunch of people," he said. "But if you know the five, 10 or 50 people that everyone is looking to for help deciding how to vote, then those endorsements are the ones you're trying to seek."

That doesn't mean local campaign staff are always making the key decisions, though. Instead, they often serve as advisers and coordinate volunteers. They also react quickly when they learn—often only a day or two in advance—that a candidate is coming to town.

Hallowell, who also worked on Rudy Giuliani's 2008 presidential campaign and is now director of the government advocacy and consulting group at Faegre Baker Daniels, said national campaigns are so large that their leaders have to keep fairly tight controls.

"You can't afford for something to get leaked or manipulated before you're prepared," she said. "Local folks want to be very helpful to the national campaign, but the central organization needs to make sure they are only releasing information when they are prepared to deal with the result of that information."•