It's a tough time to make a buck in the toxicology business.

Once a predictable, if somewhat dull, corner of the laboratory industry, where technicians test urine, blood and saliva samples to make sure patients aren't abusing drugs, the toxicology sector is undergoing massive changes.

Many are feeling a big squeeze. On one side, deep cuts in Medicare reimbursements are taking a bite out of revenue. On the other side, a few huge national chains and a surge of discount, walk-in labs are cutting into market share and pricing power.

And traditional players, such as AIT Laboratories in Indianapolis, are slashing jobs and looking for new ways to make money. In the past three years, AIT has cut more than 300 jobs, or two-thirds of its workforce, and now has about 150 workers.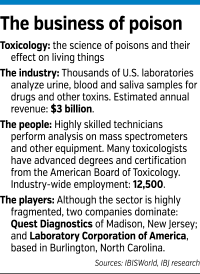 "I think what you'll see five years from now is a lot of small labs will have gone out of business or been consolidated," said Matthew Neff, AIT's CEO.

That's a bitter pill for Indiana, where the flourishing life sciences sector has spawned dozens of labs over the years, supporting thousands of jobs—although it's unclear just how many there are these days.

According to the U.S. Bureau of Labor Statistics, 12,238 people worked in research, testing and medical laboratories in Indiana in 2014. But how many of them work specifically in toxicology (versus diagnostics, medical research or other specialties) is not broken out.

Nationally, toxicology is a $3 billion a year business, according to IBISWorld, a business research firm.

Weathering upheaval
Toxicology labs are just the latest sector of the health care industry to feel upheaval. Doctors, hospitals and insurance companies are all reconfiguring their business models to deal with changes brought by the Affordable Care Act and other laws to try to make health care more accessible and affordable.

"There's a lot of changes going on, and all these changes affect the lab industry," said Mark Birenbaum, executive director of the National Independent Laboratory Association, based in St. Louis.

Yet toxicology labs are facing pressures of their own, some of them brought about by abuses in the industry.



Last year, one of the nation's largest drug test lab, Millennium Health LLC of San Diego, was accused of performing thousands of unnecessary tests on Medicare patients for a wide range of drugs that resulted in inflated bills.

The company agreed to pay $256 million to resolve the alleged violations of the False Claims Act for billing Medicare, Medicaid and other federal health care programs for medically unnecessary urine drug and genetic testing, and for providing free items to physicians who agreed to refer business to Millennium.

Two other companies—Health Diagnostics Laboratory of Richmond, Virginia, and Singulex Inc. of Alameda, California—last year also agreed to resolve claims they paid doctors in exchange for patient referrals and for billing the government for medically unnecessary testing. They agreed to pay a total of $48.5 million to settle the claims.

The issue came under a spotlight in 2014, when The Wall Street Journal examined Medicare payments to doctors and labs for high-tech drug testing. It found Medicare billing had soared nearly 2,000 percent over six years.

Shortly afterward, the federal government said it would overhaul payment for tests.

"Toxicology labs were targeted," said Birenbaum of the National Independent Laboratory Association. "Even the labs that were honest and doing everything according to the rules—it affected them, too."

The cuts were not to be the first, or the last. In 2011, the Medicare program cut reimbursement rates 47 percent for testing urine samples of patients receiving prescription painkillers to make sure they're not abusing or diverting the drugs.

Such tests made up about 90 percent of AIT's revenue, which was $55 million in 2012. Revenues had fallen to $25 million by 2014.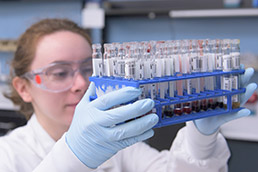 In the past three years, AIT Laboratories in Indianapolis has cut more than 300 jobs, or two-thirds of its workforce, and now has about 150 workers. (IBJ photo/Eric Learned)
And Congress last year passed a bill that allows Medicare to significantly reduce the amount it pays laboratories in coming years, perhaps as much as 75 percent.

"Our industry is groping with massive reimbursement cuts over the next years," said Neff of AIT. "It's going to affect a broad spectrum of labs around the country."

Startup competitors

Meanwhile, smaller labs are springing up. In February 2015, Vipin Adhlakha and Zak Khan co-founded ARIA Diagnostics, an independent clinical laboratory specializing in urine toxicology. The lab, on West 96th Street, began running patient samples in September. Today, it has nine employees.

"We came up with the idea, probably about two years ago, when there was pretty significant pressure on doctors who were prescribing long-term pain therapy, to regularly monitor and test their patients prior to giving them drugs," said Adhlakha, who holds a master's in molecular biology from Purdue University.

When such testing became mandated in many states, "all these labs began popping up, and reimbursement was really good," he said.

Just a few years ago, Medicare reimbursement for a urine toxicology test was $700 to $800, he said. Today, it's $250 to $300.

"It's enough to stay operational," he said. "It's enough to grow conservatively."

But he agreed that reimbursement for urine drug testing is going to continue to go down.

It's not clear how many labs remain, or how fragmented the industry is. The National Independent Laboratory Association said it doesn't track industry employment or the number of labs in business, either nationally or by state.

But there's little question that the once-fragmented industry has consolidated at a brisk pace. The nation's largest laboratory company, LabCorp of Burlington, North Carolina, has been on a buying spree in recent years, snapping up at least six big companies in the past decade, including MedTox in 2012 and Covance in 2014. (Covance, based in Princeton, New Jersey, had bought Eli Lilly's Greenfield Laboratories in 2008.)

Embracing innovation

Now, some remaining independent players are looking high and low at ways to innovate and stay in business.

At AIT, near the Indianapolis International Airport, one strategy for turning around the 25-year-old company has been to move aggressively into opioid monitoring. The opioid epidemic has hit hard in Indiana, Ohio, Kentucky and West Virginia, and AIT has struck deals with hospitals in several of those states to offer monitoring services through a program called GuideMed.

Under the program, nurses who work for AIT take up shop in hospitals or clinics to oversee the opioid monitoring process, using AIT's proprietary software. They complete patient risk assessments, manage compliance functions and do pill counts to make sure patients are taking medicine as prescribed, rather than selling it on the street or taking too much.

Nurses keep an eye on results and alert doctors to red flags, allowing them to act before the patient is in danger of overdosing or otherwise not following doctor's orders.

"Right now, we are extensively rolling this out at Community Health Network hospitals in central Indiana," Neff said. "We have locations in West Virginia. We're getting ready for Kentucky and South Carolina as well."

For AIT, the financial pressures to find new revenue streams are compounded by other problems. In 2014, the U.S. Department of Labor sued company founder Michael Evans, alleging he breached his fiduciary duties by selling the company to employees at an inflated price. That suit was settled earlier this year. Terms were not disclosed, but the company said the agreement resolves the case and will let all parties go about their business. AIT and its former executives racked up more than $5 million in legal expenses related to the case.

Neff, a lawyer and former venture capitalist who was tapped in 2013 to run the company, said at an IBJ Life Sciences panel discussion last month that turning around the company has been his "doctoral dissertation in business."

"We have tried to take an old-line business that was going through a commoditization process" he said, "and turn it into an innovator."•