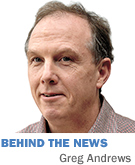 Brian Payne and a contingent of some two dozen other Indianapolis leaders will be networking with their counterparts from urban centers across the country later this month at the CEOs for Cities gathering in Des Moines, Iowa.

All the communities are in a race to enhance quality of life, which in the 21st century is the proven ticket to economic prosperity. They all have their strengths; what they don't have is a philanthropic behemoth on the scale of Lilly Endowment Inc., which devotes a hefty chunk of the more than $400 million it gives out annually to central Indiana arts and cultural organizations.

"Most of those cities know we have the Lilly Endowment, and they are incredibly envious about that. That is absolutely a huge competitive advantage," said Payne, CEO of the Central Indiana Community Foundation.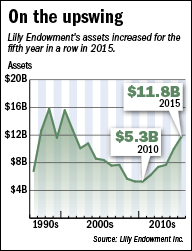 He added: "Every major cultural organization in Indianapolis would either not exist or would be a shadow of itself if not for the Lilly Endowment."

It's easy to overlook that fact, since the endowment is not one to toot its own horn. The organization operates out of a North Meridian Street office building that does not even have signage, and its top executives rarely speak with the press.

Yet it's the fifth-largest grant-making foundation in the U.S., according to the Foundation Center, behind only the Bill & Melinda Gates Foundation in Washington state, the Ford Foundation in New York, the J. Paul Getty Trust in California and the Robert Wood Johnson Foundation in New Jersey.

And lately it's packing an increasing philanthropic punch, thanks to a rapid increase in the value of its assets. Assets—most in the form of Eli Lilly and Co. stock—closed 2015 at $11.8 billion, up 18 percent from a year earlier. Assets now have more than doubled since closing 2010 at $5.3 billion.

The tax code requires that charitable foundations give away at least 5 percent of assets annually. The endowment calculates that value using average monthly values over the course of the year, which blunts the impact that large annual increases or decreases in asset values have on grant-making.

Still, the upswing is translating into many millions of dollars in additional grants. The least the endowment gave away this century was $206 million in 2010. It distributed the most, $591 million, in 2001, just as Lilly shares began a prolonged slide. (A court ruling invalidating U.S. patent protection for Prozac in 2000 ushered in the swoon, which the company finally pulled out of in 2010, as investor enthusiasm for its R&D pipeline began to build.)

In 2015, the endowment paid $436 million in grants, with 46 percent flowing to community development and philanthropy, 29 percent going to religion, and 25 percent to education. Fifty-nine percent of all the money went to Indiana organizations—a concentration the endowment says reflects its "special commitment" to its hometown and home state.

That largesse was on full display last November when the endowment in a single press release announced $100 million in grants to 14 Indiana arts and cultural institutions, including $10 million each for The Children's Museum of Indianapolis, the Indianapolis Museum of Art, the Indianapolis Symphony Orchestra and the Indianapolis Zoo.

The endowment also dropped huge sums outside the arts realm last year. For example, it committed $80 million to the new Indiana Biosciences Research Institute, nearly $32 million to the Indianapolis Neighborhood Housing Partnership, more than $7 million to the United Way of Central Indiana, more than $4 million for the Girl Scouts of Central Indiana, and $2 million for Girls Incorporated of Greater Indianapolis.

All the giving is possible because of the appreciation of Eli Lilly stock that three family members gave to the foundation, starting with their initial bequest in 1937.

Despite launching a partial diversification plan in 2006, the endowment remains inextricably tied to the fortunes of the drug company. Its sales of Lilly stock from 2006 to 2008 and over the last two years have whittled holdings just 14 percent, from 147 million shares to 127 million.•