Westfield has issued a request for proposals for a restaurant and catering business to lease space in its new indoor soccer facility at Grand Park — even though the city named Jonathan Byrd's as its partner two years ago and doesn't expect to select another company.
Westfield Chief of Staff Todd Burtron said the city was recently told by its attorney that it must solicit offers from other companies. But the request is written in such a way that it all but ensures that Jonathan Byrd's will be selected. One former mayor said the process seems "backwards."
The request, which the city published on Wednesday, asks for a restaurant and catering operation to lease a total of 18,270 square feet in the Grand Park Events Center, which is scheduled to open next month.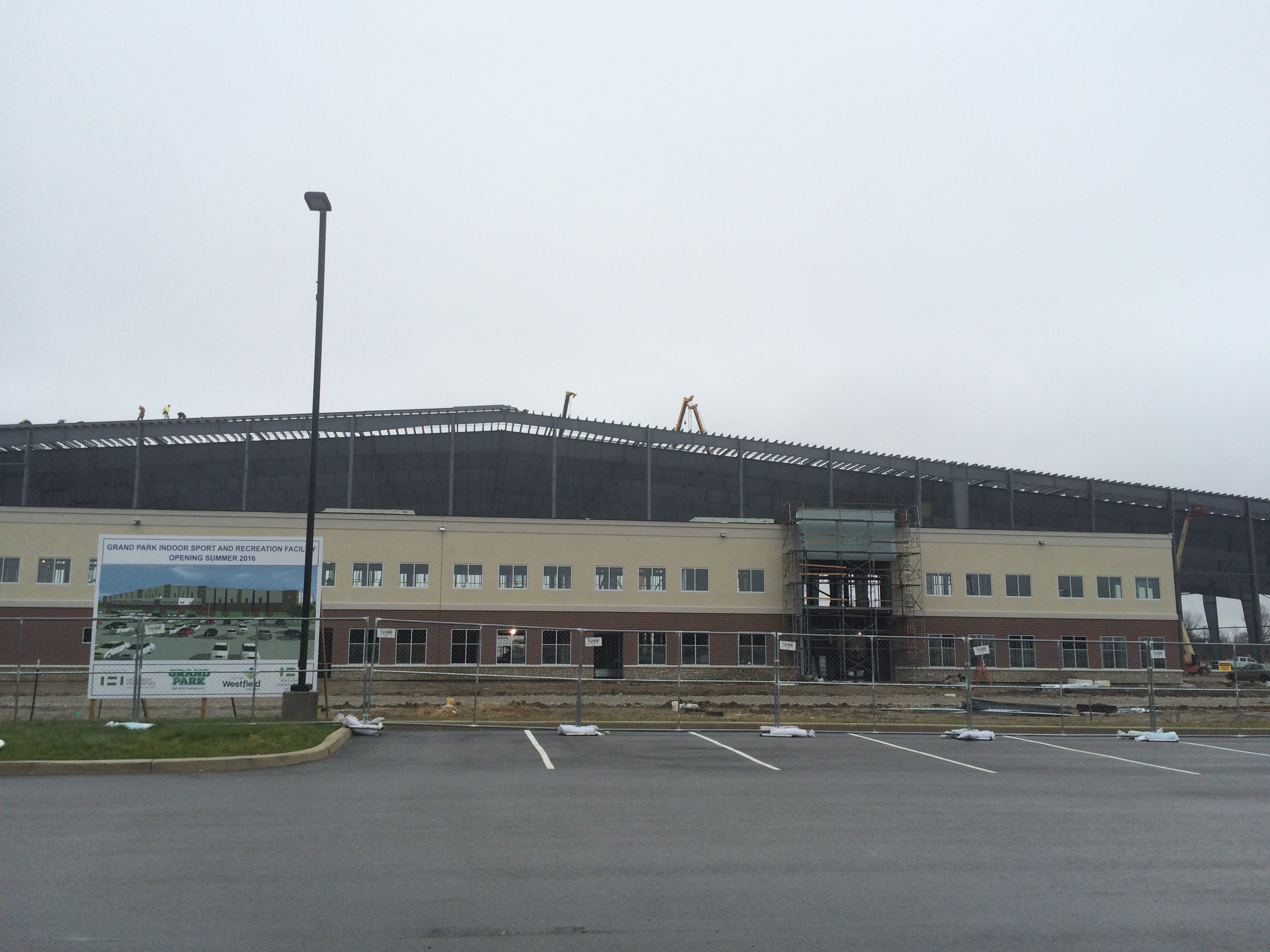 The space would include 10,570 square feet on the first floor for a restaurant and catering operation, 5,046 square feet on the second floor for a lounge and seating area that would be served by the downstairs restaurant and 2,654 square feet of office space on the second floor.
Since Westfield Mayor Andy Cook announced plans for the 378,000-square-foot arena in June 2014, the city has always maintained that Jonathan Byrd's would provide food in a cafeteria-style restaurant on the first floor, along with a second-floor lounge that overlooks the fields.
Under an agreement with private developer Holladay Properties, the city is leasing the facility and subleasing to other tenants. In January 2015, the Westfield City Council approved a sub-lease agreement with Byrd Enterprises Inc. for the space, although city officials say it has never been signed. 
Burtron said the city didn't realize until being recently advised by its lawyers that it needed to go through the formal process of soliciting offers from other companies, but the request is worded specifically so only Jonathan Byrd's is expected to respond.
"It's a procedural matter—nothing more, nothing less," Burtron said. "We're all but finalized with Jonathan Byrd's."
The document lists several criteria for interested businesses. Among them: The company must show restaurant and catering operations experience of at least 35 years and "direct ownership or contractual business relationship" with the owner or operator of the proposed hotel that is expected to be constructed adjacent to the event center.
In November, the city selected Byrd Hotel Group, another business under the Byrd Enterprises umbrella, to develop a five-story, 180-room hotel that will be constructed on 5.26 acres of city-owned property adjacent to the indoor arena.
The request from the city also says the proposed rental rate must be at least $26 per square foot for the restaurant and lounge space, which comes to about $406,000, and a rate of at least $16 per square foot for the office space, or $42,464.
Paul Helmke, Indiana University professor and former mayor of Fort Wayne, said RFPs are usually used to gather multiple proposals and select the best option.
"The whole concept to RFPs is you want to get new ideas," Helmke said. "If they write it in a way that you're not going to see other proposals, you're not doing it the right way, or you're not meeting the intent of the RFP."
He acknowledged that communities are legally required to issue the request in certain circumstances, but usually the process starts before one company is selected.
"In a way, they're doing the process backwards," Helmke said. "If you're just doing it to check the box then you really ought to question the process you had from the start."
Rhonda Cook, chief federal and state policy officer for the Indiana Association of Cities and Towns, said it's not uncommon for RFPs to be written in a way that only one or a small number of businesses qualify.
"Ideally, multiple vendors would compete which should allow the local government to get the lowest price, however, sometimes there are not multiple vendors who can meet the stated criteria," Cook said in an email.
All proposals are due July 7.
Burtron said if other companies responded, the city would have to consider those submissions.
"I don't know if we have to accept it," Burtron said.
Please enable JavaScript to view this content.