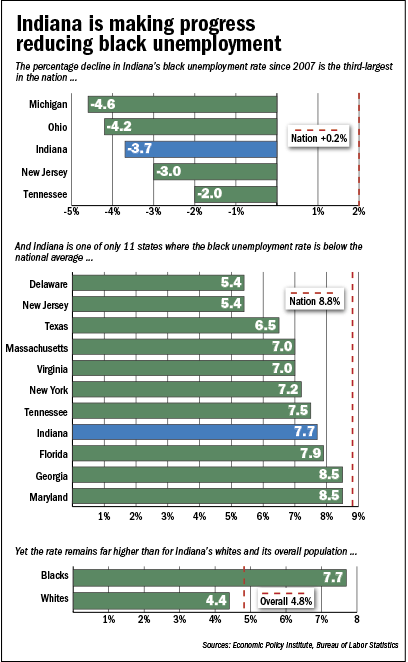 Indiana is one of just five states where unemployment among black people is below the national average.
It's one of 11 states with a black unemployment rate below pre-recession levels.
And Indiana saw black unemployment fall 3.7 percentage points from 2007 to 2016, trailing only Michigan and Ohio in terms of improvement.
The numbers (from an Economic Policy Institute study of U.S. Bureau of Labor Statistics data) suggest some initiatives around early education, job training, job creation, and career placement might be taking hold in Indiana.
Still, black unemployment remains stubbornly high. Unemployment for black people stood at 7.7 percent in the first quarter of 2016 versus 4.4 percent among white people in Indiana, compared with national averages of 9 percent and 4.3 percent. The discrepancy holds across every age category.
IBJ asked community leaders to propose ideas for tackling the problem. The consensus: Start early, focus on education as an escape route from poverty, provide support and mentoring to ease transitions into careers, and partner with local companies to align training efforts with the job skills most in demand.
"It takes an entire community—agencies, state and local government, schools, corporations and businesses," said Anthony "Tony" Mason, CEO of the Indianapolis Urban League, which offers career-readiness and financial-literacy training for individuals and families—with an aim of making more folks self-sufficient.
The group helps polish resumes, gives interview advice, and offers tangible "barrier busters" like gas cards, bus passes, uniforms and child-care services to those seeking work.
Ultimately, the unemployment problem has its roots in poverty; one in three children in Marion County is born into a home at or below the poverty line, noted Indianapolis Mayor Joe Hogsett.
"If you're starting your life out in poverty, the statistics are fairly clear," he said. "Most don't ever escape it."
Hogsett is proposing universal pre-kindergarten in an attempt to break the cycle, along with an ambitious citywide jobs program aimed at teens ages 15 to 18.
His office coordinated the effort with private-sector partners to assemble 1,000 jobs this summer (including 300 via TeenWorks, an initiative of the Gene B. Glick Co.). Hogsett wants to reach 2,000 jobs next year, and 3,000 the following year.
Once teens reach the age of 18, Hogsett said, his focus turns to the "three E's: employed, enrolled [in college] or enlisted."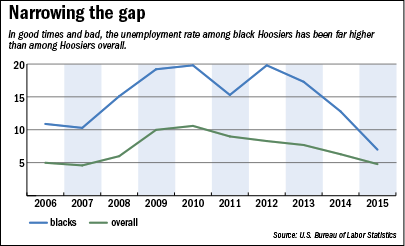 U.S. Rep. Andre Carson wants to raise the minimum wage, strengthen school mentoring efforts, encourage union apprenticeship programs aimed at minorities, and build on efforts by trailblazers such as attorney Lacy Johnson and the late businessman Bill Mays to foster entrepreneurship among members of minority groups.
Carson also is encouraging young people to explore careers while still in middle and high school via an annual Youth Opportunities Fair and partnerships with organizations including the Indianapolis Zoo, IMPD and the Indianapolis Symphony Orchestra that let young people test out potential career paths.
Part of the challenge is selling children and their families—including some who made a decent living in manufacturing with no college degree—on the critical need for education beyond high school, said IUPUI Chancellor Nasser Paydar.
But persuading more black students to go to college is only the beginning, said Paydar, who last year in his first week on the job created a task force to look at recruitment and retention of black students.
The school is focusing its efforts on financial support and classroom readiness, starting with doubling need-based financial aid (from the school, in addition to federal grants) to $8 million per year. IUPUI also has set aside more funds to assist students with emergency needs, and a program to check in regularly with minority students with advice and coaching.
Universities over the years have been "very successful at educating people of means," Paydar noted. Students born into the top quartile of income-earning families have an 80 percent likelihood of earning a degree; for the lowest quartile, the likelihood is 15 percent, he said.
"We are located in the center of the city—around us are neighborhoods where many African-Americans reside," Paydar said. "Creating a better neighborhood, more jobs, and an environment where businesses want to locate is also part of our responsibility."•
How do we continue improvement?
Leaders from higher education, government and the not-for-profit community share their strategies.

 IUPUI Chancellor Nasser Paydar
As the largest university campus in Indianapolis and the most comprehensive campus in the state of Indiana, IUPUI is ideally positioned to improve the lives of thousands of African-American students whose pathway to employment is education. One of the reasons we are poised for success is that we have set the recruitment and retention of minority students as one of our highest priorities, and currently one quarter of our students are students of color.
We are also implementing a strategic recruitment and retention effort that includes African-American students, and as part of that initiative, we will be doubling our need-based aid by fall 2016. We expect significant increases in the number of African-American students in the years to come, beginning this fall. Of course, the challenge of high African-American unemployment requires across-the-board collaboration involving higher education, governmental agencies, non-profits and the business community, and we look forward to working with others across the city for positive change.•

 Indianapolis Mayor Joe Hogsett
Local leaders must recognize the truth. That means acknowledging that Indianapolis has for too long tolerated an unacceptable unemployment gap in areas of our city where barriers to employment are rooted in issues of equity, education and opportunity. We must view this not as a strategy against statistics, but rather a strategy for our neighborhoods and the people who live in them. In doing so, we can address the rising poverty and decreasing social capital fueling a cycle of hopelessness that threatens to take another generation of young men and women from the city.
The strategy begins with early childhood education and a robust system of schools fostering curiosity and innovation. Without effective investment in early childhood education, many of our students begin kindergarten and first grade with a debilitating disadvantage that is too great a burden for too many parents who seek that simple, timeless goal: to have their children enjoy a better life than they did. That is why, during the next state legislative session, one of my fundamental priorities will be to seek new investment to make quality pre-K education available to every child in our state.
Then, as our children grow, we must provide opportunities to bridge the work- and life-skills gap by creating opportunities for meaningful employment among underserved young people. In May, I announced Project Indy, a comprehensive youth jobs and work-readiness program focused on training and skills development. Together with partners such as the Greater Indianapolis Progress Committee, EmployIndy, Indy Chamber and area non-profit and employment providers, we will leverage existing programs to expand opportunities for young adults in Indianapolis.•
 

 Indianapolis City-County Councilor Christine Scales
Solving the high rate of black unemployment will mean providing greater incentives for long-term investments in inner-city businesses or those that employ a certain percentage of inner-city residents.
Instead of focusing on transportation that takes workers to jobs outside their neighborhoods, bring more businesses and jobs to inner-city neighborhoods. Low-cost real estate and available labor can offer affordable opportunities for expansion of existing businesses in nearby, congested, high-rent downtown business centers. Instead of providing incentives to individual small businesses, efforts should be made to attract clusters of businesses with shared interests that can jointly train workers for the jobs they offer.
The cost to businesses in permitting, inspections and other approvals should be reduced and streamlined for companies locating in the inner city and providing jobs for inner-city residents. Government, working with the private sector, must identify and harness the competitive advantages offered by black inner-city neighborhoods. Until that happens, black unemployment rates will remain as they are—unacceptably high.•
 

 U.S. Rep. Andre Carson
The serious economic disparities that persist in the African-American community are clear. According to a report released last year, more than one in three African-American children are born into poverty, and the African-American poverty rate is three times that of white Americans.
Education is the most important investment we can make now and for future generations. Yet, across the country, we continue to see proposals to cut funding to critical education programs like Head Start—cuts that undermine the ability of African-Americans to get ahead.
To close achievement and opportunity gaps, we must do more to level the playing field, so all children can begin at the same educational starting line. We have to stop playing catch-up. Research shows that children enrolled in high-quality education programs, like Head Start, are more likely to graduate from high school, go to college, and secure high-paying jobs. We must ensure that every child in America grows up ready to learn and ready for life.•

 Indianapolis Urban League Director of Workforce Development Kimberly Simmons
The Indianapolis Urban League has assisted thousands of individuals with securing and retaining employment over the past 50 years. Many have struggled with securing employment not because of their lack of job skills or work experience, but because of their lack of awareness of the ever-changing job search process.
Some also struggle with finding employment due to criminal convictions, lack of education, child care and transportation. Therefore, continuing to approach finding employment with the same strategies and techniques from years ago will only lead to continued frustration and resentment in the job seeker.
Looking for a job is a process, and to be successful you must be strategic. When workforce development programs, employers and the job seeker better understand the roles, needs and expectations of others in the process, there will be an increase in the success of individuals not only being able to secure employment, but retaining employment as well.•
Please enable JavaScript to view this content.