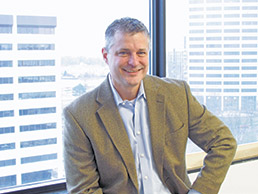 CEO Jason Brown said clients are able to run their entire business on the Archway platform. (Photo courtesy of Archway Technology Partners)
Revenue Growth FY 2013 to 2015: 104%
For the 1 percent: To be an Archway Technology client is to be a billionaire—or at least a nine-figure millionaire. Archway provides accounting and investment management software for private capital markets—family offices (the companies that manage the legal entities that oversee family wealth), private banks, hedge funds, private equity funds and large investment advisers.
Finding clients: Archway's clients find Archway—typically through word of mouth.
"When they call us, they're typically trying to solve a very complicated problem," CEO Jason Brown said. "Families of that degree of wealth tend to require very complicated legal structures to manage their wealth. It's not uncommon for a family of three or four generations to have several hundred legal entities set up across trusts, partnerships, operating businesses that all make up the definition of how the wealth of that family is managed.
"So when these clients call us, they're looking for tools to help them account for each of the individual legal entities, to manage the assets and ultimately to report back to the end client in a very logical and meaningful way, even though the legal structure used to manage the wealth is anything but logical and meaningful."
History: In the early 2000s, Brown wrote some partnership accounting software for the hedge fund he was running. He shut that down in 2002 and formed Archway to take that partnership accounting utility to market. Over the last 14 years, that software has evolved into what he described as "the only full enterprise class accounting solution specifically designed and geared for the investment management industry."
Driving growth: Brown said Archway's success can be traced to a couple of factors. One is that its clients can run their entire business on the Archway platform, so they don't have to buy multiple pieces of software.
"It's much more efficient for these very large, complicated shops to run their entire business on one system," he said. Also, Archway has no outside capital, "so everything we've done, we've grown organically. Our primary focus is to continue to be the best and do what we've always been doing."•
Check out more of IBJ's ranking of Indy's fastest-growing companies.
Please enable JavaScript to view this content.