Enrollment at Ivy Tech Community College's Hamilton County campus—the newest in the 32-campus system—is growing, despite falling attendance at some of the college's other locations and concerns by critics that the Noblesville site would never take off.

About 25 percent more students are attending classes this fall than last at the campus in the former East Middle School building on 17th Street.

The building opened in 2014 and Ivy Tech folded its Carmel learning center into the Noblesville location a year later. A $30 million renovation of the school's 236,000-square-foot building finished this spring and the campus is entering its second full academic year.

It's the only higher education institution in the county.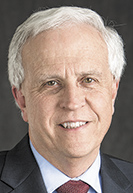 Clark
"I think there's pretty good evidence we're headed in the right direction," said Dan Clark, president of Ivy Tech Hamilton County.

The Noblesville campus renovation took place even as the state cut funding for major building projects at other Ivy Tech locations. The cuts came after a review showed statewide enrollment had dropped 25 percent during the previous three years.

But the $30 million Hamilton County campus renovation continued, thanks to prior funding commitments, including a 2013 pledge by the city and county to help pay for the project.

Since then, the school has welcomed thousands of students and created partnerships with other workforce development programs, including WorkOne and The Excel Center.

Exact enrollment figures are difficult to determine because students can be enrolled at multiple Ivy Tech locations. But Hamilton County had an estimated 1,200 students during the 2015-2016 academic year and has 1,500 for 2016-2017. Classes for the fall semester started Aug. 22.

Seat count—the total student count in all classes at the campus, which means a student taking multiple classes is counted multiple times—has also increased. It jumped from 2,000 in August 2015 to 2,525 this month.

Also, at an express enrollment event this summer, 88 prospective students visited, compared with only 41 at the same event the previous year.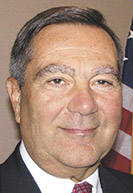 Ditslear
"We're really excited about this. Workforce is a big problem in our state and in the country, but hopefully we'll have some young people get skilled or re-skilled and we can use them for employers in the county," Noblesville Mayor John Ditslear said. "It's just very difficult to hire people these days."

The $30 million renovation included $18 million in local taxpayer dollars: Noblesville chipped in $6.5 million and Hamilton County $11.5 million.

Under the local governments' agreement with Ivy Tech, which was approved in 2013, the county will own the building for 20 years and lease it to the school. The deal narrowly passed the Hamilton County Council, which controls the county's spending.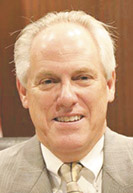 McKinney
"My opposition to it was that Ivy Tech had a lot of money. They had established a pattern of going to communities and basically saying the communities had to invest," councilor Rick McKinney said. "I didn't think we needed to spend $12 million to attract them to come here."

Councilor Amy Massillamany, who also voted against the county's investment, said at the time she didn't believe the local government should spend money on higher education. But she's been at least partially won over.

"Looking at the success that they've had over the course of the last two years, my opinion in this instance has changed," Massillamany said. "But that doesn't necessarily mean I would want us to do it again."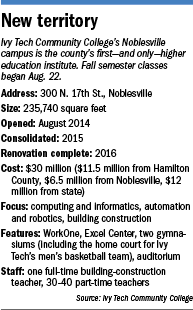 McKinney said he's glad Ivy Tech is in Hamilton County, but he still believes the college would have opened regardless of the public funding.

He also remains skeptical that the campus can be successful in an area where a majority of the families can afford other higher education options. Hamilton County's median household income in 2014 was nearly $90,000, while statewide it was just under $50,000.

"I think there's other alternatives," McKinney said, listing Ball State, Purdue and Indiana universities. "We're barely an hour, an hour-and-a-half away."

McKinney also argued the county still hasn't enjoyed economic development as a result of having an Ivy Tech campus in Noblesville. Companies haven't cited the campus as a reason they've located in the area.

Massillamany said it's too early to tell if the college will spur other investments.

"I think it's something that has had some momentum," she said. "And I think it has great potential."

Hamilton County Commissioner Steve Dillinger, who has been a proponent of the project, said Ivy Tech is a post-secondary opportunity for a lot of local kids who otherwise couldn't afford it. He's also heard from several adults who might enroll.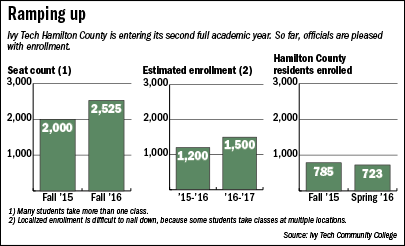 "I'm extremely excited about what's going on there," Dillinger said. "I think it will make a huge, huge impact on Hamilton County as it continues to grow."

The renovation included a lot of work that isn't obvious, like replacing the HVAC system and installing a new roof, but it also covered the costs of creating a student commons near the building's entrance.

Ivy Tech added a data center for its informatics program that allows students to practice programming and network repairs.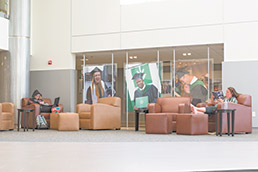 A $30 million renovation finished last spring created a new commons area at the Ivy Tech campus in Noblesville. The city and county contributed $18 million to the project. (IBJ photo/Eric Learned)
"You can actually hack the system and figure out how to fix it," Clark said.

The building includes two gymnasiums, a cafeteria, two computer labs and an auditorium.

Courses offered at the campus focus on computing and informatics, automation and robotics, and building construction.

So far, building construction has been the most successful program, with 60 students enrolled. It's also the only focus area with a full-time faculty member. The 30-40 other instructors also teach on other Ivy Tech campuses.

Ivy Tech officials knew early on that the school wouldn't fill the sprawling, 236,000-square-foot building.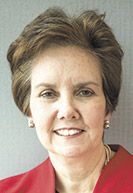 Lee
"The size of the building was frankly a little daunting for us," Ivy Tech Chancellor Kathleen Lee said. "This is a unique campus for us… . People are coming to the building for a variety of reasons."

The Noblesville Parks and Recreation Department has an office in the building and uses the smaller gymnasium for programs like pickleball, basketball and yoga.

The Excel Center, an initiative by Goodwill Industries of Central Indiana Inc., rents 10 classrooms for a program that helps adults obtain a high school diploma.

WorkOne, the state's employment agency, also occupies space on the first floor.

"There's overlap and it makes it easy for folks in those programs to pick up college classes," Lee said. "It's kind of a seamless transition."

Hamilton County Harvest Food Bank also uses space for storage, and a theater group might use the auditorium in the future.

"We're doing everything we can to make the building open to the community," Clark said.•