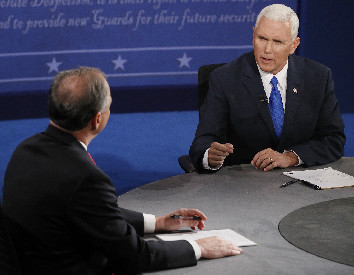 Democrat Tim Kaine repeatedly tried to bait Republican Mike Pence into defending his running mate's most controversial positions and statements, but the Indiana governor deflected the attacks with the kind of discipline Republicans have been urging Donald Trump to display.
In their first and only debate on Tuesday night, the two vice presidential candidates moved quickly and aggressively to confront each other in a series of exchanges that were every bit as combative as last week's meeting between Trump and Democrat Hillary Clinton.
Kaine was the more aggressive debater, repeatedly asking Pence to defend the actions of the Republican presidential nominee. Pence mostly didn't take the bait and managed to keep his cool and avoid being defensive. He stayed on message with extended answers, even on controversial topics like immigration and police bias, and often turned the topic back to Clinton.
Pence did defend Trump as the candidates tangled over the billionaire businessman's refusal to release his tax returns and a New York Times story that his 1995 tax return showed a nearly $1 billion loss that could have allowed him to avoid paying federal taxes for nearly two decades.
Defending Trump
"Donald Trump is a businessman, not a career politician," Pence responded. "His tax returns showed he went through a very difficult time but he used the tax code just the way it was supposed to be used and he did that brilliantly."
"So it's smart not to pay for our military?'' Kaine replied. "So it's smart not to pay for our veterans?"
At one point, Kaine pointed out Pence's tactic.
"In all six cases, he's refused to defend his running mate," he said. "He is asking everybody to vote for somebody that he cannot defend."
Pence responded that he's "very, very happy to defend Donald Trump" and that most of what Kaine has alleged is "completely false and the American people know that."
The understudies to Trump and Clinton, both veteran politicians with folksy dispositions, are making the highest-profile and most-perilous appearances of their careers at the 90-minute session at Longwood University in Farmville, Virginia. While both have reputations as steady and sometimes staid politicians who don't fit the usual attack-dog image of a vice president, they shed that image on the debate stage.
Kaine presented Trump as someone who can't be trusted to occupy the White House.
Trust issue
"We trust Hillary Clinton, my wife and I and we trust her with the most important thing in our life," Kaine said, referring to his son in the Marine Corps. "The thought of Donald Trump as commander in chief scares us to death."
The candidates tangled early on foreign policy, with Pence saying Clinton was the "architect'' of President Barack Obama's failed policy in Syria and Russia, causing Kaine to interrupt to say Trump praised Russia President Vladimir Putin.
"I must have hit a nerve here,'' Pence said.
Even with the vice-presidential nominees seated alone at a table with moderator Elaine Quijano of CBS News, the debate's focus was on the historically unpopular candidates at the top of the tickets and the mistakes they've made.
"I can't imagine how Governor Pence can defend the insult-driven, selfish, me-first style of Donald Trump," Kaine said at one point.
Insults
"He says ours is an insult-driven campaign," Pence retorted. "To be honest with you, if Donald Trump had said all the things that you said he said in the way you said he said them, he still wouldn't have a fraction of the insults that Hillary Clinton leveled when she said that half of our supporters were a basket of deplorables. She said they were irredeemable, they were not America. It's extraordinary."
The two vice presidential candidates were facing off as Trump is trying to recover from one of the worst weeks of his presidential campaign, following a shaky performance in the first presidential debate, his 20-year-old comments disparaging a troubled beauty pageant winner's weight and personal life, and the Times report on his taxes.
In that way, Pence did his job, avoiding any major gaffes and looking relaxed compared with Trump's more bombastic debate performance of last week. Even Trump — who had promised to live-tweet the debate from Nevada — stayed in relatively safe territory, mostly just praising Pence's performance. ".@mike_pence is doing a great job – so far, no contest!" Trump tweeted early on in the debate.
Kaine did his best to highlight some of Trump's positions—often by interrupting Pence—including his favorable statements about Putin.
The candidates disagreed about the state of the economy, with Kaine defending the progress under the Obama administration and Pence focusing on slow growth and saying Clinton's plans for additional spending and taxation would make matters worse.
"Fifteen million new jobs?'' Kaine asked, adding that the poverty level and median income improved "dramatically'' between 2014 and 2015.
"Honestly, Senator, you can roll out the numbers and the sunny side, but I got to tell you, people in Scranton know different,'' Pence said, referring to the city in the battleground state of Pennsylvania. "People in Fort Wayne, Indiana, know different. I mean, this economy is struggling. The answer to this economy is not more taxes.''
Pence evoked one of Republican President Ronald Reagan's famous debate lines when Kaine promised to protect Social Security and said when Pence was in Congress, he was "the chief cheerleader for the privatization'' of the federal program.
"There they go again,'' Pence said. "All Donald Trump and I have said about Social Security is we're going to meet our obligations to our seniors. That's it.''
Any gains or losses from tonight could be short-lived. Clinton and Trump will convene for their second of three debates Sunday in St. Louis.
Although there will be just a few hundred people seated inside the debate hall on the university campus, tens of millions more will be watching the nationally broadcast event.
Viewership is certain to be less than for the first debate between Clinton and Trump on Sept. 26, an event that drew a record political audience of at least 84 million viewers, according to Nielsen.
An estimated 51.4 million people watched the 2012 vice-presidential debate between Biden and Republican Representative Paul Ryan, about 18 million fewer than for the 2008 encounter between Biden and then Alaska Governor Sarah Palin, according to Nielsen.
Clinton planned to watch the debate from her home in Chappaqua, New York. Trump was watching from the Trump Hotel in Las Vegas and used Twitter to give a running commentary on the event as it occurred.
Pence, 57, who had been seeking a second term as Indiana governor after previously serving in the U.S. House for 12 years, joined Trump's ticket in mid-July.
A former radio-talk show host who became a born-again Christian in college, Pence has championed limited government and social causes such as opposition to abortion that appealed to conservatives and evangelicals.
Kaine, 58, started his political career in the 1990s as a City Council member in Richmond, Virginia. He eventually became the city's mayor and then Virginia's lieutenant governor and governor. From 2009 to 2011, he was the chairman of the Democratic National Committee and he has been a U.S. senator from Virginia since 2013.
As one of the most intense and polarized campaigns in modern American history enters its final five weeks, Pence and Kaine will both campaign Wednesday in Pennsylvania, a state critical to Trump's path to the White House.
Please enable JavaScript to view this content.