The controversial 2006 lease of the Indiana Toll Road paved the way for highway projects funded by public-private partnerships in Indiana—including the relatively smooth and nearly finished building of a bridge over the Ohio River at Louisville and the beleaguered construction of a 21-mile stretch of Interstate 69 from Bloomington to Martinsville.

Indiana's next governor—whose road-funding agenda will likely shape discussions at next year's budget session of the Indiana General Assembly—will have a major role in crafting future deals to fund projects and maintain the state's infrastructure.

The question is whether the state will continue embracing deals between private entities and the state as a funding mechanism for those projects. Neither of the major-party candidates—Republican Eric Holcomb nor Democrat John Gregg—reject so-called P3s. Both think the deals have their place, but they differ on when they should be used.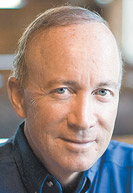 Daniels
Holcomb said they're appropriate "whenever possible."

The current lieutenant governor, Holcomb served as former Gov. Mitch Daniels' chief of staff and has touted his own involvement in the Major Moves road funding project that was paid for with proceeds of the toll road lease.


"These partnerships save the state's valuable financial resources and give the private sector a vested interest in the timely and efficient completion of necessary projects," Holcomb told IBJ.

Meanwhile, Gregg plans to be much pickier. He is "not philosophically opposed to public-private partnerships, but will consider them only on a case-by-case basis," according to his spokesman, Jeff Harris.

The deals in the past have been criticized by some of Indiana's Democratic lawmakers.

But the candidates agree some future infrastructure projects could be ripe for one of the deals.

"Not only must we fix our crumbling roads and bridges, we must improve water and sewer systems, expand broadband access, and better support our intermodal assets," Harris said of Gregg's views. "Any and all of these might be worthy of consideration for PPPs—but only after extensive study and input from all partners."

Holcomb touted a plan to double-track the single-track South Shore Line as one that could attract a P3, saying it has "already attracted the attention of the private sector for its ability to transform the region adjacent to the nation's third-largest market" of Chicago.

Another P3 possibility is the sixth and final stretch of I-69 from Martinsville to Indianapolis, which has no dedicated funding at the moment. Another Ohio River Bridge from Evansville to Henderson, Kentucky, is an option.

Former Gov. Mitch Daniels told IBJ public-private deals will be an "essential piece of the puzzle" for the future.

"The public-private approach is not a complete answer, but you won't have a complete answer without it," Daniels said. "You're never going to be able to tax people enough to do everything we need."

Major Moves

Indiana's experience in executing deals between the state and private companies has shown the devil is in the details.

One of Daniels' biggest accomplishments was his $2.6 billion Major Moves infrastructure plan, which was made possible by the $3.8 billion in revenue the state received from the 75-year lease of the toll road to Spanish and Australian investors.

Proponents said the Indiana Toll Road lost money while it was operated by the state and that Indiana would save money by having a private firm, not taxpayers, on the hook for funding repairs and maintenance. The deal allows the private company to collect the tolls to fund improvements—and profits. But critics raised red flags about giving up future revenue and spending the lease proceeds in 10 years while the lease ran 75.

The consortium that leased the toll road went bankrupt in 2014, a result of the Great Recession and lower-than-expected traffic that caused revenue shortfalls. Another private group bought out the lease last year.

Although most of the lease proceeds have been spent, a $500 million interest-generating trust account remains. The first disbursement in 2011 was $124 million.

Gregg wants to take advantage of that money. He has released a $3.2 billion infrastructure plan that includes using the proceeds from the trust fund to pay for loans for local government road projects and long-term investments. Then, the bulk of his plan would be to use $300 million from the trust fund to bond up to $3 billion for additional infrastructure projects.

Holcomb's infrastructure plan does not identify revenue sources, but he said "all options are on the table with the exception of massive borrowing that saddles future generations with a massive bill."

Louisville bridge

P3s will almost certainly be among those options.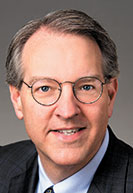 Pierce
Indiana used a P3 to finally launch construction on the long-planned bridge that will connect Utica in Clark County to the east side of Louisville.

The Ohio River East End Bridge is scheduled to open in December—and is being touted as a model for future deals. Holcomb told IBJ the bridge project is "yielding great results for taxpayers."

The bridge cost $763 million to build, which was paid for by WVB East End Partners. The P3 deal calls for the state to make what are called "availability payments" of $33 million annually for 34 years to the firm—although the tolls WVB collects on the bridge will offset some of those payments.

"Everyone's looking at that as going very well and demonstrating it can be done successfully," said Dennis Faulkenberg, president of transportation consultancy Appian and a former deputy commissioner and CFO of INDOT under Democratic governors Evan Bayh and Frank O'Bannon.

Faulkenberg said the state partnered with "an established highway contractor" on the project that has worked with "lots of Indiana subs."

But Faulkenberg and others have pointed out that in P3 deals that include years of availability payments, the payments essentially become long-term debt on the state's balance sheet.



In 2014, former INDOT Commissioner Karl Browning warned against future P3 deals that include availability payments. He said they were simply "a lot like borrowing."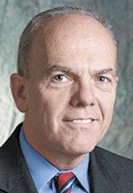 Faulkenberg
Faulkenberg said the East End bridge project is workable because tolls will offset much of the state's annual payments.

"That's what we like to see rather than just borrowing from the future," he said.

I-69 stretch

The fifth section of I-69 from Bloomington to Martinsville was financed in the same format—but without the tolls. That means Indiana is on the hook for a$21.8 million annual payment to the private firm funding the project for 35 years.
But construction hasn't gone as smoothly. The Indiana Finance Authority last month issued a "failure to perform" notice to contractor Isolux Corsan over a dispute about not paying subcontractors. The dispute temporarily stopped work on the project but was resolved this month.

Daniels said the problems with I-69 "could have happened no matter what the contracting arrangement."

But at least one Democratic lawmaker, Rep. Matt Pierce of Bloomington, said he fears being locked into a 35-year deal with a contractor that has already had problems.

"The only way you maximize profits when you're locked into a contract is to try to lower your cost," Pierce said. "How quickly will they get out there and fill the potholes?"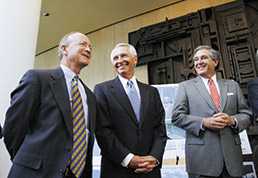 In 2009, then-Indiana Gov. Mitch Daniels, left, joined then-Kentucky Gov. Steve Beshear and then-Louisville Mayor Jerry Abramson for the creation of a bi-state authority to plan two bridges over the Ohio River. Daniels later used a public-private partnership to fund the bridge that will connect the Indiana town of Utica with the east side of Louisville. (AP photo)
He said the state would have been better off to issue bonds for the project at a time when "interest rates are practically at zero."

"We wouldn't be dealing with this private company for another 15 years" beyond the length of the bond, Pierce said.

Harris called the I-69 troubles a "mess," but didn't blame it on the drawbacks of a P3, instead saying the problem is that the Pence administration "failed to manage the project and the contractor properly."

Holcomb dismissed the concerns about the I-69 delays and disputes.

"Subcontractors are back on the job and dirt is being moved," he said.•