For nearly a decade, NICO Corp. has tried to convince the medical world there's a better way to do brain surgery.

It developed a line of products that allow surgeons to reach into the brain in a way that's less intrusive than the traditional system of cutting through the brain's inner "white matter" and pulling the delicate tissue apart with retractors.

It trained hundreds of surgeons at more than 60 hospitals, including the Cleveland Clinic, Stanford University Medical Center, Indiana University Health and St. Vincent Hospital. It watched as its technology was written up favorably in peer-review publications and presented at neurosurgical conferences.

Along the way, it raised $35 million and built a team of more than 40 employees, many of whom work at NICO's headquarters on East 96th Street, near Meridian Street.

Now, the real test begins.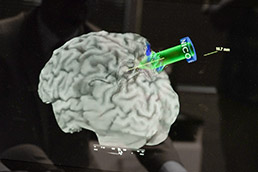 NICO officials liken their BrainPath tools to arthroscopic surgery, which is minimally invasive and allows quicker recoveries. (IBJ photo/Eric Learned)
NICO is about to launch a major clinical trial that it hopes will convince neurosurgeons its approach to brain surgery is better.

That's important because, for all its successes, NICO has been slow to win favor in operating rooms across the country. Only about 2-4 percent of U.S. brain surgeries for tumors, strokes and other abnormalities are done with NICO's low-invasive approach.

"We're asking a doctor to take a risk and change their whole concept of what they're doing," said Jim Pearson, NICO's president and CEO. "That's what is taking a while."

The company hopes it can turbo-charge the rate of acceptance if it can provide data that its approach works better. That's why it's sponsoring an ambitious clinical trial that could take up to three years to complete.

In November, more than 10 medical centers, led by Emory University School of Medicine in Atlanta, will begin a randomized trial of about 300 patients suffering from hemorrhagic stroke. That's a debilitating, often deadly ailment caused by a blood vessel's rupturing and spilling blood onto the brain tissue. Such strokes have an early-mortality rate of up to 50 percent.

The trials will study whether early intervention using NICO's products to evacuate blood from the brain is better than managing a stroke patient's symptoms with medical care in the intensive care unit.

The investigation is a long, expensive process, but the company's backers seem patient.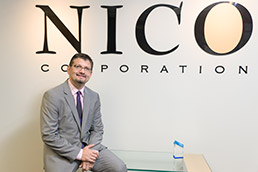 Jim Pearson, NICO's president and CEO, said the company is asking doctors to take risks and change their whole concept of brain surgery—and that may take awhile. (IBJ photo/Eric Learned)
This year, NICO has raised $17 million in capital. That's on top of the $18 million it has raised from investors since its founding in 2007.

About two-thirds of the recent infusion is from Cincinnati-based River Cities Capital Funds and Rose-Hulman Institute of Technology.

Carter McNabb, managing partner of River Cities, said in a statement that NICO was on course to develop a medical-device franchise "in one of the last untapped frontiers of the human body: the brain."

He called NICO "one of our most exciting device investments."

He has reason to be optimistic. NICO was founded by many of the same executives and investors who worked together more than a decade ago to create Suros Surgical Systems Inc., a maker of devices used for minimally invasive breast biopsies.

Suros was sold in 2006 to Massachusetts-based Hologic Inc. for $248 million, creating riches for investors and a track record of achievement for its management.

Now, Pearson and his team are trying to do it again.

Their marquee technology is called BrainPath, a system of tools designed to give surgeons access to the brain without damaging the delicate tissue.

In standard brain surgery, a surgeon tries to take the shortest route to the tumor or other abnormality. That often involves cutting straight through the brain tissue, a risky process that could harm the patient's cognitive abilities and brain functions.

NICO's BrainPath technology is designed to lessen the risk of harm. The two-piece system consists of a clear plastic sheath around a smooth, cylindrical tool with a specially designed tip. A surgeon drills in the skull a hole smaller than a dime, and inserts the plastic device in the natural folds of the brain.

The BrainPath is pushed gently along the delicate folds of the brain, rather than through the "white matter." The company compares this to a ship's hull displacing water through natural swells, rather than crashing through the surf.

Once the BrainPath reaches the abnormality in the brain, the surgeon can remove the cylinder from the sheath. That leaves the sheath in place to create a narrow corridor in which the surgeon can insert tools and remove blood or tumor tissue.

Pearson likens it to arthroscopic surgery on the knee, a minimally invasive procedure using an endoscope inserted into the joint through a small incision.

"Nowadays, you would never have open-knee surgery, or at least you would ask your doctor, 'Hey, wait a minute. Why would you have to open my knee all the way? I want to be back up walking around a couple of hours after my surgery and I want to be back at work in two days.'"

Likewise, many heart procedures are done by inserting tiny surgical devices in a leg artery instead of cracking open the chest.

But even as minimally invasive surgery has become popular for other parts of the body, it has yet to catch on in the brain.

Neurosurgery "is probably the last specialty to move to minimally invasive because of the complexity involved in the surgery," according to a report by Future Market Insights, a business research firm based in London.

But that is changing, the firm said, "due to continuous advancement in medical technology."

And many surgeons who tried BrainPath have published positive and even glowing reports.

In May, a team of surgeons at the Cleveland Clinic published in the journal Operative Neurosurgery that 18 patients with bleeding in the brain were treated using NICO's BrainPath.

In most of the patients, doctors identified and treated the bleeding, and had no additional bleeding. Only one patent died in the first 30 days. The doctors concluded the BrainPath system was "safe and technically effective."

Other surgeons studied results of the BrainPath technique on 39 patients at 11 medical centers with brain hemorrhages. "This approach was safely performed in all patients with a relatively high rate of clot evaluation and functional independence," the surgeons wrote in the journal Neurosurgery in June.

There are about 120,000 cases of hemorrhagic stroke in the United States each year, and up to 50 percent of those patients die within a year. Of the rest, nearly 80 percent are disabled. Most patients are treated with medicine to manage blood pressure, oxygen and other symptoms.

Brain tumors attack thousands every year, too. Nearly 78,000 cases of primary brain tumors are diagnosed each year, according to the American Brain Tumor Association.

According to NICO, the proof is in the patient outcomes, one story at a time. The company's website is full of video testimonials and feature stories about patients who suffered from strokes or tumors and had amazing recoveries.

Some of those cases involved patients who had tumors they were told were inoperable, giving them just a few months to live. One young woman who had suffered seizures as a result of a tumor was able to leave the hospital within 23 hours and play volleyball that weekend.

Her surgeon, Steven J. Schneider, co-chief of pediatric neurosurgery at Northshore Long Island Jewish Healthcare System, seemed almost unable to believe the results, according to the video.

"We sent her home without a deficit, without any cognitive issues, no sensory issues," he said on the video. "She was absolutely symptom-free and had minimal discomfort. I don't think she even took a Tylenol."

Yet, despite the growing praise, NICO officials say they have a long road.

The company is no longer a startup. But it is not yet a mature performer, either. Pearson declined to disclose revenue, except to say NICO is growing every year.

Even though the company is 10 years old, it still sees itself somewhat as a startup, he said, "because we're innovative and still young and maturing out the value of what we are doing. So there's still some startup in us."

But if the energy and opportunity abound, the goal is about as serious as a company can have.

"In order for us to succeed," Pearson said, "we're going to have to create a revolutionary change in brain surgery."•