On a sunny day in June 2015, Cook Group Vice President Chuck Franz marveled as more than 300 Porsches rolled down tiny French Lick's main thoroughfare.

"Bill Cook did it," Franz said he thought to himself at the time. "He created a traffic jam in French Lick, Indiana."

The Porsche Club of America had bought out the entire French Lick Resort—including all the rooms in its historic French Lick Springs and West Baden Springs hotels as well as all of its meeting spaces. The gathering—which had been held in upscale Monterey, California, the previous year—drew more than 2,000 people to the southern Indiana town for the 10-day event.

It was an awakening for Franz and the staff of the French Lick Resort, which is owned by Cook Group and was a personal project of its late owner, Bill Cook. Until then, the French Lick folks didn't know they could pull off something so big.
In 2015, The Porsche Club of America used the French Lick Springs Hotel's recently expanded convention space to display cars. (Photo courtesy of French Lick Resort)
The Porsche confab came on the heels of a $19 million, 60,000-square-foot expansion of the resort's event center, which now boasts 158,000 total square feet and is one of the largest privately owned event centers in Indiana. The event also came just two weeks after the resort's Pete Dye-designed golf course hosted the Senior PGA Championship.

"We proved a lot to ourselves in terms of what we could do," Franz told IBJ from the executive offices at the resort, where he serves as operations adviser. "We really got this staff geared up for those two events and it helped them understand that we're moving to a whole new level."

Now, Franz and his team—out of pride and necessity—are trying to spread that message to a wider audience.

At a time when revenue from its work horse—a casino that opened in late 2006—remains unpredictable, French Lick Resort is rolling the dice on a new strategy: one built on pursuing group sales to increase bookings at the resort and build exposure that will bring guests back for leisure visits. It's already paying dividends.
Since expanding its event center in December 2014, group business at the French Lick Resort has grown 50 percent, which has helped boost occupancy during weekdays when leisure travel is soft.

"When groups come here, the one thing we hear more than anything else is, 'I never knew,'" said Chris Leininger, French Lick Resort's chief operating officer. "We're confident the more group business we can secure, the more leisure and casino business we can generate."

The last five years, occupancy growth at the two hotels has far exceeded industry standards.

The 443-room French Lick Springs Hotel's occupancy increased from 61 percent to 72 percent from 2011 through 2016. During the same period, occupancy at the 243-room West Baden—about a mile away—grew from 38 percent to 50 percent.

The two hotels combined have seen occupancy climb from 53 percent in 2011 to 64 percent last year, despite rates that range from $200 to $350 a night.

Last year, the resort booked a record 161,479 hotel room nights—up 11 percent since 2011—and this year is projecting nearly 165,000 nights. Franz credits much of the recent growth to the new event space.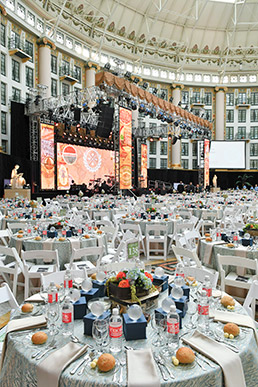 The atrium at French Lick Resort's West Baden Springs Hotel is nearly 35,000 square feet and can seat as many as 3,000 people for a reception or 2,000 for a banquet. (Photo courtesy of French Lick Resort)
"We're already feeling the capacity issues on January weekend nights. A year or two ago, that wasn't the case," Franz said. "We're also seeing a lot more traffic during the week, when at times we used to be really dead."

The pressure is causing Franz and his staff to consider adding rooms to the French Lick Springs Hotel—although he wasn't ready to provide details.

"We're not locked into the number of rooms that we have," he said. "There are several ways we could look at adding hotel rooms"—at French Lick.

Adding rooms to West Baden is not in the cards, he added.

Betting on conventions

In the last five years, annual resort revenue from operations has grown from $53 million to $62.3 million. Casino revenue has risen only slightly—with several down years—from $85.7 million in 2011 to $87.5 million last year. Still, that's the highest total for the casino since 2008—before the Great Recession and before new competition hit the gambling market.

In June that year, casinos at Indiana Live in Shelbyville and Hoosier Park in Anderson opened, moves that led to a double-digit percentage decline in revenue at French Lick's casino the following year.

French Lick also took a hit in late 2013 when a downtown Cincinnati casino and two Ohio racinos opened in 2013. That development caused the Indiana casinos in southeastern Indiana to significantly amp up their marketing, which pulled business from French Lick.

Despite those bumps, the revenue boost from group business at French Lick has been enough to pull the resort out of the red the last two years, said Steve Ferguson, chairman of Bloomington-based Cook Group.

That's in part because the resort doesn't have the debt typical of private projects.

Bill Cook and his company have sunk $560 million into the French Lick Resort—which, in addition to the two hotels, includes five restaurants, three golf courses, a casino, horse stable, spa, bowling alley and many other amenities (like a trolley train connecting it all)—since buying it in 2005. And the company doesn't expect to ever recoup that money.

Instead, Franz said every penny gets poured back into the facility. And Cook Group helps subsidize major projects.

Ferguson said Cook remains committed to the project long term—but he acknowledged the medical-devices manufacturer can't afford to subsidize the resort indefinitely. Cook Group has its own challenges—including complicated health care changes, taxes and regulations—to deal with, Ferguson said.

"The commitment is one of making the project successful," he said. "If it's successful, it will always be there."

Big regional impact
And success, to Ferguson and other resort officials, means the region grows too. Although Bill Cook died at age 80 in 2011, his fingerprints are all over this town, about two hours south of Indianapolis.

The Orange County resort itself employs about 1,300 people year-round and another 350 during the peak travel season. The county's unemployment went from 9 percent when the casino opened to 4.4 percent at the end of 2016, according to the Indiana Department of Workforce Development.

Three additional hotels—a Best Western, Comfort Suites and a 154-room hotel attached to a water park—have opened in French Lick in the last decade, as have nine restaurants, seven entertainment venues, four spas, eight retail stores and an IU Health facility.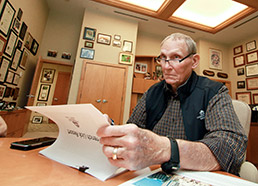 Steve Ferguson, chairman of Cook Group, said the company is committed to the French Lick Resort for the long term. But he said it can't subsidize the resort forever. (IBJ photo/Lesley Weidenbener)
"A CVS or an O'Reilly Auto Parts store may not sound like a big deal to you, but it is for French Lick," Ferguson said. "These investments, and a lot of them are out-of-state investments, are a big deal for the quality of life and vitality of this town."

The town's budget has grown by nearly 50 percent to more than $700,000. That doesn't include another $2 million plus it receives annually from casino revenue to be used for infrastructure projects.

"The difference from 10 years ago is unbelievable," said Barry Wininger, president of Orange County Beverage and past president of the French Lick Town Council. "We have new buildings, new streets and sidewalks and trails—all because Cook came here."

Changing revenue pie

French Lick officials believe group business can help the hotels and the region.

In 2007, 45 percent of the resort's hotel-related revenue came from casino guests while the rest was split evenly between group and other leisure. Slowly, that began shifting.

This year resort officials expect group business to approach 40 percent of revenue at both hotels, while leisure will be near 33 percent and casino-related business just under 30 percent.

And the group business isn't confined to the French Lick Springs hotel. At West Baden, groups already this year have booked a record nine "buyouts," which includes renting every room in the hotel plus the 35,000-square-foot dome area—once called the Eighth Wonder of the World. That costs $100,000 to $150,000 for one night.

In the previous 10 years, the hotel had been bought out a total of only a handful of times, resort officials said.

"It's a magnificent setting and a real unique opportunity to get all the dome space and the hotel rooms," said Steve MacKinnon, director of conference services. "We've put a variety of meetings and gatherings in that space."

The resort's growth also has spread to its golf courses. In recent years, the number of rounds played at the resort's three courses has grown year-over-year at a clip of about 20 percent, climbing to 26,000 rounds last year. The Dye course, which opened in 2008 to rave reviews, has doubled its business since 2010, to 5,000 rounds.

"That type of growth in the golf course industry is simply unheard of right now, certainly in this state," said Mike David, director of the Indiana Section of the PGA. That "shows what a true destination for people far beyond Indiana this place has become."

The pavilion at the Dye course, built in 2014 and expanded in 2016, also has been a draw for groups, said Dave Harner, French Lick Resort's director of golf.

Harner said 75 percent of the courses' business is corporate and groups. "Our customer isn't one that comes in, plays and throws their clubs in the trunk and leaves," he said. "They want the whole experience."

Harner credits the growth in large part to the $50 million Cook has invested in the golf courses since buying the resort.

"It's a night-and-day difference," Harner said. "We're now allowed to spend the money we needed to keep this facility top-notch. That wasn't always the case."

Positives and negatives

For all its positives, French Lick Resort has its limitations, said Debbie Locklear, president of Indianapolis-based Meeting Services Unlimited. "They're not going to get big groups or gatherings because they lack things like loading docks and they don't have the capabilities to quickly set up and tear down meetings like the Indiana Convention Center."

Locklear, who recently planned an event at French Lick, heard complaints that some of the rooms are small and that, after a few days, the limited food options become frustrating. But she said the service at the resort is excellent. "They really exemplify Hoosier hospitality," she said.

"Another thing French Lick has going for it is, it's compact, so that leads to a lot more networking and team building among the event's attendees," Locklear said. "And our attendees really loved the history and architecture of the place. And the golf courses there are absolutely fantastic."

To continue to grow its group business, Locklear said, French Lick Resort will have to be hyper-competitive on pricing.

"Some people, especially from Indianapolis on north, think it's very remote," she said. "They'll have to offer breaks on room rates, lower minimums and have fewer cancellation penalties to get people to try it."

Franz said French Lick stacks up nicely on price. French Lick and West Baden's hotel room are prices in line with Indianapolis' three- and four-star hotels and they also offer amenities like free Wi-Fi and parking that many urban hotels do not, he said.

Despite French Lick's rural setting, Franz said it draws from myriad markets. Indianapolis is its No. 1 market for group business, but the resort also brings in groups from Chicago; Cincinnati; St. Louis; Louisville; Nashville, Tennessee; and Lexington, Kentucky, he said.

Organizations that have recently booked meetings include Indiana Farm Bureau, Indiana Optometry, Indiana Dental Association, Indiana Association of Cities and Towns, Indiana Association of School Business Officials and the Rolls-Royce Owners' Club.

"In the beginning, we'd hear, 'Wow, you're kind of tough to get to,'" Franz said. "Now, it's, 'Wow, we love your location.' We feel if we can just get people here once, we can convert them to life-long customers."•