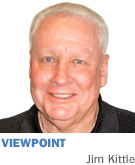 There is no question our U.S. tax code is broken. Donald Trump and our Indiana Republican delegation promised to fix it. They have proposed some good, pro-growth ideas, including rate reductions for individuals and corporations, incentives for investment, and reforms in how purchases are expensed.
Unfortunately, all the good reforms could be wiped out by a separate, complicated proposal from the House GOP that amounts to a huge new tax that will slam consumers, especially middle-class and working families, called the "border adjustment tax," or BAT.
BAT is a 20 percent tax on items brought into the country by all retailers, car manufacturers and even companies from which we purchase fuel. At current prices, a gallon of gas would increase about 30 cents. About one-third of the durable goods Americans are buying are imported, and that number tends to be higher for those in the low- to middle-income brackets.
Almost half of the American people don't make enough to pay federal income tax. With this 20 percent sales tax Republicans are pushing, millions of struggling families would end up paying $1,700 more annually on essentials such as food, gas, medicine and other home goods. The truth is that most Americans have never heard of BAT, or they are not familiar with how it works. But they do know this: They don't want to pay more for products just because the goods they buy are produced in other countries. That is especially true of goods that are in short supply or not produced at all in the United States.
Some in Washington are making the tenuous argument that BAT will decrease demand for exports and increase demand for imports, helping the U.S. dollar strengthen enough to offset any negative effects of BAT. This argument ignores the fact that many of the goods that would be subject to BAT are essential and less likely to adhere to the normal trends of supply and demand. Further complicating these murky economic models are the countermeasures other countries likely will employ as a response to an adjusted border tax—such as World Trade Organization claims and increased import taxes of their own that they would impose on American-made products.
Supporters of BAT seek the $1 trillion it is projected to generate over the next 10 years because it would help offset the cost of giving big companies like General Electric and Boeing corporate tax breaks. I am all for a more sensible corporate tax structure and for buying American-made goods when possible, but BAT is nothing more than our congressional leaders picking winners and losers when they should be finding ways to cut spending and reduce taxes across the board.
I call on the entire Indiana congressional delegation to stand for working families in Indiana and send a clear message to House Republican leaders that BAT is not acceptable. Tax reform is too important to the economy and the livelihoods of working families to be derailed by a complicated new tax that will force higher prices and lost jobs on the same people in our country who can least afford it.•
__________
Kittle is chairman of Kittle's Furniture and former chairman of the Indiana Republican Party.
 
Please enable JavaScript to view this content.