Two-year-old DemandJump Inc. is one of the area's hottest startups—and it had a 2016 that many startups would kill for.

Last year, the Indianapolis-based company won two TechPoint Mira awards (often called the Oscars of Indiana tech), was a finalist for the prestigious Red Herring Top 100 Global award, added former Wal-Mart marketing chief Julie Lyle to its team, and secured an investment from Boston-based venture capital heavyweight Bob Davoli.

The 17-person company, which targets marketers with its artificial intelligence software, has not raised a ton of money—about $2.6 million so far. But it's approaching $1 million in annualized revenue with a product that's been on the market only nine months. And the company has caught the attention of research firms Forrester and Intelligentsia.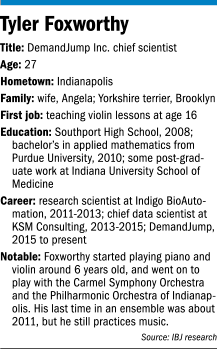 DemandJump's "technology offers companies really interesting insights into their marketing strategies and customers, and they do it all with what we see as a unique product," said Dave Edwards, co-founder of artificial intelligence research firm Intelligentsia, which was acquired by New York-based media outlet Quartz in January.

It's tough to say where DemandJump would be without Tyler Foxworthy, the 27-year-old Hoosier who is chief architect of the firm's artificial intelligence software. He's the brains behind the algorithms, the guy co-founders Christopher Day and Shawn Schwegman call in when they want to give prospects a little taste of what's "underneath the hood" of DemandJump.

And just like the company, Foxworthy's profile is rising. Edwards, of Intelligentsia, enlisted Foxworthy as an adviser for a new artificial-intelligence-related venture he's leading at Quartz. Venture capitalists and entrepreneurs inside and outside Indiana have sought his expertise when vetting prospective data scientists.
Foxworthy joined DemandJump in September 2015 as chief scientist, and he's often one of the few—if not the only—startup employees found at global math and science industry conferences, rubbing shoulders with data scientists from tech giants like Facebook and Google.

Some think he's a rising artificial intelligence—or AI—star, if not one already.

"If you think about artificial intelligence, there are, like, six different families of math that you might draw from," said Frank Dale, the former CEO of local software company Compendium and a former colleague of Foxworthy's. "Tyler's one of the only people I've met that understands all of them and can articulate to normal humans why we would choose one versus the other."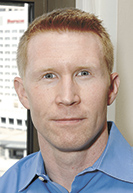 Dale
"If you think about somebody like LeBron James, who's the multi-tool athlete for basketball," Dale added, "that's Tyler."

Devon McDonald, a partner with Boston-based OpenView Venture Partners, said she heard about Foxworthy through DemandJump CEO Day.

"I heard ... he was a phenomenal data scientist," McDonald said in an email, "so I intro'd him [last summer] to the COO of one of our portfolio companies who was looking to hire a data scientist for his team. [He] wanted to pick his brain on who to hire, how to hire, etc."

DemandJump's software

Artificial intelligence generally denotes training computers to think and act like humans, and it's been around for decades. But one of its branches—machine learning—has garnered a lot of buzz in recent years because of advances in processing power and a proliferation of data sources.

Machine learning is the term used to describe computer systems that make data-based decisions or predictions, with those decisions becoming more accurate as the software assesses its performance and acquires more information. Machine learning has powered everything from digital assistants that respond to only a certain person's voice to image-recognition software that can tell whether a cat is in a photo.

As for DemandJump, the algorithms Foxworthy concocted learn how a company's online traffic network looks and changes over time, then make suggestions about where marketers should allocate resources to maximize revenue.

"If you wanted to create a self-driving car, the car would have to have a model of the road," Foxworthy said. "If you're creating a chess-bot, it would have to have a model of the chess board and the rules of the game. Well, marketing is no different. If you want to create a marketing AI tool that can run on autopilot and make intelligent decisions, you actually have to have a model of the market."

DemandJump's software has two main features. First, it shows marketers their direct and indirect traffic sources—or the last-click source and sources that linked to that. It also maps where competitors fit in that "marketing ecosystem," as well as their primary and secondary sources.

Traffic for a clothing retailer might come from a blog, a social media post, an affiliate website or other source. DemandJump analyzes all such sources and the revenue that comes from each.

The second feature involves search, and DemandJump's software combs through reams of public and customer data to amass all the search terms customers used to find a specific product. It not only ranks the most relevant, profitable keywords, but it also recommends what language businesses should use in their product descriptions and specific keyword bids.

"When you're talking about one product that might have tens of thousands of different queries and unique search terms that people are using to get to that product," Foxworthy said, "and you multiply that by 2,000 products, 10,000 products, or 100,000 products, there's no way any human can keep up with that scale."

DemandJump has about 20 customers, mostly in the retail industry. Officials said several have been able to realize returns that are five or six times their marketing investment.

A 2016 report by Intelligentsia found existing marketing applications use artificial intelligence, including tools for predicting which customers are close to canceling subscriptions or for deciphering the mood and tone of consumer product reviews.

But Intelligentsia said network analysis, which DemandJump specializes in, gives marketers the most bang for their buck. The research firm said the company integrates mathematical concepts that are rarely used in marketing software—including principles that deal with algebraic topology and graph theory—to map networks and uncover unique insights.

"The results they are able to deliver to customers are more tangible than most of what we see in marketing analytics and potentially more infrastructural and long-lasting," the report said. "The sophistication of their network analysis technology makes traditional web traffic analysis appear primitive in comparison."

Math whiz

Foxworthy studied math, not computer science, in school. But his rigorous math training early on proved to be a great foundation on which to teach himself artificial intelligence, he said.

The Indianapolis native entered IUPUI in 2006 at age 15 thanks to the school's Special Program for Academic Nurturing. By 2010, Foxworthy had obtained an applied mathematics degree from Purdue University, and he spent the next 2-1/2 years in a doctoral neuroengineering program at the Indiana University School of Medicine.

He decided not to finish the program, partly because he wasn't interested in becoming an academic.

His first professional job came in 2011 at Indigo BioAutomation, where he helped create algorithms for medical-device software. Fred Lytle, a scientific fellow there who was involved in hiring him, said Foxworthy did some impressive work, particularly around "self-aware" algorithms that could determine how reliable their computations were.

"It was very interesting math that I had never seen," said Lytle, who spent 40 years as a Purdue University analytical chemist. "In fact, if he had been in academia, he could have published it."

In 2013, Foxworthy leapt to KSM Consulting to become chief data scientist and practice director. At age 24, he was the youngest person to hold that position, and he led a team of 10 people that applied data science to issues that included infant mortality and tax fraud.

Dale, the entrepreneur, worked with Foxworthy at KSM and said he remembers Foxworthy crafting a system that predicted turnover for a trucking industry client. "He was able to take driver records, payroll history, even factors like how far away the driver's home was from their route," Dale said. "He combined it all and came up with a model that was better than 95 percent accurate."

DemandJump and beyond

Foxworthy heard about DemandJump through a mutual friend. One reason he took the job dealt with his obsession for using math and artificial intelligence to solve real-world problems—and marketing optimization was a new challenge.

When Foxworthy arrived, his first task involved building algorithms for the company's traffic-sources dashboard. Then came tools related to search. Drawing upon lessons from those two areas, the company is working on features that involve suggesting display ad content and placement.

Foxworthy runs a team of two data scientists, with an intern on board now and another one joining in a few months. He said while it is difficult finding data scientists who are either based in Indiana or are willing to move here, he's satisfied with the size of his team for now.

"The more people that I have to manage, the less time that I have to actually do research and development," he said. He added that he envisions having three- to five-person teams around specific artificial intelligence disciplines, "so realistically I could see us scaling up to 20 people in the next five years."

Foxworthy said he ultimately wants to start his own company, potentially applying artificial intelligence to other industries such as private equity. But for now, he said, he's focused on the challenges at hand.

Dale said he doesn't see Foxworthy leaving anytime soon, and he wouldn't be surprised if a tech giant like Salesforce made a run at acquiring DemandJump in part to get a person like him.

"I have no doubt that he can be successful," Dale said about Foxworthy's entrepreneurial goals. "He's got a distinct advantage … and has the ability to maybe recognize some opportunities that other people can't."•