In 1999, Karen Kennelly's boss at The Children's Museum asked her what she hoped to be doing 10 years down the road. Her reply: She wanted to be working with not-for-profit organizations, helping provide the financial guidance they needed.

In 2009, she opened K-Squared Consulting, where she does exactly that as a contract CFO who works with organizations weekly or less frequently, as needed.

"It's a perfect model," Kennelly said. "They probably couldn't afford me full time, but they can afford me part time—and they get that level of expertise."

Kennelly, who started her career with Arthur Andersen, left The Children's Museum in 2004. She took six months off, then went to work for Katz Sapper & Miller, doing the same kind of work she would eventually do on her own.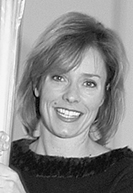 Kennelly

She said she's never had to market her services. "Every client I've ever gotten has been based on a relationship I had with somebody else who recommended me to the organization," she said, including Special Olympics and St. Joseph Institute for the Deaf. She attributes some of the reputation she built to being named to Forty Under 40.

Kennelly said she knew the not-for-profit world was the right place for her because at the same time she opened K-Squared, she also became a full-time caregiver for her mother.

"That became a second full-time job," she said.

Kennelly's mother died in May 2016, and Kennelly spent the last few weeks with her in intensive care.

"The understanding and compassion that I got from my clients was unbelievable," she said.

"They said, 'You be where you need to be and we'll manage.' That's what the non-profit community is."

—Marc D. Allan