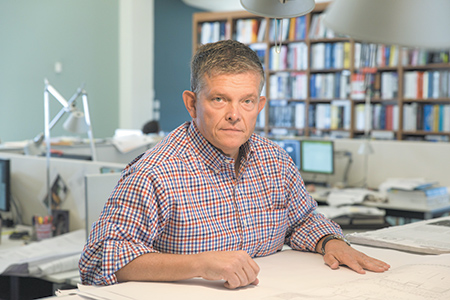 Some jobs are naturally more creative than others, but the skill is needed in all careers. It can also be tricky for a manager to develop innovative thinking or nurture it in others, but professionals who regularly tackle the task and those who teach it say the keys are creating the right environment and keeping an open mind.
Read and then get at it!
Read the advice below and then, if you're inspired to try to be more creative, go to www.ibj.com/exercise to try an exercise created and used by Inovatemap to open your mind to new ideas. You can also purchase more Innovatecards and read more about the game at www.innovate.cards.
Drew White, founding partner of Axis Architecture + Interiors
Community outreach: White encourages employees to be involved in the community so they better understand the challenges. One example: helping build a house for a family in need. "I think you learn a lot about innovation there because you're challenged with budgets," White said.
Teaming up: Less than a year ago, White divided his staff into teams to work on projects. The teams can devise their own work methods, but members are mixed throughout the office so they still interact with people from other teams.
Variety: Teams are not pigeonholed into specific types of projects—each team does a bit of everything to avoid getting stuck in a rut.
Opportunities: "We believe all ideas are good and we give people opportunities," White said. "That can give a younger person or an older person a lot of energy." And he's OK if providing those opportunities means people leave his firm to start their own. In fact, he said, at least six firms have grown out of former Axis employees.
"They were great employees," White said.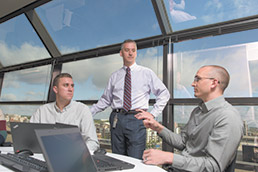 Dennis Martin
Dennis Martin, vice president of product and business development for OneAmerica
His strategy: Innovate inside the box or make the box bigger. As a 140-year-old insurer, OneAmerica has a long-term vision. And that means any new products have to be successful for decades. "Getting outside the box isn't where we want to be," Martin said. "We want to help our customer, but we want to make sure we're there for them long term."
Pro tip: Get different perspectives by bringing new people into the room.
Words to live by: "Let's lower our resistance." Martin knows that innovation means something is changing, and people are unsettled by change. So, he said, keep a positive attitude and think of ways changes can work rather than focusing on reasons they won't.
Create the environment: OneAmerica offices have been redesigned to lower cubicle walls, add collaborative space and remove executive offices. The result? Co-workers are sharing ideas more frequently because they're talking to one another more. More ideas lead to better innovation, according to Martin.
An unusual tactic: Take your biggest problem and set it aside. That's right—ignore it. Move on. Focus on something else, and you'll be surprised how that helps you later think of a way to solve the big problem.
"Innovation can come from anywhere, anytime," Martin said. "You never know when it's going to strike you."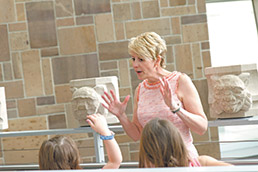 Cathy Ferree
Cathy Ferree, president and CEO of the Indiana State Museum (formerly vice president and chief operating officer at Conner Prairie Interactive History Park)
Free range: Give people the time and space they need to think creatively, which might look different for each person. If someone thinks better while walking around the park, let them do that. But not all day. "Everybody needs boundaries," Ferree said. "Even the most creative person needs to be cut off."
A thoughtful response: If someone brings you an idea that you think won't work, give yourself 24 seconds before responding, to think about how it could work. If you still think it won't work, give yourself 24 minutes to think, then 24 hours.
Get away: After a big project is finished, Ferree tells her employees to pick a city to visit. During the trip, they can visit only a couple of museums; instead, they have to explore unique attractions and restaurants. Once they return, they incorporate ideas from other places into new projects.
Be OK with risk: Ferree likes to think about the worst-case scenario: How much money could the museum lose with the project? And is she OK with that? "Museums have not in the past been really good about taking risks," Ferree said. But risks pay off—sometimes the worst-case scenario might be losing $10,000, but the idea ends up bringing in a profit.
Her tricks: Talking to people not involved with the museum, like her nephews and her younger brother, shopping in all sorts of stores to get a feel for the community's style, and walking through the museum to hear what visitors are saying. "It's seeing people experiencing what we do," Ferree said. "I'm constantly listening."
Keep in mind: "There's no one right answer."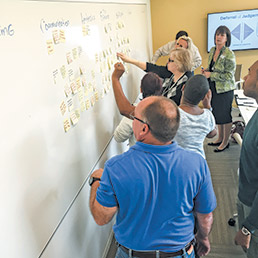 (Photo courtesy of Collabo Creative)
Terri Wada and Pamela Napier, co-founders of Collabo Creative
Design thinking: How can you use design to solve problems? That's what Wada and Napier try to teach the companies they work with. That means getting people to think about solutions, rather than problems, and encouraging them to take action. "It's more of a mind-set than it is the process and the skills," Wada said. "Once you reset the way you think of things, then you start to change the way you think of everything."
Try and try again: Wada and Napier encourage clients to make small mistakes—and to do it fast. Making mistakes quickly, and moving on quickly, results in a better product, they said. "It's not about doing everything right," Wada said. "It's more about just doing things and figuring out what you did. There's a lot of risk-taking involved."
Start small and easy: It can be uncomfortable to try a new way of thinking, so ease into it. Wada and Napier give clients creativity kits packed with colorful pipe cleaners, construction paper and markers, than have employees do simple tasks like draw a house or a stick figure. "Everyone can draw—you can pick up a pen and draw a circle," Wada said.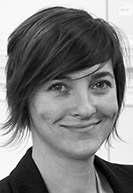 Napier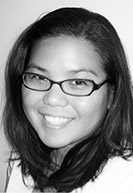 Wada
Just do it: Wada one day recently wondered what would happen if she rearranged the firm's office. Then, instead of continuing to think about it, she just did it.
"If there's anything you think about doing and just wish you could, just go do it," she said.
Mike Reynolds, founder of Innovatemap
His role: Help companies bring ideas to life or stop stagnation by providing a burst of creativity.
Starting point: What do people want that they don't have today? The difference between what exists and what people want is innovation.
First step: Identify the unmet needs for your customer base and brainstorm ways to fill those needs.
Not so simple: An open workspace can help promote collaboration and innovation, but that's not the magic answer. "I think environment is a piece of it, but it's not the solution," Reynolds said.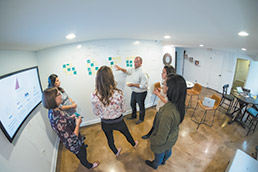 Mike Reynolds
Think small: Innovation doesn't have to be huge.
Kristie Speirs Neumeister, Ball State University professor of education
Get out of the office: Do creative thinking in a new setting, like a coffee shop or a park. "Going to the beach would be great," Neumeister said, but she recognizes that's difficult in central Indiana.
Break it up: Yes, it can seem counterproductive to take breaks while working on a project or on a tight deadline, but it can really boost your creative thinking. "Your thoughts are going down the same path, and you get stuck in that rut of thinking," Neumeister said.
Stay neutral: Don't give negative—or positive—feedback when brainstorming. If you do, you run the risk that people won't speak up because they believe the best idea has already been shared or because they fear negative response.
"The problem people have is, you eventually do need some evaluation," Neumeister said. "There's a place for evaluation, but it's at the other end—not the front end."
Warm up your brain: Think about something totally unrelated to the task at hand. Like, what would happen if we changed the school week from five days a week to four days? "So I'm already in the mind-set of pushing myself," Neumeister said. "It usually doesn't work to sit down cold."
Please enable JavaScript to view this content.