For more than a decade, museums have been digitizing their collections, creating two-dimensional and three-dimensional versions of artifacts that can be explored online.

The Benjamin Harrison Presidential Site, an Indianapolis museum at the home of the 23rd U.S. president, recently embarked on its own digitization effort. But it's taking things a step further than most museums—it's allowing consumers to print 3-D versions of its artifacts for free.

The offering is part of the museum's New Century eCollection initiative, which aims to digitize its 10,000-piece collection, including statues, ornaments, presidential gifts to Harrison and more. It's not the first museum to allow 3-D printing, but it is in rare company.

Museum officials acknowledge the initiative has a few challenges, including the public's access to 3-D printers. But they also believe it has several benefits, and they want to help advance how museums interact with audiences in the 21st century.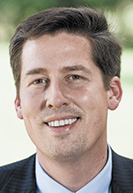 Hyde
"We recognize that this is an important endeavor—making sure that we're relevant to future generations," the museum's president and CEO, Charles Hyde, said in an interview in his basement office of Harrison's home, which was built in 1875. "We don't have the luxury of letting things remain as they are."

The museum, which sits near Delaware and 13th streets, is a 16-room, Italianate-style house that showcases the life of the only U.S. president from Indiana. (William Henry Harrison, the nation's ninth president and Benjamin Harrison's grandfather, was governor of the Northwest Territory, based in Vincennes, before Indiana became a state. His gubernatorial home there is open to the public, although he moved to Ohio before he became president.)

Benjamin Harrison moved to Indianapolis in 1854, where he started a law practice. He purchased the Delaware Street lot in 1868 where he built what's now known as the Harrison house. Outside the time he served as a U.S. senator (1881-1887) and president (1889-1893), he lived in the Indianapolis house until his death in 1901.

Harrison's second wife owned the home until selling it in 1937 to the Arthur Jordan Foundation, stipulating that its front parlor and library be maintained as a memorial to Harrison. The property was named a National Historic Landmark in 1964 and officially established a museum two years later, although tours had been offered by appointment since the 1950s.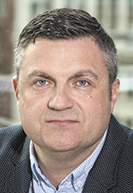 Incandela
The museum's decision to embark on the eCollection initiative has roots in 2014. At the time, officials were mulling a real estate expansion as a way to broaden the museum's reach, but there wasn't much appetite among board members and other stakeholders for such a move.

Ultimately, officials decided to expand their reach digitally, and they figured 3-D printing could allow people to interact with the museum's collection physically without being there in person.

Daniel Incandela is the chief marketing officer of Return Path and former director of new media at the Indianapolis Museum of Art. He said the Harrison museum's initiative is "innovative" and "cool" and is a fresh approach to tackling a challenge nearly all museums face.

"It is becoming increasingly more competitive [for museums] to grow their membership, to engage with the community, to drive fundraising," Incandela said. "And I think the only way to do that is to demonstrate more value on a bigger scale, and digital does that."

Fall debut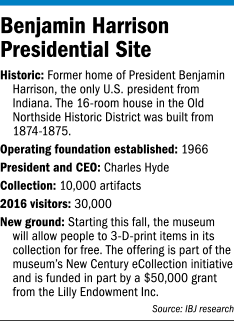 Over the past two years, the idea for the eCollection initiative won broad support among museum stakeholders—and recently won funding to put it in motion. The museum received a $30,000 grant from the R.B. Annis Educational Foundation late last year and $50,000 from the Lilly Endowment this spring.

It's working on the initiative with multiple for-profit and not-for-profit entities, including the Indiana University School of Informatics, which is helping design user experience, and the IUPUI University Library, which is handling digital scanning.

It expects to have a new website, and at least some artifacts available for 3-D printing, starting in November.

Hyde said the Harrison home is "locally relevant and nationally significant." In addition to being William Henry Harrison's grandson, Benjamin Harrison is the great-grandson of a signer of the Declaration of Independence. His legacy includes expanding the U.S. Navy, laying the groundwork for national parks, and signing the Sherman Antitrust Act.

Harrison's home is filled with original hardware, fixtures and furnishings, including walnut doors, presidential china, and a 19th century Oriental rug. Standout pieces include an 1880s-era chair made from bobcat fur and Texas Longhorn horns—an inauguration gift to Harrison—and a wooden Centennial cane etched with the faces of every president preceding him.

The plan is to scan not only those kinds of artifacts but also the roughly 90 percent of museum items not on public display. The vision, Hyde said, is for students, researchers, hobbyists and others to be able to explore and print the items at leisure.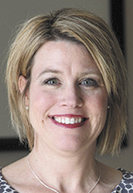 Johnson
"This is fairly new—a lot of museums are still focusing on 2-D scanning, like paper and photographs, because it's a huge amount of their collections and it's easy," said Jenny Johnson, head of digitization services at IUPUI University Library.

"3-D printing is time-consuming and expensive. The scanners that we have are about $17,000 apiece ... and the expertise needed to do post-processing for 3-D work is a lot different than just doing 2-D work."

Other museums that allow 3-D printing include New York's Metropolitan Museum of Art, London's British Museum, and the Smithsonian Institution. But those museums have restrictions on what can be viewed online and 3-D-printed, while the Harrison museum aims to make as much of its collection available digitally as possible.

Observers, including Johnson, said one of the benefits of allowing 3-D printing is that it can pique interest and allow people to engage with items before visiting. And, generally, people can handle replicas of items that often can't be touched in person.

"People need to make sense of the objects and artifacts not only in terms of visual aesthetics, but also in terms of how to relate to them personally or in the larger social context," Elee Wood, director of the Museum Studies program at IUPUI, said in an email.

"By handling these examples—even though they are printed copies—museum guests can get up close with the ideas that the artifacts represent."

The road ahead

Having places for people to easily print the items is one challenge. While 3-D printer prices have come down over the years, many still exceed $1,000. And whether people print at home or in public places like libraries, 3-D printing is a time-intensive process.

"For a statue that's about 8 inches tall," Johnson said, "it can take 12 to 16 hours to print."

Incandela, of Return Path, said once the museum digitizes its collection, it will need a strategy for how the content is packaged and promoted.

"It's one thing to digitize; it's another thing to think about what that experience will be for people," he said. "Technology changes all the time ... but you still need the foundation of what the marketing plan is to make it successful. I'm sure [the museum] is thinking of that."

Museum officials envision schools and libraries as destinations for the project initially, and they're already in conversations with a few locally. And Hyde said he and other entities involved are strategizing how the program will operate after its debut.

Hyde said the project is a big effort for a relatively small museum, but he and his colleagues are embracing the opportunity to uncover best practices that other museums can heed. "We want to set forward a model of success that other museums can emulate."•