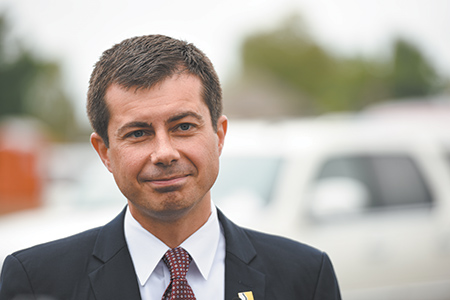 Pete Buttigieg was in Des Moines last month, riling up a crowd at the Progress Iowa Corn Feed with a message that the Democratic Party needs a new focus—"the politics of the everyday"—to make inroads in parts of the country where its influence is waning.
But 400 miles away in his hometown of South Bend, where Buttigieg is mayor, residents were riled up about something completely different—train whistles that have been wreaking havoc on their sleep.
The whistle problem has been dogging the 35-year-old mayor since mid-summer. And so, the day after speaking in Iowa, where aspiring politicians go to test their national messages, Buttigieg was back home at the County-City Building, asking councilors for more money to enforce rules against train horns disrupting quiet zones.
This is the dual existence Buttigieg has been living since he decided to run—unsuccessfully—in January for chairman of the Democratic National Committee, a move that boosted his profile overnight.
Since that race, Buttigieg (pronounced "boot-edge-edge") has been balancing his duties as mayor of a city of 102,000 with his new role as fresh-faced spokesman for the progressive wing of the national Democratic Party.
Just look at his Twitter account, which has 72,000 followers. Buttigieg frequently comments about President Trump's actions and issues of the day. On the day after the Las Vegas shooting, it was gun control.
"I did not carry an assault weapon around a foreign country so I could come home and see them used to massacre my countrymen," the Navy Reserve veteran tweeted on Oct. 2.
But just an hour earlier, Buttigieg had been tweeting about the train horns. "Frustrating round of conversations with the train companies, who want another week. Still working on them to move more quickly."
One day he's tweeting pictures from his visit to the local 4-H fair. On another, he's pleading to save the Affordable Care Act.
This summer in South Bend, Buttigieg unveiled a monument honoring the moment Martin Luther King Jr. joined hands with the Rev. Theodore Hesburgh, then president of the University of Notre Dame.
A day later, he was in New York, making an appearance on "Late Night with Seth Meyers," where he talked about his decision to reveal during his 2015 mayoral re-election campaign that he's gay—and how his constituents mostly didn't care. And he told Meyers that the Democratic Party "has always been about protecting ordinary people," while Republicans have a skewed view of what constitutes freedom.
But Buttigieg doesn't view his two roles as conflicting. He sees the questions that drive the national political debate affecting the residents of South Bend—and vice versa.
"To me, anything that happens anywhere in politics only matters because it hits home for someone," he said. "If the president is emboldening white supremacists, there's a connection to an increased level of racially oriented bullying that we're seeing in our schools. If Congress takes away health care from millions of people, a lot of those people live in South Bend."
Path uncertain
As the buzz around Buttigieg grows, some political observers and strategists say they are excited for his political future, even fantasizing that his aspirations might lead him to a future presidential race. 
But they are uncertain about what path he might take to higher office. Unless something changes, Republican Gov. Eric Holcomb appears to be in a solid position to be re-elected in 2020. U.S. Sen. Todd Young won't be up for re-election until 2022 and seems—for now—to be in a strong position as a GOP incumbent.
And some advisers say it wouldn't make sense for Buttigieg to seek a seat in the U.S. House, where he would be just one voice among 435, something that wouldn't fit with his executive style of leadership.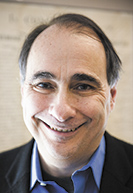 Axelrod
"I think he has limitless potential," said David Axelrod, a senior adviser to former President Obama who hosted Buttigieg on his podcast. "When and how that story unfolds is another thing, and I don't know the answer to that. There's something about him. He's a thoughtful guy who very much has his feet on the ground."
Buttigieg said he is taking the opportunities as they come. The two-term mayor was first elected in 2011 with 74 percent of the vote and was re-elected in 2015 with 80 percent. His electoral experience also includes an unsuccessful long-shot run in 2010 for state treasurer in which he earned just 37.5 percent of the vote.
"Every really compelling political opportunity I've had came as a bit of a surprise to me," Buttigieg said.
For now he is trying to enact a progressive agenda in South Bend, he said. For instance, he recently proposed a parental-leave plan for city employers, offering six weeks with 100 percent pay after birth or adoption. He also raised the minimum wage for city workers.
"What I've learned is that, if we're doing a good job here, there will be opportunities. If we blow it here, nothing else matters," he said. "We need to be able to demonstrate the sort of country we want to create."
Mayor's Night Out
It was a Thursday evening in August at Adams High School in South Bend, and Buttigieg, known as "Mayor Pete" around town, joined his cabinet for a "Mayor's Night Out."
At least 50 people filled the school cafeteria, lined up to talk one-on-one with Buttigieg about their problems.
The train horns were top of mind for some, but social worker Christina Williams was there to ask Buttigieg about vandalism on her property. She came with photos of the damage, which she said had been done by a few kids in the neighborhood.
"He's trying to beautify the neighborhood," Williams said of Buttigieg. She called his performance in office "awesome" and praised that he was "fixing up streets, putting up light posts." She lauded his initiative to tackle 1,000 abandoned homes in 1,000 days.
"That's the reason I'm here. I'm going by what you said," Williams told her mayor. "You got on TV and said this is what you want people to do with their neighborhoods. I need for you to assist me in this area."
But even as she called on Buttigieg to deal with local problems, Williams said she's supportive of his national ambitions.
"I would love to have him as president," she said. "He's fair. He listens to everybody. You see him everywhere … . He is as close to John F. Kennedy as we have gotten in years."
Buttigieg has said he's been surprised by the support of his community as he expands his reach nationally.
"I was bracing for people to be maybe frustrated or grouchy about what I was trying to do with the DNC," Buttigieg said. "Actually, when I got home, people were really encouraging and supportive. It was a sense that I had a chance to tell South Bend's story."
'South Bend is back'
That story is what Buttigieg's supporters say will ultimately propel him higher.
Take the revitalization of the city's old Studebaker factory.
South Bend was on the rise as an industrial hub—and its population was steadily growing—until wagon- and auto-manufacturer Studebaker succumbed to financial problems in the 1960s.
The plant closure resulted in nearly 6,000 workers losing their jobs, and the city has never recovered. Since 1960, South Bend has lost nearly 25 percent of its population, although estimates suggest it has been increasing slightly since 2010.
In 2016, Buttigieg joined developers and former Gov. Mike Pence to break ground on a $165 million renovation to the 1-million-square-foot Studebaker complex, with the goal of housing technology companies and residential condos.
Buttigieg is also trying to reinvest in downtown. His Smart Streets project, which has upset some South Bend residents whose commutes were disrupted, converted streets that felt like highways into two-way roads with bike lanes and fresh greenery.
This summer, Buttigieg said the project has led to $90 million in new private investments—including renovated apartments and buildings and a new hotel. He said that's "a threefold return on our public investment."
"You're looking at a city that has turned a corner from its most vulnerable stages," he said. "We've seen a lot of results that we're proud of, but we know this is fragile. We've got a lot more work to do to consolidate the gains and growth of the city."
On the day IBJ visited, Buttigieg participated in a groundbreaking ceremony for a residential development of market-rate, single-family homes and town homes with views of the St. Joseph River. The development is replacing a former bus depot.
"It's been decades, I think, since we've had the chance to do something like this," Buttigieg said. "The reason why it's important is the people who are going to animate this neighborhood."
Buttigieg said South Bend residents have "given themselves permission to believe in the city again. … I want there to be a sense that South Bend is back."
Even some Republicans believe. Mike Murphy, a GOP strategist and former state lawmaker who grew up in South Bend, said Buttigieg is "the first mayor since the 1960s that has a real vision for South Bend."
"These big manufacturers left town and they left a very qualified workforce behind," Murphy said. "The world kind of moved forward and South Bend never did.
"We've had a string of mayors in South Bend, all good people, some of them friends of mine," Murphy said. "But I can tell you that Buttigieg is the first guy to see the big picture, to understand that to help resurrect South Bend, he really needs to go in a new direction. It's just created an energy that South Bend has lacked for 50 years. I can only attribute it to him."
Economic anxiety
But challenges still loom. Buttigieg is disappointed the city doesn't yet have universal pre-kindergarten for its 4-year-olds. And he said residents are struggling with low incomes—something people might not realize because of the presence of prestigious University of Notre Dame.
Buttigieg also said the threat of automation "is about to give us another economic transformation," one that will cause real pain for middle-class workers.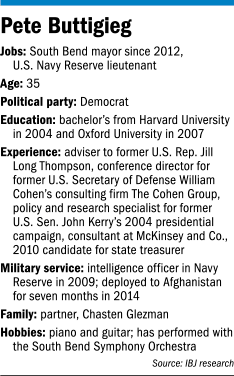 The mayor said such changes are a big reason Democrats are losing ground—and that's something he doesn't think national Democratic party leaders on the coasts understand.
"If they spent more time in the industrial Midwest, they might not have been so shocked that we had what you might call an economic-anxiety election during conditions of recovery and near full employment," he said.
"If your only relationships to voters and workers in this part of the country is as numbers on a page, you could be forgiven for not realizing that a lot of the anxieties around the economy here are around not just income, but job security and also job identity and the dignity of work," he said.
"Telling a guy who's been working in a machining operation for 20 years that we'll make him into a computer programmer or a nurse may not fit with the way he understands his place. The reason an auto worker needs to know where he belongs in the local economy isn't that different from the needs of, let's say, a transgender kid at John Adams High School who just has to use the bathroom like everybody else. Everyone needs to have a place."
Buttigieg said the Democratic Party needs a positive message about what it stands for—and answers to these challenges.
"There has to be more to our political process than horror," he said. "Nobody is really going to leap to join a movement that feels 100 percent negative."
That belief is why he's hoping his new political action committee, Hitting Home, makes inroads with disaffected voters. Buttigieg said his goal is to help promising candidates in competitive federal, state and local races "using communications based entirely around regular people's lives and how they're made better or worse by politics."
One of the first ads features a South Bend mother of three, Jennica, who relied on the protections from the Affordable Care Act when, 28 weeks into her pregnancy, she gave birth to triplets, who required three months of hospitalization.
"One of the things I'm always harping on is the importance of having the center of gravity in our politics move away from the characters of the politicians and more toward the lives of people going about their day," Buttigieg said.
'Inspired'
Buttigieg ran for the DNC chairman race to "write a new turnaround story" for Democrats, he said.
He performed well in a DNC debate, but was seen as running third behind U.S. Rep. Keith Ellison and former labor secretary Tom Perez, who ultimately won the job. Buttigieg withdrew before the vote, knowing he didn't have the support necessary to win and that his presence would drag the process through multiple ballots.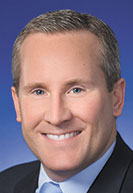 Zody
Though the campaign was unsuccessful, Axelrod called it "inspired."
Dan Parker, a Democratic strategist who advised Buttigieg in the campaign, said the candidacy was attractive because "what the Democratic Party desperately needs is a strong Midwestern millennial voice."
The race brought Buttigieg's message to a national stage. Since March, he has appeared in Ohio, Pennsylvania, New Jersey, Illinois, Texas, Nebraska, Iowa and Washington, D.C.
Matt Sinovic, executive director of Progress Iowa, said "people really liked him and responded well to what he had to say" at the corn feed event.
"The message that he is talking about, that you can govern with and lead with progressive values no matter where you are in the country, is one that people are really excited about," Sinovic said. "He was definitely a big hit here."
The Iowa visits are also fueling speculation Buttigieg could run for president in 2020. His name has popped up on a few media roundups of potential candidates.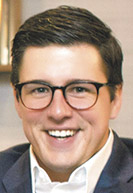 Hanscom
Peter Hanscom, a Democratic strategist who is leading U.S. Sen. Joe Donnelly's re-election campaign, pumped the breaks on that idea.
"I think he's focused on helping a party rebuild its brand to one that's focused on real people," Hanscom said. "It would be a little odd for him to be only doing that for his own presidential ambitions. If that is something he eventually wants to do, I'm ready and on the team, but I personally don't get the sense that is what is going on right now."
Indiana Democratic Party Chairman John Zody said Buttigieg's options are open and that "we're all anxious to see what he'll do next."
"If he wants to pursue something statewide, or at the federal level, people would be supportive of that," Zody said. "If he wanted to do something outside of elected office for a while, he could always come back. People see him as somebody they could get behind."
For now, Axelrod encouraged Buttigieg to continue his service as mayor and "identify and support talented candidates at all levels around the country."
Then, his time may come to lead.
"Is there any limit to what he could do? No," Axelrod said. "The path is the question."•
Please enable JavaScript to view this content.