An outsider might be forgiven for failing to spot any sort of overall strategy among the long roster of causes Jeff Smulyan champions. Over the decades, he's supported everything from education initiatives to animal welfare. And each holiday season, he makes a point of standing in front of his corporate headquarters on Monument Circle, ringing a bell beside a Salvation Army donation kettle.

"I always pick what seems like the coldest, rainiest day," Smulyan said. "Sometimes people will recognize me and say, 'Wow, I guess business is worse than I thought.'"

During his career in the radio and publishing industry, the 70-year-old founder and CEO of Emmis Communications Corp. has seen numerous ups and downs, from triple-digit stock prices in the late 1990s to more recent travails his radio and print holdings suffered at the hands of digital media. But through it all, Smulyan has never lost his desire to do good for the community. He's been a fixture at organizations ranging from the Central Indiana Corporate Partnership to the Salvation Army to his own place of worship, Congregation Beth-El Zedeck.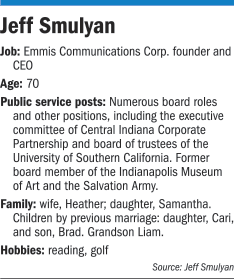 Smulyan's career-spanning commitment to Indianapolis earns him the distinction of being the 24th recipient of IBJ's Michael A. Carroll Award, given annually to someone who has demonstrated the former deputy mayor's qualities of determination, humility and service. Carroll was among six people killed when two small planes collided over southern Marion County on Sept. 11, 1992.

For a man who's had such an impact on Indianapolis, it's ironic that there was a time Smulyan desperately wanted to move somewhere else.

After graduating cum laude from the University of Southern California with a bachelor's in history and telecommunications, then earning a law degree from USC School of Law, he planned to seek his fortunes far from his hometown. But his father, real estate developer Sam Smulyan, had other ideas.

"I always thought running a radio station would be very cool," Smulyan said. "My dad had a cousin with a small radio station here that needed help. He said, 'Come back, and I'll invest in this and you run it, and you can start your company from here.' I came back, and one thing led to another, and I did indeed start the company here."

That first station was a tiny Beech Grove operation called WNTS. From that humble start, Smulyan's firm—originally called Emmis Broadcasting—grew to include top-performing stations in Los Angeles and New York City, television stations, and a collection of city and regional magazines (including Indianapolis Monthly). In 1994, Emmis went public, and in 1998 it moved to Monument Circle.

A soft touch

During those salad days, lots of institutions came calling not just for cash, but for moral support and ideas. Smulyan proved a soft touch.

"When it comes to causes, if it's something that I feel is important, then I'm going to get involved," he said. "I think it starts with believing you've got to give back, which is a core value of Jewish tradition. It's probably been part of my life since birth."

Smulyan has paid close attention to Congregation Beth-El Zedeck, endowing its Sam Smulyan Memorial Lectureship and Cultural Arts Fund, which has engaged top-drawer guest speakers ranging from Bill Clinton to Al Gore. Both Smulyan's father and grandfather were presidents of the congregation.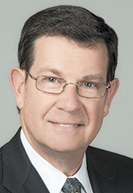 Sasso
"Jeff and I are pretty much the same age, so we had an opportunity to get to know each other pretty well," said Beth-El Zedeck Rabbi Dennis C. Sasso. "I think what's unique about Jeff is that he has a generosity of spirit that influences everything that he does. He's always present, always available, always eager to be of assistance, either as a mentor, a colleague or a friend."

Over the years, he's found himself on the board of the Indianapolis Museum of Art; serving on the executive committee of the CICP; and on the board of trustees of his alma mater, USC. Odd for a man who says he makes a conscious effort to stay off boards.

"I just found that I'd rather have people say, 'We have this problem,' and work on that, rather than sit through three-hour board meetings," Smulyan said as he sipped coffee from a mug inscribed with the telling phrase "This Meeting Is Bullshit." "So, I've turned down an awful lot of boards."

Helping hand

But he seldom turns down appeals for assistance, especially from friends. One of those is Steven L. Stolen, who's currently CEO of the Humane Society of Indianapolis but previously was with, among others, the Indiana Repertory Theatre, Indy Chamber and The Julian Center. No matter where Stolen has worked, he's been able to rely on Smulyan's help.

"When I was involved at The Julian Center, Heather [Smulyan's wife] was on my board, and Jeff and Heather were great champions and supporters of that work," Stolen said. "And Jeff's an animal lover, so he's very interested in helping us at the Humane Society. We had lunch just a couple of weeks ago to find more ways to work together. He's a really smart guy but never a smarty pants."

Back when Emmis' stock price reached $100 and the company was on the prowl for high-profile radio stations, TV stations and magazines, Smulyan entertained the idea of someday starting something akin to the Lilly Endowment.

"Decades from now, it would be able to make a difference in people's lives in this community," he said. "To me, that would be more important than anything else."

Events, however, have conspired to thwart that plan—at least for now. The onslaught of digital media has savaged the radio industry. Over the past decade, Emmis has left the TV business, sold some of its high-profile radio stations, and divested itself of its magazine division. The only publication remaining on the roster is Indianapolis Monthly.

"I believe managing a communications company, considering the state of the industry, has been very difficult for Jeff," said Deborah Paul, former executive vice president and editorial director of Emmis Publishing and former editor-in-chief of Indianapolis Monthly. "When he sold all the magazines except for Indianapolis Monthly, I was heartbroken, but I understood why. You have to know when to hold them and when to fold them.

"A lot of people whom I hired found themselves out of a job, and I am sure that kept Jeff up at night. That's the trouble with caring. It can get in the way of good corporate decision-making."



'I need your advice'

Smulyan, who has no plans to retire, said letting employees go is perhaps the worst part of the last few years. That and the fact that he has to be a lot more judicious about the checks he writes. Still, while his pockets aren't as deep as they once were, he's still considered an excellent source of knowledge and advice.

"When the company was bigger and people really needed money, they looked to us and said, 'Write a check,'" Smulyan said. "But it's been gratifying that a lot of people have come to me and said, 'Don't worry about a check. I need your advice.'"

He said his biggest regret is that he wasn't even freer with his charity work during the company's earlier days.

"I'd like to be more of an economic resource," Smulyan said. "It's all a function of the company. The better the company does, the more we'll be able to turn [that] into good works."

Still, it could have been worse. While Emmis remains solvent, plenty of other old-line media companies have vanished into receivership.

"The reason Jeff has survived better than some of the other radio companies is because he still does radio right," said media consultant John Quick, who formerly was Emmis' director of operations for WIBC and Network Indiana. "He appreciates live personalities, and he believes in touching the people of the community by raising money on the air, and by helping his radio people actually go out and volunteer."

Quick said that sort of public service can pay dividends in terms of public recognition, ratings and revenue. But Smulyan said that's not why he followed this path.

"It pays off because it makes you feel good about who you are," he said. "I've wrestled with this a lot. Sometimes you might think, 'Why are you meeting with them? Why are you giving that speech? Why are you doing that?' You do it because you are who you are. This is me. There's not a lot of mystery to any human being by the time they get to my age."

The toughest part for Smulyan is turning people down. Indeed, he actually delegates this task to someone else.

"I'm the worst at saying no to people," he said. "Sometimes I say yes to more things than I probably should."

The "problem" is so acute that someone once gave him a sign that says, "Just say no." It's sitting around his office. Somewhere. After a minute or two of fruitless search, Smulyan gives up trying to find it.

"I've lost the sign that says no," he said. "Probably threw it away."•