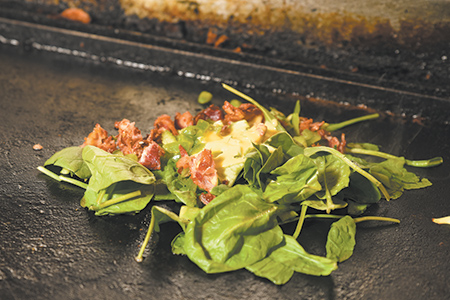 If hospitals celebrated their own holidays, Eskenazi Health would almost certainly make National Kale Day its annual spectacular.
On Oct. 4, as they have done the past three years, Eskenazi workers fanned out around Indianapolis, handing out more than 1,500 bunches of the dark-green leaf cabbage. They set up a kale stand on Monument Circle, and a few miles west, turned the front lawn of their hospital near the IUPUI campus into a kale celebration, with cooking demonstrations, live jazz and recipes.
Inside the hospital cafeteria, cooks served kale-stuffed pork loin, vegetarian kale pizza, kale corn muffins and kale grilled cheese sandwiches. Eskenazi workers delivered hundreds of kale-salad packages to food pantries and high schools.
Food is huge at Eskenazi, the oldest and largest public health care system in Indiana. The system—best known for its Level 1 trauma center, burn unit and community health centers—serves mostly poor and underinsured patients, many of whom have poor eating habits and chronic diseases, from diabetes to heart disease.

And no food is more symbolic at Eskenazi than kale, a low-calorie "super food" packed with vitamins, calcium, iron and fiber. But kale is just a small part of a burgeoning movement at Eskenazi to lead by example in food and nutrition.
In recent months, Eskenazi has rolled out a wide array of new programs. It hired an overnight kitchen shift to prepare more foods from scratch. It opened a small fresh-food grocery to help patients and guests who live in food deserts. It started a "Fresh Veggie Friday" to highlight produce grown on its 5,000-square-foot rooftop Sky Garden.
And every day, the kitchen features a flavorful, low-calorie entree for under $6. On a recent day, the special was baked chicken breast with apricot glaze, served with quinoa-couscous medley and Brussels sprouts. On another day, it was salmon with sweet chili sauce, served with wild rice and asparagus.
It's a long way from the typical image of hospital food—syrupy fruit cups, rubbery Jell-O and deep-fried, breaded meats.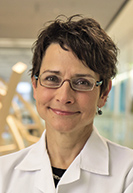 Harris
"Good food is good medicine," said Dr. Lisa Harris, Eskenazi's CEO and medical director. "We know that 80 percent of chronic disease can be prevented, better managed and in some cases even reversed by eating well."
Eskenazi's huge emphasis on food is a dramatic jump from just three years ago, when the health system—then known as Wishard Health and located about a half-mile east—routinely served fried, fatty foods.
"We were deep-frying probably 60 percent of the menu items—onion rings, fried chicken, jalapeno poppers, just about everything," said Seth Grant, associate director of food and nutrition services.
Amy Carter, director of outpatient nutrition, still remembers the morning she walked into the old Wishard kitchen and saw the cooks preparing breakfast.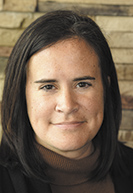 Carter
"They were deep-frying the bacon!" she recalled.
A fresh start
But when the hospital moved its operations in 2013 into a brand-new, $754 million complex, leaders decided it was time to rethink food operations.
The first move: Leave the deep fryers behind. Today, all food is cooked on stoves or in huge rows of ovens.
Other moves: Drop soda from the menus, offer free fruit-flavored water in retail areas, provide a variety of vegetarian options, and create a huge salad bar, with one low price for the salad, no matter how high it is stacked, rather than charging by weight.
Another big decision was to build a 5,000-square-foot farm on the rooftop, where employees and patients can plant and harvest a huge array of produce, including tomatoes, fennel, arugula, spinach, broccoli, squash and blackberries. Last year, the farm harvested nearly two tons of produce.
"When we had the opportunity to move to this new location," Harris said, "we decided we were going to put everything we knew about promoting health into the campus, starting with the building: natural light, green space, art, music and fresh air."
She added: "Obviously, food has to be core. We have no message if what we're serving is not the most nutritious food we can provide."
Perhaps the biggest decision was to slam the door on fast food, unlike many other U.S. hospitals, which lease space to McDonald's, Wendy's, Chick-fil-A or other restaurant chains and take a portion of sales.
According to a report last year by the Physicians Committee for Responsible Medicine, dozens of hospitals have fast food restaurants on their campuses that serve cheeseburgers, fried chicken, pizza, fries and other marginally nutritious food. They include some big players, including Broward General Medical Center in Florida and the University of Mississippi Medical Center.
In contrast, the Physicians Committee praised 24 U.S. hospitals for offering fresh vegetables, whole grains, cholesterol-free entrees and soy milk. The only hospital in Indiana to be singled out for praise was Eskenazi, which tied for sixth place with a food score of 76 percent.
"Hospitals that are fast-food-free and instead have rooftop gardens earn the highest scores," said Karen Smith, senior dietitian for the Physicians Committee. "Hospital gardens provide fresh vegetables for hot soup and other plant-based patient meals that can prevent or reverse diabetes, heart disease and obesity."

Even the federal government has opinions on the matter. The Centers for Disease Control and Prevention has warned that hospitals that dish out foods full of sodium "can lead to increased salt consumption in already sick and immune-compromised populations as well as their families, hospital staff and the public."
Upgraded offerings
Some other hospital systems in central Indiana say they also are working to offer more nutritious food.
Indiana University Health spent $573,000 last year to modernize the kitchen at Methodist Hospital, the largest hospital in the state. The upgrades included installing two combination steam-convection ovens, two state-of-the-art blast chillers that refrigerate food and a 100-gallon computerized cooking kettle. That allows IU Health kitchen workers to cook more foods from scratch.
Community Health Network said it has increased its whole-grain options, improved vegetarian and vegan options, and removed fried foods.
Franciscan Health said it posts nutrition tips daily on its menu boards and employee newsletter, and promotes a daily "wellness meal" in the cafeteria. It has also reduced the number of sugary beverages and eliminated some of the fried options at its grill and fry station.
But Eskenazi seems to have pushed furthest to drop bad cooking habits and serve up fresh, healthy dishes, from soups, salads and wraps to a full gourmet salad bar.
And in the process, it's giving a hefty portion of its annual $3.4 million food budget to Indiana farmers. It has built a list of dozens of farmers and suppliers around the state, from Big Brickhouse Bakery in Fort Wayne (stone-ground grains and vegetable-infused pastas) to Fischer Farms in Jasper (hormone-free ground-beef burgers).
These days, Eskenazi spends nearly 40 percent of its budget on Indiana farms and food operators—a huge jump from just 3 percent two years ago. The goal is to hit 50 percent by the end of 2018.
Why the push for Indiana food? Harris said local food is often fresher, takes less time to ship, and thus has a lower impact on the environment.
On top of that: "We think about the well-being of our community the same way we think about the well-being of patients. And that starts with financial health."
'Nutrition intervention'
Eskenazi food administrators say they are constantly thinking of ways to help patients—many of whom live in food deserts in poor neighborhoods—get better access to healthy foods. Earlier this year, Eskenazi opened a small, fresh-foods grocery, called the Fresh For You Market, in a 450-square-foot space near the cafeteria.
The market's shelves are loaded with produce, dairy and food staples at low prices (kiwis for 26 cents, mangoes for $1, zucchini noodles for $2, garlic-hummus dip for $2.75 a tub).
The tiny market even sells utensils, such as measuring cups and strainers, for people who have little experience or equipment making their own food.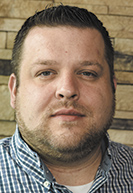 Grant
"We want to get people transitioned away from fast foods, shopping in gas stations and convenience stores," said Grant, the associate director of food and nutrition services. "We want them to see, look at all the fresh produce you can get."
To help employees develop the same enthusiasm for juicy fruits and veggies, Eskenazi also started "Fresh Veggie Friday," featuring a different produce item each week harvested from its rooftop Sky Farm. Dietitians and cooks create a special recipe and hand out free samples.
During the sessions, a dietitian talks about the dangers of hidden salt or high-fructose corn syrup, while stressing the importance of fresh foods. Employees are sent home with a handful of fresh produce.
"It's a brief nutrition intervention," Carter said. "We focus on something simple every week. I think it's one of the best employee engagement programs that we have."
Eskenazi's reputation for fresh, tasty food has spread beyond the hospital campus. It's not unusual to see visitors from nearby employers stopping in for lunch, and piling up a plate at the salad bar.
Over the past three years, Eskenazi has seen a fivefold bump in the number of meals it serves. At one point, the kitchen staff was having trouble keeping up, and administrators were scrambling to hire more cooks. In July, the hospital finally added a third kitchen shift.
Eskenazi's food and nutrition department employs a small army of 140, including cooks and prep workers. The average wage for a cook is $14 an hour plus benefits, a decent bump above the $9 starting hourly wage at the old Wishard location.
Managers spend time educating cooks on healthy-food preparation. Instead of throwing onion rings in a fryer, cooks learn how to steam, roast and saute a broad range of healthy foods.
As far as some managers are concerned, the cooks at Eskenazi are as good as any in town, and give hospital food a new cachet.
"The days are long gone," Grant said, "of just standing at a line and slopping food on a tray."•
Please enable JavaScript to view this content.