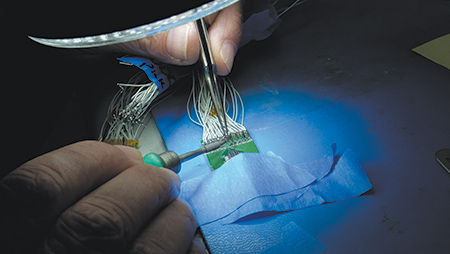 David Trogden thinks Probo Medical is the fastest-growing company in central Indiana that no one has heard of.
That's because Trogden's 4-year-old Fishers firm serves a niche within a niche. Probo repairs and refurbishes ultrasound equipment—more specifically, the probes for ultrasound systems.
But a narrow focus isn't limiting its growth: The company has nearly doubled its revenue every year the past three years, reaching $11 million in 2017, and is constantly adding staff. Last year, Trogden hired 30 employees and the company is up to 53 and still growing.
"We could be a $100 million company, I think, in a matter of years," he said. "We've been sort of a rocket ship."
Probo Medical repairs 300-400 probes every month and has an inventory of machines that can be sold or loaned to medical offices or hospitals when their systems are being repaired./p>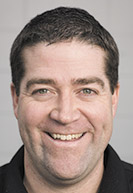 Trogden
The company mostly works with dealers and sellers that medical providers hire to maintain their equipment, rather than doing business directly with health care systems.
Probo Medical also launched a charitable program about a year ago that donates ultrasound systems to developing countries. In 2017, Probo donated about 40 systems through that initiative.
"It's been a really interesting and rewarding part of the business," Trogden said.
He isn't certain whether the company can continue to nearly double revenue every year, but he does expect to keep growing.
"It's going to be a wild ride," he said.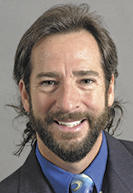 Saxton
Todd Saxton, an associate professor of strategy and entrepreneurship at the Indiana University Kelley School of Business, said when companies are growing that rapidly, they are usually spending a lot of money, and sometimes end up struggling.
But he said Probo "has grown thoughtfully."
"To see a venture with that kind of growth trajectory… is relatively unusual and a very positive aspect," said Saxton, who worked with Trogden when he was a graduate student at the Kelley School of Business.
Trogden learned about the ultrasound-machine industry in 2008 while working for Indianapolis-based investment firm E&A Cos.
He helped E&A acquire a California company called Ultra Solutions, which refurbished probes. After the acquisition, Trogden moved to California to help the company grow.
When Ultra Solutions was sold to a private equity group in 2013, he returned to Indiana. The next year, he started Probo Medical.
"That's a great lesson for entrepreneurs—stay close to home. Stay close to industries where you have knowledge and contacts," Saxton said.
Trogden signed a five-year lease for 10,000 square feet in an office building on Kincaid Drive in Fishers and hoped for the best.
The five-year plan was to reach $10 million to $15 million in annual revenue; the company hit that mark in just three years.
Trogden said Probo's success is partly due to the fact that it handles both key industry components—it maintains an inventory of ultrasound systems and it repairs those systems—while other companies often do only one or the other.
"We've taken that business model, and it's worked really well," he said.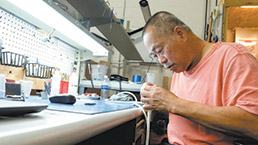 Ba Tran cleans the lens of a probe. (IBJ photo/Eric Learned)
Ultrasound machines can have 10-12 different probes, and every medical office or hospital can have five to 10 different systems, creating a $5 billion industry, according to Trogden.
Probo tracks nearly 1,000 products to potentially repair or refurbish and resell.
Saxton said most technology products—including ultrasound systems—eventually need maintenance or repair, which means Probo's growth opportunities should continue.
"It's a very sustainable type of business, but very off the radar when people think about entrepreneurship and new venture opportunities," Saxton said. "I think it's important for people to recognize a lot of our economy isn't what we think of as high-tech disruptive solution."
New probes or ultrasound machines can be expensive, and they can also break easily.
Julie Gutterman, president of Pulse Worldwide—a firm near Cincinnati that works with hospitals, universities and medical offices to acquire equipment, including probes—said the probe-repair market is big because the tool "is used and abused a lot."
"I've seen small practices where they don't have the money to buy multiple probes," Gutterman said. "You could have 50 ultrasounds in a day."
A new probe can cost $10,000 to $15,000. A refurbished one costs about $5,000 and opting instead to pay for a repair can cost even less.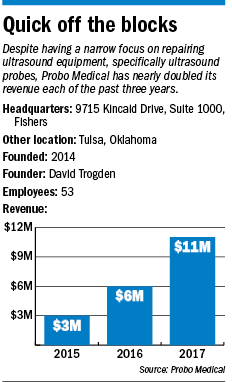 "Everybody cares about saving money lately," Gutterman said. "There are certain places that have to buy new, but everybody is always looking at the price."
"The plan at the ultimate level is to save health care providers money," Trogden said.
Probo puts products through a 10-step test, he said, before returning them to the market. That's refreshing to Gutterman, a regular Probo customer.
She said it's not unheard of for a company to call something refurbished by simply giving it a new coat of paint.
"There are zillions of people that say they do refurbished medical equipment, but everybody does it in different ways," Gutterman said. "I know that Trogden has a good product and he knows what he's doing."
To accommodate Probo's growth, Trogden has been hiring one or two employees every month and expects that to continue. But getting new workers up to speed is difficult, because Probo's positions are so specialized they require detailed on-the-job training.
"You can't hire someone off the street that knows how to repair ultrasounds, unfortunately," Trogden said.
That's why he jumped at the opportunity in 2016 to hire 11 employees from a Tulsa, Oklahoma company after it was acquired by Netherlands-based Philips Healthcare. The employees didn't want to relocate to Philips Healthcare's Nashville, Tenn., office, so Trogden hired them and opened an office in Tulsa.
He said the deal took about three weeks from start to finish: "We don't really do anything slow."
As Probo continues to grow, it might acquire similar companies and open offices in other cities, Trogden said. Probo might also expand into working on and offering other imaging or patient-monitoring equipment.
Saxton said both those avenues of growth are typical for a company like Probo, but he cautioned against pursuing multiple paths at once or taking on too much too soon.
"It's a dangerous game to play too quickly," Saxton said.•
Please enable JavaScript to view this content.