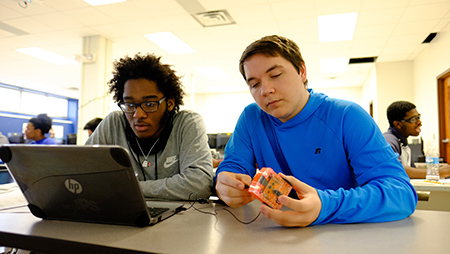 Gov. Eric Holcomb and Indiana's burgeoning tech sector say offering all high school students the chance to take a computer science course could be key to filling the pipeline of workers for the growing number of tech jobs.
A Senate bill moving through the General Assembly would require all Indiana public schools to include computer science in their K-12 curriculum and require high schools to offer it as an elective course by 2021. Holcomb included the proposal in his 2018 legislative agenda.
The bill's author, Sen. Jeff Raatz, R-Centerville, said he wants to "make sure students have the computer-savvy skills to compete in the workforce today" and "help put the spotlight on the needs for the future."
But those in the trenches say structural barriers—the most significant seems to be teacher training and quality—must be solved before basic classes that explain how computers work and more advanced coding and web-development courses can flourish throughout Indiana's secondary schools.
"Historically, what's held schools back might have been lack of understanding of why computer science matters," said Karen Jung, president of Nextech, a local not-for-profit that helps train Indiana teachers to teach the subject. "That hurdle has been passed by and large by having a growing tech economy here. It is the lack of qualified teachers that is the biggest hurdle. There aren't computer science teachers just sitting around."
The Holcomb administration estimates fewer than half of Indiana schools offer computer science classes, with offerings sparse in rural areas.
The Department of Education estimates that, in Marion County, at least 40 percent of public high schools offer a computer science course. In Hamilton County, the rate is at least 60 percent and in Boone County, at least 80 percent. But in 19 rural counties, 20 percent or less offer a computer science course.
"It's pretty random across the board who's doing it," said Jeremy Eltz, who worked at the DOE from 2012 to 2017 as assistant director of college and career readiness. Eltz led the 2016 science-standards revision, which, for the first time, included teaching computer science in grades K-8.
"Some schools were doing pretty amazing things and some schools relegated it to keyboarding. It is absolutely not keyboarding."
The push now to expand access to computer courses is national, said Sean Roberts, director of state government affairs for Code.org, which has been pushing the state to expand its offerings.
"Computer science is foundational knowledge now," Roberts said. "It's really important for not just students' careers, but having that foundational skill set that all students are able to do this regardless of their ZIP code."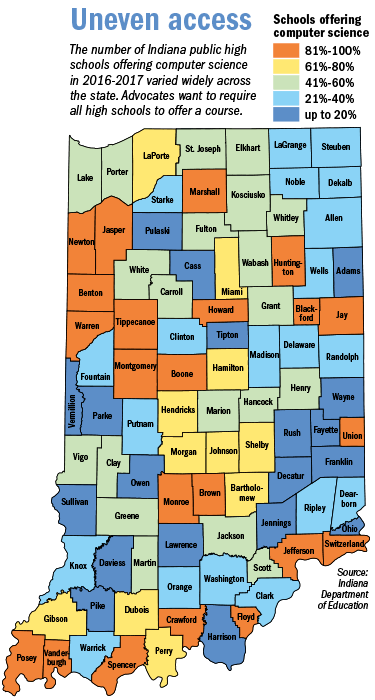 Advocates say Indiana's goal to require computer science classes in all high schools by 2021 is doable, but that it will take multiple strategies, including training existing teachers who have an interest in the subject and creating programs that include computer science as a possible degree pathway or certification for would-be teachers.
"We'll only go as far in Indiana as our teachers take us," Roberts said. "That's where you get the most bang for your buck."
Ben Carter, director of career and technical education for Indianapolis Public Schools, said IPS went from not offering computer science at all to offering it in four high schools and serving 480 enrolled students in just a couple of years.
He said the district partnered with Nextech and Code.org and tried to find existing IPS teachers with a strong interest in the subject matter to train them in the skills.
"People need to be creative about not thinking it's cost-prohibitive to offer it and knowing there are partnerships out there that can be found," Carter said. "A teacher from any background that's passionate can learn how to do it."
Take Angela Jones, an IPS teacher who, after 15 years of teaching English, was trained as a computer science teacher. She's been doing it now for three years.
"The thought was pretty overwhelming because my background dealt with writing essays," Jones said.
But colleges are also recognizing the trend and trying to meet demand. Ball State University in December announced it is designing an undergraduate computer-science education program to fulfill Holcomb's goal.
Paying for it
Jung said it costs teachers in the state $2,000 to $6,000, depending on the program, for the professional-development training to teach computer science.
Raatz's bill would establish a grant program for such training but it wouldn't be funded until the next budget-writing session of the General Assembly in 2019. Advocates say it would take $5 million to $10 million to make an impact.
Indiana State Teachers Association President Teresa Meredith said her group is not opposed in general to teaching more computer science in schools, but that she believes there are more fundamental technology problems to solve.
"Access is still an issue, in certain parts of our state, to basic high-speed internet," Meredith said. "Until that issue is really resolved, it's difficult to even begin to have a requirement in schools. I think we need to be talking about access."
Yet another challenge is defining computer science—and the expectations for students who complete the courses.
Computer science, Meredith said, is "understanding how computers work" and their impacts on the world.
"It's creativity; it's problem solving; it's critical thinking," Jung said. "It's more about the process of arriving at an answer. Students need that regardless of what career they go into."
Further along, students might learn coding or web-development skills, which are more technical and could actually prepare them for a tech job.
"Computer science is learning how to write a set of instructions to make a computer do something," Jung said. "Coding is, 'What language am I going to write those instructions in?'"
The DOE would be in charge of determining which classes meet the definition of computer science for the proposed new law.
Requiring classes
Some advocates want the Legislature to go further than Raatz's bill—to require all high school students take a computer science course to graduate, rather than simply making it an option.
Indiana Chamber President Kevin Brinegar, whose organization is advocating for the requirement, said "that's the stake we've put in the ground." But he acknowledged his idea of the kind of computer knowledge kids need might differ from others'.
He's more interested in graduates becoming proficient using common software—Microsoft Office, PowerPoint and Excel, for example—than in their knowing "high-level software engineering."
"Every business is a technology business," Brinegar said. "We think we've reached a point where it is important that students should take and complete and pass a computer class."
State Schools Superintendent Jennifer McCormick supports making computer science an option for every student, according to her spokesman, Adam Baker. But she is skeptical about taking it further.
"Our belief is that students should continue to drive their educational course, along with the help of their parents and local educators and counselors," Baker said.
Eltz also cautioned against making computer science mandatory.
"Then we're teaching it out of compliance," he said. "We're forcing kids to take it and then it just becomes much like an algebra class. That's not what we want. We want kids to enjoy it and be fulfilled. I assume a lot of kids would take it. It's in demand."
Eleven Fifty Academy CEO John Qualls said the state should think about requiring classes because he believes all future workers will need to know how computers work regardless of whether they work in a tech-specific field—because technology is now so heavily incorporated in all industries.
"If you think about languages, French and Spanish, why do we teach those languages in school? It's to expose the student to culture and the world being bigger than their little space in it," Qualls said. "I think computer science is the international business language of today and tomorrow."
Raatz said it's possible the state might seek to require the classes down the road.
"We're always cautious in our approach," he said. "I'm not saying the chamber's necessarily wrong about that. I think that becomes a part of a vision. We're taking steps in that direction."•
Please enable JavaScript to view this content.