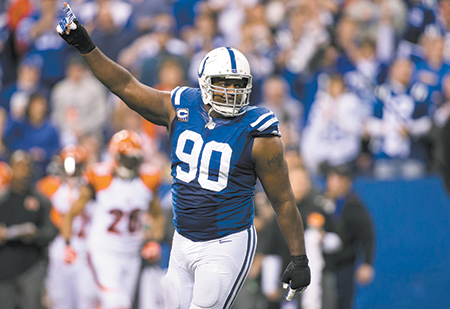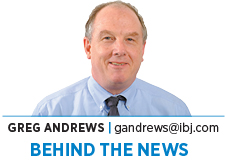 It might be little consolation to former Indianapolis Colt Cory Redding—the latest in a long line of NFL players to see a big chunk of their earnings go up in smoke—but the man who swindled him appears to be headed for prison.
Kenneth Ray Cleveland, 64, a former financial adviser based in suburban Los Angeles, has agreed to plead guilty to defrauding the former NFL player of $4.7 million, court papers filed last month say.
Under the deal, Cleveland—who was indicted last May on seven counts of wire fraud and three counts of money laundering—agreed to plead guilty to one wire-fraud count and one money-laundering count.
The sentence will be up to Judge Tonya Walton Pratt, but under the agreement prosecutors specified they would not argue for more prison time than listed for a Level 27 offense under sentencing guidelines. The minimum under Level 27 is 70 months in prison.
Reached by phone, Redding, 37, said: "I am not willing to talk about anything until the case is closed."
Unfortunately for Redding, the saga likely won't be over when Cleveland is sentenced June 8. That's because, while the plea deal requires that Cleveland make restitution, it seems unlikely he would have defrauded Redding in the first place if he had a pile of cash at his disposal. The agreement notes that "the defendant has a continuing obligation to pay the financial component of the sentence."
Redding, a defensive lineman, played in the National Football League from 2003 to 2016 and for the Colts from 2012 to 2014—during which he lived in Carmel. He now lives in Texas.
According to court records, Redding in 2003 decided he needed financial advice to plan for his life after football and was referred to Cleveland by a professor who taught business courses at his alma mater, the University of Texas.
According to the indictment, Cleveland proposed making relatively conservative fixed-income investments that would allow Redding to live off interest payments without depleting the principal.
However, by 2007, Cleveland had begun spending Redding's money for his own credit cards, mortgages, office rent and employee payroll, as well as payments to his mother, sister and daughter.
In total, Redding suffered losses of $4.7 million, including $2 million Cleveland diverted to other clients to pay fictitious investment returns and principal, according to prosecutors.
In the plea agreement, Cleveland fessed up to the fraud and said he hopes doing so will mitigate his punishment. "I hope to receive probation, but am prepared to accept any punishment permitted by law that the court may see fit to impose," the agreement says.
Cases of defrauded players are by no means unusual in the NFL. Nor are cases in which players who once made millions end up in financial ruin. Redding—who says on Twitter that he owns a barbershop and is a motivational speaker and ESPN analyst—has not sought bankruptcy, but many NFL players have. One in six seeks bankruptcy protection within a dozen years of retiring, according to a 2015 National Bureau of Economic Research study.
Part of the challenge, of course, is that players earn a huge portion of their lifetime income over a relatively short span. On one hand, it's a bonanza; on the other, making it last requires a long-term view and sharp money-management skills.
It doesn't help that there appear to be no shortage of fraudsters eager to take advantage. Redding need not even look beyond his Colts teammates for other examples of victims.
For example, defensive end Dwight Freeney's financial adviser and her lover ended up in prison after they were arrested in 2012 on federal fraud charges that they swindled Freeney out of $2.2 million.•
Please enable JavaScript to view this content.